The Hong Kong Trade Development Council (HKTDC) this week launched the Foshan GBA Business Support Centre for Hong Kong businesses, a facility co-organised by the HKTDC and Foshan Association of Enterprises with Foreign Investment.
The centre aims to help Hong Kong enterprises connect with the market and win in the Guangdong-Hong Kong-Macao Greater Bay Area (GBA) and gives businesses who seek to enter Foshan comprehensive assistance, further enhancing the HKTDC's support for SMEs in exploring GBA business opportunities.
Six centres
The Foshan opening takes the GBA centre tally to six with centres already set up in Shenzhen Qianhai, Guangzhou Nansha, Zhuhai Hengqin, Dongguan and Zhongshan. The GoGBA Business Support Centre for Hong Kong Businesses in Foshan launched in late March and will provide Hong Kong businesses with information on Foshan policies, market-resource matching services and professional comprehensive corporate services. Exchange activities such as seminars, special training sessions, experience sharing to help Hong Kong companies seize opportunities and accelerate the pace of market development in Foshan and the GBA.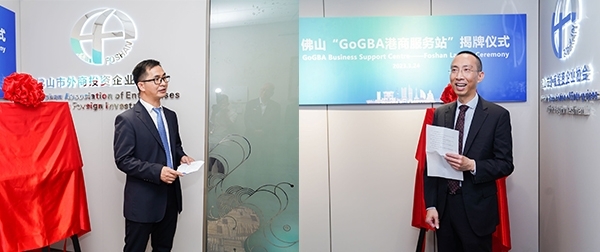 In his speech at the Foshan centre opening, He Manchu, Deputy Director of the Foshan Municipal Bureau of Commerce, said: "We attach great importance to the cooperation and development with Hong Kong. Last month Foshan Mayor Bai Tao said the National People's Congress government work report mentioned 'focusing on deepening cooperation with Hong Kong and Macao'. Foshan would implement the Bay Area Connect project in depth and strengthen cooperation with Hong Kong and Macao in the fields of science and technology, trade, finance and culture."
Foshan will also explore cooperatively transforming scientific and technological innovation, and support the transfer, transformation and industrialisation of scientific and technological innovation achievements from GBA peers in Foshan. The city would also encourage enterprises to use Hong Kong's economic and trade network, exhibition platform and professional services to connect to the global market and simultaneously create a high-quality cooperation platform and accelerate construction of a high-end service demonstration zone for GBA cooperation and a youth innovation, entrepreneurship and employment base.
Leading investors
Wang Xu, Executive Vice President of the Foshan Association of Enterprises with Foreign Investment and Vice President of Jianzhi Holdings Group, said: "Hong Kong-funded enterprises are still the backbone of offshore investment in Foshan. We sincerely thank Hong Kong-funded enterprises for their contribution to Foshan's economic and social development I think the association, as a partner of the Foshan GoGBA Business Support Centre with the HKTDC will continue to help Hong Kong companies seize the latest opportunities."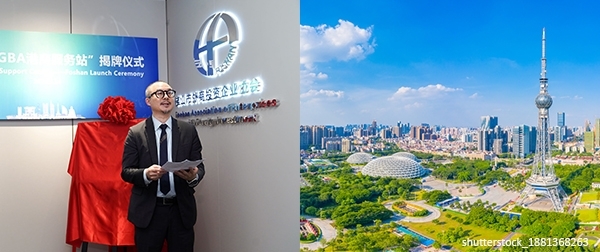 HKTDC Regional Director for Southern China Peter Wong said: "In recent years, in order to help Hong Kong companies seize business opportunities in Foshan and the GBA, the HKTDC has launched key measures, including the GoGBA one-stop platform and the Mainland Development Support Programme. The HKTDC will continue to closely connect with local government departments, business associations and industrial parks, and encourage Hong Kong companies to actively integrate into the overall development of the country and promote the flow of people, goods, information and capital in the GBA. The HKTDC will also step up efforts to encourage Hong Kong youths to start businesses in the GBA and leverage Hong Kong's advantages, helping enterprises in Foshan and the GBA to expand international channels."
Enterprise tally exceeds 3,500
Hong Kong has always been an important source of foreign capital for Foshan. Since the reform and opening up, Hong Kong-funded enterprises have invested heavily in Foshan and taken part in the economic and social construction of the city, making important contributions to economic development.
There are now 3,552 Hong Kong-funded enterprises in the city, involving investment of US$83.9 billion and a registered capital of US$42.5 billion. Hong Kong enterprises continue to increase investment in Foshan, with 403 newly approved projects, a year-on-year increase of 48.16%.
These GoGBA Business Support Centres have held more than 90 activities including online and offline sharing sessions, consulting sessions and business missions, serving more than 5,000 Hong Kong businesses. The centres will gradually expand to Huizhou, Jiangmen and Zhaoqing, covering all mainland GBA cities.
In addition to on-site business support services, the GoGBA One-Stop platform (including WeChat applets, WeChat public accounts, websites and electronic newsletters) has provided diversified business services in the nine mainland GBA cities with information on policies, subsidies and practical tips. The platform has recorded a total of 1 million pageviews since launch.
Following the launch of comprehensive customs clearance between Hong Kong and the mainland, the HKTDC will hold the Guangdong-Hong Kong Cooperation Week in May, including two flagship events - Smart HK in Guangzhou and Chic HK in Shenzhen, to comprehensively promote Hong Kong's advantages, services and products.

Related link
GoGBA