From a colour‑changing car to a finger‑nibbling cat robot (the Amagami Ham Ham, courtesy of Yukai Engineering and the Liv Heart Corporation, main picture), the recent CES 2022 brought the latest tech ideas from around the world to Las Vegas for a combined in‑person and digital event.
The usually massive tech conference was visibly subdued this year, with the rapid spread of the Omicron variant leading many tech players to pull out, while testing and quarantine requirements continued to make international travel something of a challenge. Despite all the obstacles, the event still saw a slew of impressive product announcements, while managing to attract 2,300 exhibitors from 119 countries and more than 40,000 attendees. Eureka Park, the event's dedicated start‑up arena, hosted some 800 fledgling businesses from across the world and the buzz was as strong as ever.
Understandably keen to talk up the success of the event, Gary Shapiro, President and Chief Executive of the Consumer Technology Association (CTA), which runs CES, said: "Innovation came to life this year at CES 2022, with the technologies set to reshape industries and provide solutions across such priority sectors as healthcare, agriculture and sustainability. All in all, the show floor was buzzing with the joy of human interaction and a five‑sense innovation experience, complete with products that will redefine our future and change our world for the better."

Safety first
It is fair to say that many in the United States expo industry see CES as providing a model for safely holding events in the current circumstances, with this year's show deemed to have gone above and beyond in terms of its precautionary protocols. Accordingly, attendees had to produce either digital or physical proof that they were fully vaccinated. Everyone also received a BinaxNOW COVID-19 self-test kit when collecting their badge, although neither testing nor reporting the results was mandatory. According to the show organiser, the measure was introduced as an added layer of protection for people who felt they could have been exposed to the virus or were not feeling well prior to arriving at the event. Additional requirements included the compulsory wearing of masks in indoor areas, while free RT-PCR COVID-19 tests were provided for any attendee heading back overseas.
Overall, with the slower traffic flow and a little less of the usual craziness, it was actually far easier than usual to explore the highest‑profile exhibits, while also allowing for a deeper dive into much of the new tech on offer.
All things metaverse
The new frontier at this year's event was undeniably the metaverse, that apparent seamless integration of the virtual and the physical. Acknowledging its pre‑eminence, Steve Koenig, the CTA's Vice President for Research, said: "The metaverse is closer than you think. All the building blocks are already present and in play in the industry. Over time, they will become inextricably linked to our physical reality."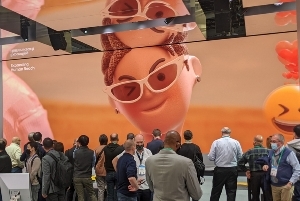 Clearly looking to take a lead here was Samsung, with the Seoul‑headquartered electronics giant inviting attendees into My House, a virtual experience built on the Zepeto metaverse platform and bundled with a range of the company's products, notably the Freestyle projector, the Frame TV and the Bespoke appliance. All of these were also on show within the brand's massive stand just in case attendees still preferred to keep it strictly physical. Another trip to the metaverse came courtesy of Hyundai, with its MOBIS exhibit taking attendees to M. Vision Town, the company's digital/physical nexus, where its avatar could virtually test drive a range of concept cars.
Korea's Lotte Data Communications, meanwhile, gave attendees' digital counterparts the opportunity to try out a variety of unrestricted physical and social activities via its virtual world platform, while a vest developed by Spain's Owo lent a more tactile feel to the proceedings. In another significant development, several brands, including Lenovo and Vuzix Shield, had on offer a new generation of augmented reality (AR) glasses, all of which were said to be a drastic improvement on the Google Glass of old.
Space draws closer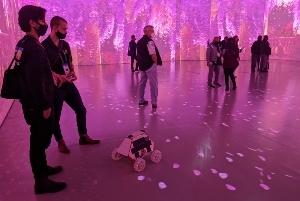 Switching from cyberspace to outer space, attendees also had the option to queue for a selfie with the Dream Chaser, a cargo transporter developed by Colorado‑based Sierra Space, which is scheduled to start missions to the International Space Station later this year. The same pavilion also housed virtual reality tours of the Orbital Reef, a commercially operated space station jointly developed with Blue Origin, a Washington‑based aerospace manufacturer.
Another CES exhibitor aiming high was Hyperion, the Dallas‑headquartered energy company, which is working with NASA to develop hydrogen fuel technology as a means of powering electric vehicles. In the case of Bosch, it was more focused on showcasing its artificial intelligence (AI)‑enabled CubeRover robots, which are designed to be deployed on the lunar surface.
Digital health
In something of a new development, the first CES keynote from a healthcare company came courtesy of Robert Ford, Chief Executive of Abbott Laboratories, the Chicago‑headquartered medical‑device specialists. As part of his presentation, he unveiled the company's range of Lingo biosensors, which monitor glucose, ketone and lactate levels, while also highlighting its NeuroSphere Virtual Clinic, a facility that provides remote treatment for Parkinson's disease and a number of other conditions. The company also supplied CES attendees with arguably the hottest commodity in Las Vegas – COVID self‑test kits, items that were all but impossible to purchase in‑store.
Focusing back on the show floor, Dassault Systèmes, the Paris‑based software corporation, invited attendees to meet its virtual twins, with its proprietary technology making it possible to visualise, test and predict surgical outcomes and drug effects via the use of a digital clone. In a similar vein, as it were, New York's Perfect Corp debuted its portfolio of AI and AR solutions, which were said to not only have beauty and fashion applications but also have the capacity to flag skin cancers and other medical conditions.
Overall, it seemed to be the consensus among both exhibitors and attendees that it had proven to be a surprisingly productive show. Expressing the sentiment of many, Allen Hirsch, Founder of HANDL New York, a designer smartphone accessories specialist, said: "The slew of last‑minute cancellations on the part of some larger companies had made us question whether we should attend or not. Ultimately, however, we were shocked at the sheer number of opportunities that came our way at the event. After a long and challenging period, CES 2022 definitely represented something of a new beginning for all concerned."
CES 2022 took place from 5-7 January at the Las Vegas Convention and World Trade Center (LVCC).
Related link
HKTDC Research