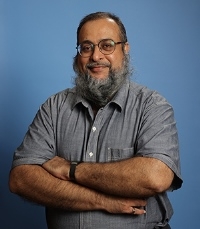 Play-to-earn games, where participants accumulate tokens that can be exchanged for cryptocurrency while playing online, are taking off globally. One of the leaders in this trend in Hong Kong is Animoca Brands, which owns several play-to-earn titles including Crazy Defense Heroes and Benji Bananas, and has also invested in other games such as Axie Infinity.
Animoca Group Chief Technical Officer Yusuf Goolamabbas, a fifth-generation Hongkonger whose family came to the city in 1860, said: "Most people don't realise how big gaming is in the ecosystem of entertainment. People spend more money on gaming than they do watching movies. As our games are on the blockchain, we offer true digital ownership."
How did Benji Bananas transition from being a free-to-play game to a play-to-earn model?
People earn tokens by playing the game, and it's quite easy to pick up but hard to master. It's part of the Primate ecosystem, and tokens can be converted into ApeCoin. What we want with Benji Bananas is accessibility: with most play-to-earn games, it's quite hard to onboard players.
As the game was released in 2013, it has an existing large audience. Now it's play-to-earn, there are likely to be new audiences coming in. The existing audience will also feel that their time investment translates into something more. We've already done one air drop to around 2,000 people of around US$100 worth of tokens and plan to do more. In addition, we've already released our first Benji non-fungible token [NFT] sale, which sold out in a few minutes.
You have had more than 50 million app-store downloads. Who plays Benji Bananas and how do you expand the user profile?
We don't have a demographic as such, but we do know the game appeals to males and females across different age groups. We also know that people play the game all over the world and have recently seen a huge surge in users from emerging markets. Benji Bananas was very popular in what we call tier 1 locations – North America, Western Europe and so on. Recently, it's seen more users from Southeast Asia, too.
How does the ApeCoin system handle the Primate tokens players earn?
We think of it as a decentralised exchange, a pool that enables you to convert tokens from one currency to another. If you're earning Primate, you can swap it into ApeCoin then exit out of the game. We are also looking at ways players can spend their Primate tokens and get more benefits in the future.
Are many people aware of Benji Bananas in Hong Kong?
We haven't done aggressive marketing of the game in any specific market but we may do soon. But I can say there is a growing trend of NFT gaming and blockchain gaming in Hong Kong.
What experience do you have in transitioning free-to-play games to play to earn?
One of the key things about tokenising a game is that you're tokenising a community. Play-to-earn games tend to be more community-driven and you have to adapt to that. The community may have opinions on how to do things, and if you go against their will, they're not going to be as invested [in the game] as before. I treat them as investors and they're also our biggest ambassadors. If they're enjoying the game, they're going to tell more people about it. So, it's about deriving value for everyone in the ecosystem. The best-laid plans can go awry, and you need to respect market dynamics and the community.
How is the play-to-earn scene in Hong Kong?
We are privileged to be a leading player in the play-to-earn economy. People in Hong Kong are open-minded to pick up new technology but there's a bit more to it than playing Candy Crush. They want to know why they need wallets and need to understand the legal structures and compliance. Crypto is used in so many ways but regulations and polices are still being written.
How is Tower Ecosystem's play-to-earn game Crazy Defense Heroes, which you are an advisor on, going?
Crazy Defense Heroes was one of our first play-to-earn initiatives and launched last year. We launched the tokens as a fair launch – there were no private sales to investors. For many weeks, it was the number-one game in terms of active wallets on [global app store for decentralised applications] DappRadar. Soon, you'll be able to take assets you've earned from Crazy Defense Heroes and take them back into the Sandbox and vice versa.
Can participants make a living from play-to-earn games?
We want to grow the ecosystem, and at some point, maybe the value generated in the ecosystem is such that someone can generate an income. What play-to-earn gaming and blockchain gaming enables is more user participation. If you look at e-sports, people make money out of that, but they're doing a lot of training and it's not accessible to a large market. So, maybe someone doesn't earn a living from playing one game, but they earn from playing multiple games. If people have money but not the skills, they can identify scholars of the game to utilise their capital. Blockchain enables a more democratic way to play to earn than e-sports, for example.
Animoca Brands is one of Hong Kong's nine unicorns. What do you like about doing business here?
It's a very dynamic place and receptive to a mix of Eastern and Western ideas. And Hongkongers like to take chances, which is needed to capitalise on interesting opportunities.
What are your plans for 2022 with Benji Bananas and other play to earn games at Animoca?
For the token ecosystem – Primate for Benji Bananas, Tower for Crazy Defense Heroes – we want to bring more games into the ecosystem. It's not the end of the Primate ecosystem, it's just the beginning.
Related links
animocabrands.com
benjibananas.com