Inspired by the heat-resistant silver ants found in the Sahara Desert, Hong Kong start-up i2Cool Technology has developed iPaint, a patented cooling paint that can greatly reduce building power consumption and accelerate the city's efforts to achieve carbon neutrality.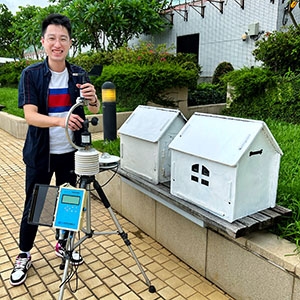 i2Cool was one of the 10 winners at this year's Start-up Express entrepreneurship programme, organised by the Hong Kong Trade Development Council (HKTDC). iPaint also won the firm a Gold Award and a jury commendation at the Geneva International Exhibition of Inventions last year and has attracted a HK$10 million (US$1.27 million) angel fund investment.
i2Cool set up a Guangdong-Hong Kong-Macao Greater Bay Area (GBA) branch in July, mass-producing refrigeration paints and developing different cooling products such as ceramics (iCeramic) and textiles (iTextile). The firm will gradually expand its business in Mainland China and Southeast Asia and enter retail markets in Europe and North America through distributors and online shopping platforms. It will also participate in the HKTDC's Eco Expo Asia event to expand its global business connections.
Saharan inspiration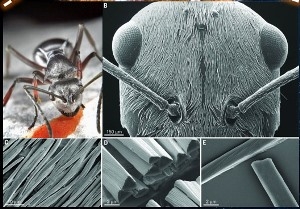 In hot weather, people's habit is to turn on air conditioners ­– but the electricity consumed boosts greenhouse-gas emissions further, aggravating global warming and forming a vicious circle. To solve this pain point, i2Cool developed a cooling paint based on the unique hair structure of the silver ants found in the Sahara Desert, which intensely cools the insect's exoskeleton. The paint has the same effect, helping to reduce indoor temperatures without increasing power consumption.
Dr Martin Zhu, i2Cool Co-Founder, said the raw materials of iPaint are similar to the constituents of ordinary paints, but the shape, size, distribution and density of its raw material particles are optimised according to the theory of physical optics, imitating the hair structure of the Saharan silver ants to change physical properties.
This radiation cooling technology paint can reflect 96% of ultraviolet, visible and near-infrared light, emitting mid-infrared electromagnetic waves with a wavelength of 8 to 13 microns back into the atmosphere to achieve heat dissipation.
Mass production cuts prices
High production costs meant that radiant cooling technology paints had not been used on a large scale until now. Following years of research and experimentation, the i2Cool team finally found an effective and affordable formula and successfully obtained patents in Hong Kong and the mainland.
"We switched from precious metals to common building materials such as fibre and glass. Mass production cut the cost per square foot of cooling paint coating from Rmb2,000 (US$281 – or US$3,000 per square metre) to about Rmb7, only about 20% higher than ordinary paint. Saving 40% on air-conditioning and electricity bills every month will bring a return on investment in about a year," Dr Zhu explained.
He added that the iPaint lasts for more than five years and users can keep the room cool despite reducing air-conditioning use. "It is estimated that 120 to 400 kilowatt hours of electricity can be saved per square metre per year, equivalent to cutting carbon dioxide emissions by 70kg to 230kg," he said.
Product line expands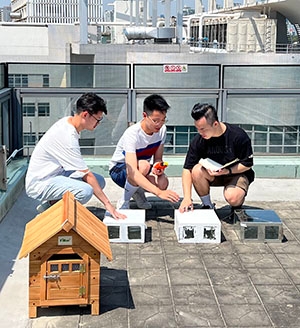 In addition to its headquarters at the Hong Kong Science and Technology Park, i2Cool set up its first mainland office in Futian, in western Shenzhen, and rented a factory in Guangzhou to mass-produce the first-generation white iPaint.
"The second-generation iPaint is available in seven colours of the rainbow and has a reflectivity of at least 92%. It is currently being tested in buildings in Hong Kong. We can generate bespoke colours according to the requirements of enterprises to match the design of the exterior walls of the buildings," Dr Zhu said.
The second-generation iPaint will be launched in the market by the end of the year. The company is now focused on developing clear paints for glass windows and solar panels, as well as the third-generation iPaint that will be suitable for both cold and hot weather and will change colour.
i2Cool has already cooperated with Hong Kong government departments and public organisations, including the Architectural Services Department, Electrical and Mechanical Services Department, Civil Engineering and Development Department and the Urban Renewal Authority, to test iPaint on-site, and has cooperated with a number of listed companies and private developers for product testing. The pilot project involves leading Hong Kong property developers Henderson Land Development, Chinachem Group and Hongkong Land.
"The results show that after using the cooling coating, the roof temperature falls 30°C and the indoor temperature is reduced 6°C, which is expected to save at least 10% of air-conditioning power consumption," Dr Zhu said. The product can also be used in cold-chain trucks and other outdoor applications such as battery energy storage systems to reduce fuel consumption and extend battery life.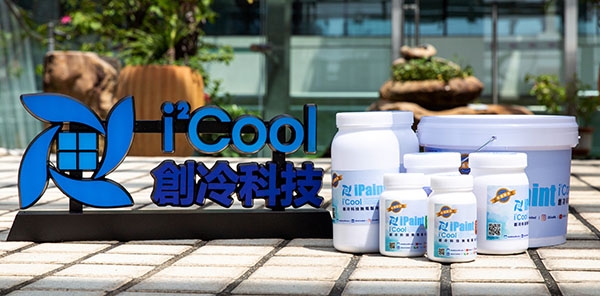 Mainland acceleration
The massive mainland market presents unlimited business opportunities, Dr Zhu said. He hoped to use Hong Kong's "top-down" model – that is, to cooperate with the government and large-scale enterprises first – to enter the GBA refrigeration market that is worth an estimated Rmb100 billion.
"Using iPaint on all GBA buildings could cut electricity use by an estimated 30 billion kWh and save 17.5 million tonnes in carbon emissions. The Jiangmen City and Zhuhai City Governments have actively cooperated with iPaint. We approached them and are discussing the feasibility of setting up a factory there.
"i2Cool will also provide consulting services for corporate clients, optimise energy-saving designs and write energy efficiency audit reports so companies can meet listing requirements or financing performance indicators."
Angel fund approval
i2Cool was founded in June last year by Professor Christopher Chao, Vice President of The Hong Kong Polytechnic University, , along with Dr Edwin Tso and four doctoral students and postdoctoral fellows from the City University of Hong Kong. Tech 300 Angel Fund, the Innovation and Technology Commission's Technology Start-up Funding Scheme for Universities (TSSSU), and Hong Kong Science and Technology Park's IDEATION Programme and Entrepreneurship Incubation Programme have all supported the start-up.
The company grew rapidly in its first year, successively launching new products, receiving investment from the Guohong Jiaxin Capital angel fund, and being invited to develop in the GBA. It has also obtained technology patents and product safety certification from the European Union.
Overseas markets
Dr Zhu said he will actively apply this "non-electrical refrigeration technology" at different levels, hoping to raise HK$60 million (US$7.64 million) in Pre-A financing to enrich its product lines and develop new markets with cooling ceramic tiles and textiles. At present, i2Cool has agents in Taiwan and Thailand and is also negotiating with partners in Canada, Germany, France and the United States.
"This year's goal is to gain a firm foothold in the mainland market, and next year we will focus on developing Southeast Asia and other places, as well as entering the European and American markets through distributors," Dr Zhu said.
i2Cool has also established an e-commerce business, opening on the Taobao platform in the mainland and Amazon, as well as a direct-to-consumer sales channel. "We expect to break even in the middle of next year, with business growth of 60% every year, and by 2025 we will have established or have business representatives in major markets and become a world-renowned environmental protection brand," he said.
Award boost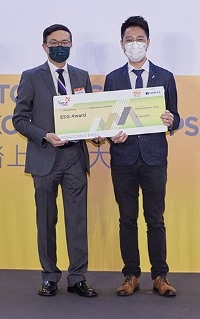 i2Cool was one of 10 winners in the fifth Start-up Express entrepreneurship incubation programme organised by the HKTDC, and also won the newly added ESG Award. The firm will now be invited to participate free of charge in a series of local and overseas activities organised by the HKTDC, including Eco Expo Asia, helping the company to expand its market, build contacts, increase exposure and find partners in an all-round way.
"Participating in exhibitions is the best way to reach new customers and explore new business. We have also received business enquiries from potential partners in Singapore and France through referrals from the HKTDC," Dr Zhu said.
i2Cool has also won several other start-up awards. To win such competitions, Dr Zhu said entrants needed to point out the pain points of the industry and explain how their developments can help to address these problems.
"In this way, the judges will be interested in listening and have an in-depth understanding of the advantages of our products," he said, adding that taking part in such competitions has benefited the company lot. "It gives us the opportunity to listen to more pertinent opinions, and further improve our products and develop new products to meet the needs of the market, 'not too far from the ground'."
Related link
i2Cool