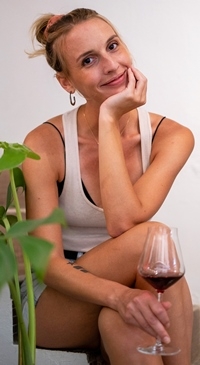 As the COVID-19 pandemic continues to keep consumers away from restaurants and bars, Hong Kong has seen a corresponding increase in the consumption of wine at home and a greater emphasis on quality, according to research by Wine Intelligence. Its Hong Kong Wine Landscapes research report released in 2021 found that 68% of millennial wine drinkers believe spending extra for better wine is worthwhile. "The frequency of wine consumption has remained constant, suggesting that consumers want to drink wine at the same rate, but they are willing to spend more per bottle and trade up," says Richard Halstead, Chief Operating Officer, Insights & Custom Analytics at Wine Intelligence.
This is good news for wine retailers such as Crushed Wines, established by Brut! restaurant and wine bar owner Camille Glass with three other wine-loving friends in May last year. Ms Glass said their aim was to create a space where friends, neighbours and the community can discover distinctive bottles from small-scale producers and sustainable vineyards.
"We want wine to be approachable for everyone – that's why we're setting out to help people understand the tastes, smells and sensations they're experiencing," Ms Glass said. Customers can order the wines through the Crushed website as well as its physical store, located in Sai Ying Pun, west of the central business district on Hong Kong Island.
How do you select the small-batch wines – from Italian and Spanish orange wines to Oregon Chardonnays and Pinot Noirs – that you specialise in?
As enthusiastic explorers of wine, we start by searching for small-batch wines with heart. Sometimes we approach them, sometimes they approach us or come recommended by someone we trust. We're looking for wines that tell the stories of the growers and the land they tend, the makers and their inspirations, their communities and the roles they play in them, and how they contribute to sustainability, in whatever form that may take. Then we taste them, and any bottles that make us truly excited go on our shortlist and usually onto our shelves.
What wines excite Hong Kong drinkers?
For a very long time, we saw [Hong Kong wine preferences] as being nearly exclusively Eurocentric, but recently people have started exploring the New World with a lot of enthusiasm. The world of wine seems to be turning a page – there's so much more openness now around lower-intervention wines and lesser-known regions and the playful yet elegant whites called orange wines, which are made by leaving the grape skins and seeds in contact with the juice to create an orange-hued product. Generally, the landscape of what's popular is becoming a lot more exciting.
What inspired Crushed Wines?
Crushed was born of the pandemic and us seeing the demand for the style of wines that have made Brut! a neighbourhood gem. Operating retail and online frees us up from most of the restrictions, and in some ways benefits us as we fill the gap for wines that people are enjoying with their takeout dinners at home.
How would you characterise the Hong Kong wine market?
It's an evolving space. There's plenty of enthusiasm to learn and people are slowly getting comfortable with trusting their own taste as opposed to being bound to textbook wines.
What is trending in the world of wine?
There's been an increase in wine sales as people have had more disposable income to allocate to wine purchasing since the beginning of the pandemic. More wine is being bought for daily consumption as people are spending more time at home than in previous years in Hong Kong. With travel bans in place, people are more open to exploring wines that they may not have otherwise adventured into while abroad.
What advice would you give starter wine collectors?
The key is finding someone you trust. Find a good, reputable merchant, be it retail, online or auction, who offers fair prices and who you know does their homework on the wines they're selling and can give you detailed information on where their bottles are coming from. Pick one thing to roll with, be it the maker, the region, the grape or just even just the style. Use that as the seed you plant and let your learning, and collection, grow naturally from there.
Drink as you go, drink often and when it feels appropriate. Not all wine is made for ageing, but if in doubt, never hesitate to ask the savvy wine folk in your community or spend some time Googling your bottle of choice.
How long before you can reap the benefits?
From an investment point of view, wine is a long game. Generally, the longer you hold out, the more benefit you stand to gain as each individual wine will get more scarce the further you get from the year it was released. Returns are anyone's guess right now – the secondary market has exploded under the pandemic and seems to be holding out. To try and maximise returns, you can take a look at what regions are trending in wine auctions as a guide on what's likely to sell the best.
Related link
Crushedwines