Business confidence in the Guangdong-Hong Kong-Macao Greater Bay Area rallied to a record high in the first quarter of this year after the Mainland China-Hong Kong borders fully reopened.Standard Chartered and the Hong Kong Trade Development Council (HKTDC) on Monday released the GBA Business Confidence Index (GBAI) for January to March. The current performance for business confidence jumped 11.8 points to 51.3, the first move above 50 since the fourth quarter of 2021. The expectations index leapt to 61.5, a 16.4-point jump and the biggest on record since the GABI was launched in the second quarter of 2020. The better-than-expected GBAI reflected that companies had regained confidence as normal travel resumed.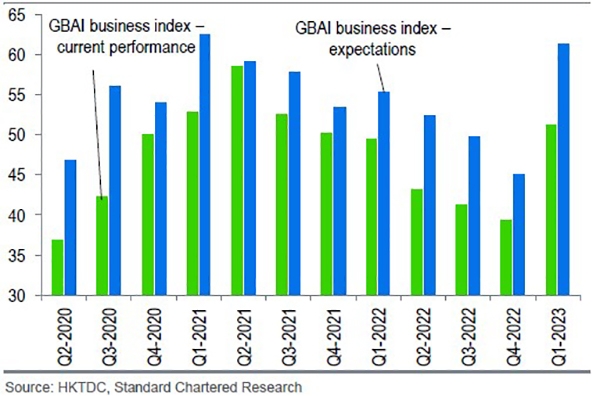 Sub-indices surge across board
Both the current performance and expectations sub-indices for business activity of all industries rose. Financial Services (59.8) and Innovation and Technology (54.3) topped current performance index; while Professional Services (65.2, up 19.1 points), Manufacturing and Trading (61.3, up 17 points) and Financial Services (67.4, up 16.9 points) showed the strongest improvements in expectations index.
Dongguan, Guangzhou and Shenzhen lead bulls
The current performance and expectations sub-indices rebounded for business activity in all GBA cities; Foshan (55.1), Dongguan (53.5) and Hong Kong (51.6) performed better for the time being, while the strongest growth in expectation index was registered in Dongguan (69.6, up 32.5 points), Guangzhou (67.7, up 24.6 points) and Shenzhen (60.8, up 13.7 points).
Sustained recovery expected
"As the mainland swiftly acquired herd immunity after the reopening early this year, economic activities have resumed speedily. This was reflected in the 'business confidence' level of companies operating in GBA rebounding significantly in the first quarter this year," said Mr Kelvin Lau, Senior Economist, Greater China, Standard Chartered.
"With the support of government policies and boundary reopening, we see little reason to doubt the sustainability of the post-COVID recovery for now. As many GBA companies are still operating below pre-COVID levels, there appears plenty of room still for GBA businesses to play catch-up and return to trend," he added.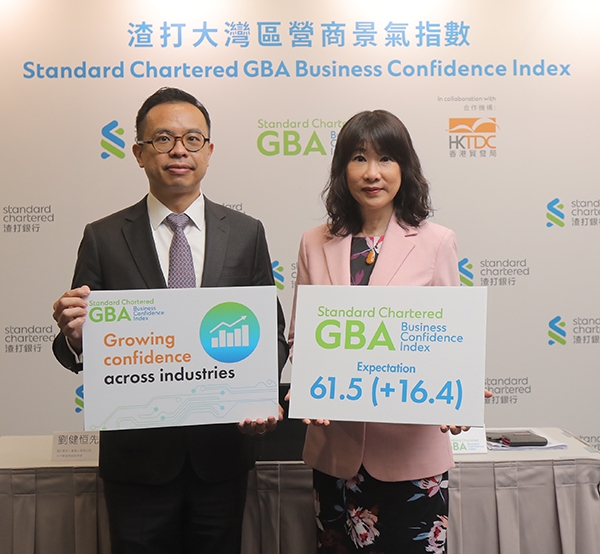 Hong Kong sub-indices hit peak

Ms Irina Fan, Director of Research at the HKTDC, said: "The increase in current performance index was prompted by the sharp rise in new orders. It is also worth noting that the Profit Index (52.5) returns to expansionary territory, showing business improvement for those interviewed."

"In addition, the two sub-indices for Hong Kong hit the highest level since GBAI was launched in the second quarter of 2020, reflecting that local companies are turning optimistic for the city's outlook."Industrial production, services and fixed-asset investment growth all reaccelerated in the first two months of this year, she added. "The recent string of encouraging macro data explained the positive sentiments, confirming that China's economy has turned the corner post-COVID."


Back to normal by 2024

The GBAI is the first forward-looking quarterly survey in the market that looks at business sentiment and synergistic effects in cities and industries across the GBA. It is compiled based on a survey of more than 1,000 companies in the GBA covering manufacturing and trading, retail and wholesale, financial services, professional services and innovation and technology sectors. The index enables investors and businesses to better understand the current business climate, gauge future performance prospects and formulate their market strategies for the GBA.
Close to two-thirds (65%) of interviewees said relaxation of mainland pandemic measures would positively impact business for the rest of this year. More than half (53%) had raised business targets since normal travel resumed earlier this year. About 60% expected business – in terms of workforce, capacity utilisation, orders and sales – back to or exceeding the pre-COVID level in the fourth quarter.
Improved consumption on the mainland is expected but respondents remain concerned about rising raw-material costs, geopolitical tensions and intensifying competition within the industry. They hope expanding domestic demand, new GBA-specific policies, more attractions for foreign investments and more supports to the private sector will further improve the business operating environment.
Related links

Standard Chartered GBA Business Confidence Index Report
HKTDC Research