Advances in science and technology have created a market hungry for software engineers. Catering to market demand, start-up Rocket Academy has introduced intensive programming education, offering online programming courses to train software engineering talents.

This year, it opened a branch in Hong Kong.
Rocket Academy's Coding Bootcamp teaches practical skills, building an online community and supporting students to find employment or become software engineers. Graduate employment rate is more than 90%.
The Academy was one of 10 winners at this year's Start-up Express entrepreneurship development programme, run by the Hong Kong Trade Development Council.
Rocket Academy Founder and CEO Neo Kai-Yuan is a Singaporean who grew up in Hong Kong and studied computer science at Stanford University in California, where he interned at Facebook and Alibaba Cloud. He went on to work as a software engineer in San Francisco, Singapore and Indonesia.
He discovered that it was hard to find software engineering talents and heard about online coding courses offered in the United States.
"I thought this was a great business opportunity, because the internet can connect teachers and students from different regions, and there are no such online schools in Singapore and Southeast Asia."
With his background as a software engineer and his love for teaching, Kai-Yuan founded Rocket Academy in Singapore in December 2019 and launched its first course in 2020.
He started in Singapore, as he was familiar with the local environment. The city's technology development was relatively mature and many large companies needed talent. Singaporeans also had high education levels, incomes and internet penetration. Widespread use of English made communication easier.
He chose to launch in Hong Kong Government funding and support came from institutions
Rocket Academy has an eight-strong part-time tutor team from both cities, some of whom are members of the core team's network and alumni who have successfully entered the industry after graduation and want to give back.
"Hiring part-time teachers is more flexible, and the number can be increased or decreased depending on the semester or course," said Foong Leung, Rocket Academy's COO. "We are an online school with a flexible business model that helps us build a cross-regional teacher team and online community. It is also cost-effective without renting a physical venue, allowing us to provide affordable fee-based courses."
Rocket Academy offers a six-week Coding Fundamentals class for those with no programming experience, at about HK$1,150 (US$147), and a four- or eight-month Coding Bootcamp at about HK$40,000 for those wanting to switch careers to programming. Student ages usually range from 20s to 30s and occasionally up to 50s.
Their coding bootcamp has proficiency admission thresholds and applicants must pass an online interview. The average admission rate is currently at about 30%. "The drop-off rate for our Bootcamp admissions process is generally very high, about 50% to 70%. Interviews are set up to ensure each student's ability and to maintain a high calibre learning experience for everyone," Rocket Academy Bootcamp Director Sam O'Shaughnessy said.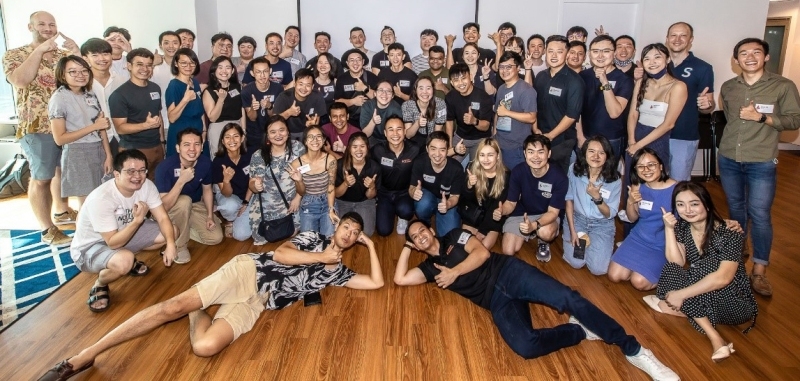 He added that students worked through learning materials before class then asked questions during online sessions. The question-and-answer format made lessons more effective.
The employment rate of Bootcamp graduates is more than 90%. Most received employment letters within six months of graduation. Employers included DBS Bank, UBS, Foodpanda, Decathlon and Grab.
Despite the negative economic environment, Kai-Yuan believes software engineers had bright employment prospects.
He was honoured by Rocket Academy's Start-up Express win. "I am from Singapore, grew up in Hong Kong and worked here, and regard Hong Kong as the second family. Through the assistance of the HKTDC, we hope that we can grow together with the Hong Kong technology ecosystem."