For the first time since the start of the pandemic, the 23rd Hong Kong Forum returned as an in-person event, while the sessions were also livestreamed to engage the wider global community. The Forum, organised by the Hong Kong Trade Development Council (HKTDC), serves as the annual flagship event of the Federation of Hong Kong Business Associations Worldwide (FHKBAW).
The two-day event, which concluded yesterday, welcomed more than 180 participants, including 100 global business leaders, in-person. At the same time, more than 700 business representatives from 35 countries and regions, including Canada, Europe, Mainland China, Southeast Asia, the United States and more, participated online.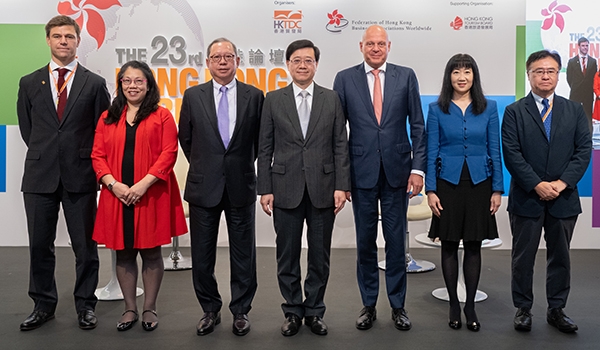 Global business connections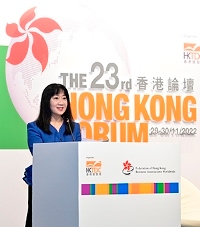 Margaret Fong, Executive Director of the HKTDC, said: "Businesses the world over will pay close attention to the Mainland China, including the GBA, and RCEP markets in the years ahead to reap its benefits. And that is the focus of this year's Hong Kong Forum. With the theme "Gear Up for Worldwide Business Opportunities", the event will delve into the arising opportunities and outlook of the Mainland China, GBA and RCEP markets to equip you with the latest insights and help you make the right business decisions."
In his keynote address, Chief Executive of the Hong Kong Special Administrative Region (HKSAR), John Lee remarked: "'One country, two systems' ensures the continuation of our compelling advantages, from the rule of law and judicial independence to the free flow of capital, our free trade and investment regime, simple and low tax system, favourable business environment, sophisticated logistics and communications infrastructure and more. These distinctive strengths have long attracted global business and investment. Together, we have built one of the world's most competitive and open economies."
In his opening remarks, Hans Poulis, Chairman of the FHKBAW, said: "Hong Kong is an ideal gateway to Mainland China, especially the [Guangdong-Hong Kong-Macao] Greater Bay Area [GBA], a strong economic powerhouse with a market of more than 86 million people, which is equivalent to a large global economy, where the population has high spending power. The Hong Kong Forum this year again, has invited renowned industry experts and successful entrepreneurs to share their leadership insights and versatile experience. Besides, we also arranged the local visits and cultural tours that will enable participants to understand the latest development in Hong Kong from cultural, historical and infrastructural perspectives."
RCEP, GBA opportunities
As an international innovation and business hub, Hong Kong serves as an important conduit connecting the GBA and Regional Comprehensive Economic Partnership (RCEP) economies with the rest of the world.
Stacey Chow, Director and Asia-Pacific Regional Lead for Business and Society at the Brunswick Group (main picture, left), presided over a plenary session attended by business leaders, including (left to right) Dee Poon, President of Brands and Distribution at Esquel Group; Bertrand Chen, CEO of the Global Shipping Business Network (GSBN); Sonia Cheng, CEO of Rosewood Hotel Group and Vice-chairman of Chow Tai Fook Jewellery Group; and Tracy Wong Harris, Managing Director and Head of Sustainable Finance for Asia at Standard Chartered Bank.
The business leaders discussed post-pandemic business opportunities in Asia driven by the RCEP and GBA and shed light on how Hong Kong can help overseas companies seize market opportunities in sustainable development.
Economic outlook
The Forum also focused on the mainland economic outlook. Chang Ka-mun, Senior Advisor at Fung Business Intelligence and Managing Director at Li & Fung Development (China) Limited; Adam Kwok, Executive Director of Sun Hung Kai Properties Limited; and Peter Mok, Head of the Greater Bay Area at Hong Kong Science and Technology Parks Corporation (HKSTP), joined a discussion alongside panel chair Irina Fan, HKTDC's Director of Research, to discuss the broader economic outlook, new growth areas and longer-term challenges facing Mainland China.
Cultural, aviation and I&T developments
In addition to the Forum, FHKBAW's overseas member associates visited the West Kowloon Cultural District, the M+ museum, Hong Kong International Airport and HKSTP. The on-site visits let them gain a better understanding of Hong Kong's most recent developments, such as the HKSAR's role as a hub for arts and cultural exchange, international aviation, and innovation and technology.
Global business leaders
Dennis Chiu, Chairman of Hong Kong Singapore Business Association said: "I find Hong Kong after COVID-19 has become more resilient, it is very determined to make things work. I have heard a lot of misperceptions about Hong Kong and would highly recommend those people to make a trip to Hong Kong personally, to see [with] their own eyes the robust development in the West Kowloon Cultural District, The Hong Kong International Airport, The Science & Technology Park, etc. Hong Kong has metamorphosised out from the pandemic impact and has grown stronger and become more impactful to international business communities."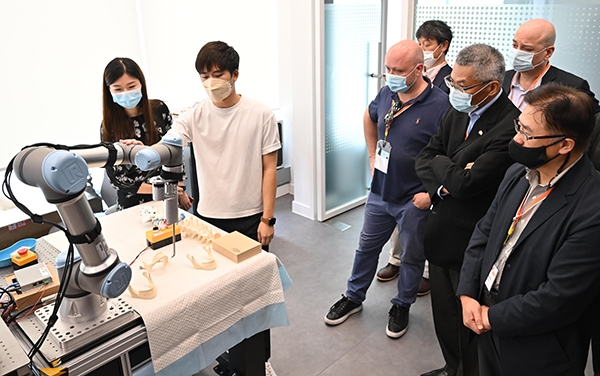 Mark Staublin, President of Hong Kong Business Association of the Midwest, said: "This is my first visit to Hong Kong after two years. I haven't lost confidence in Hong Kong, despite the negative media news I have read. This visit is proven to be worthwhile. Hong Kong has equipped itself to grow stronger and more resilient. This is still the preferred city for businesses, network, entertainment and culture. I will encourage my US teams and friends to book the next flight ticket to Hong Kong soon."
The Hong Kong Forum is the annual flagship event of the FHKBAW. The Federation, founded in 2000, comprises a network of 47 business associations with about 11,000 business executives and professionals from 36 countries and regions as its members.
Vote of confidence
At the forum, representatives of chambers from Canada, Europe and Asia expressed confidence in the city.Cindy Ho, President of the Hong Kong-Canada Business Association - National saidHong Kong was the gateway to Asia, including the GBA, providing a balance between East and West, and the city's energy and efficiency truly elevated businesses. The interconnectivity and free trade through bodies such as the as Regional Comprehensive Economic Partnership will undoubtedly help companies grow.

Hong Kong culture had developed tremendously in recent years, exemplified by such attractions as M+, she added. "There is also so much development blending traditional Hong Kong products and services whilst integrating innovation and modern twist."
"Hong Kong is open for business. Come visit for business but also enjoy the welcoming culture," Ms Ho said.Ben Leung, the President, The Hong Kong-Canada Business Association - Calgary Section said the entrepreneurial environment provided by facilities such as the Hong Kong Science Park, free financial markets and the legal system created a unique environment for Canadian companies to expand business to Asia and the GBA through Hong Kong.

Mr Leung was impressed by the Science Park tour during Hong Kong Forum, which let him understanding the support the HKSAR Government gave entrepreneurs, boosting innovation and ESG efforts. As Hong Kong is a leading international financial centre, he believes strengthening the support and simplifying the process of foreign enterprises to launch intial public offerings in the HKSAR that would be a new driver for the economy.

He believed Hong Kong's economic and social activities had returned to normal.

 
Jose Lai, President of the Thai-Hong Kong Trade Association said Hong Kong was a hub to connect the mainland's domestic and foreign trade activities, and provide efficient professional services, in the GBA and beyond.

Hong Kong had transferred from the traditional business model to "production model" and build up a long-term and solid base for future economic development, Mr Lai said.

He recommended all businesses should visit Hong Kong to understand current and future development. In addition to the advantage of being a gateway for the mainland market, the "Made in Hong Kong" quality products had taken a leading role in the international business market. Hong Kong had been developed as more than a financial centre. "Don't miss the chance to do business in Hong Kong."

Bernardo Mendia, President of the Portugal-Hong Kong Chamber of Commerce & Industry said Hong Kong was the perfect place to headquarter Portuguese companies looking to expand in Asia, because of the international environment, rule of law, access to top notch service providers, airline communication with other Asian countries, availability of qualified English-speaking work force, quality of life, direct access to the mainland market, support from the local entities for setting up, availability of international schools, and more.
"It is amazing how the Government never stopped, even during the pandemic: the 3rd runaway at the airport, the M+ new development area for quality of life, the Central market for shopping and the huge sea coastal trail that connects Central to Causeway Bay are some of the most visible investments that turn the city ready for the next 20 to 30 years," Mr Mendia said. "One needs to mention the Family Office positioning as well as the central bank digital currency developments in HK as well. It is simply amazing that the city never stopped improving despite all the excuses to do just so!"

Hong Kong was back in business as the city always found a way to bounce back!
Masahiro Sato, Chairman, The Japan Hong Kong Society – National, said the biggest advantage of working in Hong Kong is the ability to quickly access ample high quality information about the mainland and its market based on Hong Kong's cross-border super-connectivity. This advantage is backed by strong financial capability including limitless and free exchange of all international currencies.
He found that Hong Kong was very flexible and resilient despite economic problems.

Mr Sato emphasised that One Country Two Systems would continue to work and improve in future.
Andrew Sayers, President, Hong Kong New Zealand Business Association said Hong Kong was the same place it had been before 2020 but offered more opportunity, Its infrastructure was good, it was safe and retained the energy and opportunity that it was famous for.

"Therefore, it makes a perfect base for foreign companies to consider a Hong Kong or GBA expansion. I always feel that Hong Kong people have a 'can do' attitude – obstacles are challenges to be overcome rather than roadblocks. After this trip, I remain very comfortable in recommending entrepreneurs seriously consider Hong Kong as a market for the product or service. Or if you are considering the wider GBA market, Hong Kong as an ideal base to locate staff and your head office."

Mr Sayers believed Hong Kong was thriving. "This is in stark contrast to the picture that international media are portraying. Following my visit in December 2022, I feel that Hong Kong is similar to how it was prior to 2020. There is huge investment in infrastructure (the airport expansion and M+ Art Gallery being examples). Business opportunities are as strong as they ever were, and Hong Kong's position as the gateway to the mainland remains as relevant now as in the past. However due to recent events Hong Kong requires talent more than ever – in my view the opportunities there are greater now than in the past. There has never been a better time to consider Hong Kong for business expansion or job opportunities."
He said he was often asked what Hong Kong offered over Singapore as a market entry point.
"My initial response is that you need to consider strategic drivers why one jurisdiction is preferred to another depending on the business operation. However where either market may suit a business - there are four significant advantages that Hong Kong has: more seamless and access to the wider GBA and Chinese markets; business, operational and day to day costs (for the operation and staff); access to local talent (the work ethic of Hong Kong residents is second to none); and ability to obtain permanent residence for you / staff.

"The Hong Kong that we know and love is back. Discount the media reports. The fundamentals of 'why Hong Kong' and the opportunities represented by Hong Kong remain as strong as ever."

Related link
Hong Kong Forum