Witnessing a growing ready-to-drink market worldwide, and noting a niche for healthier alcoholic drinks in Hong Kong, Flora Ma and Jonathan Der left their respective careers in finance and real estate to launch Only Drinks last year.
Their new ready-to-drink alcoholic beverage brand recently launched its third flavour, guava hibiscus, in time for summer. Blending guava and hibiscus with five-times distilled Australian vodka, the drink contains no sugar, carbohydrates or artificial flavours, in line with its predecessors, yuzu ginger and Tahitian lime.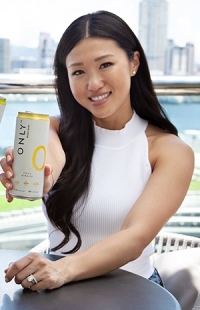 Consumers can buy Only Drinks canned beverages at the start-up's e-commerce site and physical stockists include Hong Kong Liquor Store, The Bottle Shop and Green Common, Ms Ma and Mr Der said.
What led you to set up Only Drinks and what is your vision for the brand?
When we were in Vancouver, we saw all our friends drinking these hard seltzers and realised there was a gap in the market in Hong Kong. While the drinks we've launched so far are vodka with soda, we're not just a vodka soda company. We're a beverage company focused on developing other alcoholic canned beverages with a health-conscious approach.
What challenges did you face setting up the business after leaving your corporate careers?

We set up during the COVID-19 pandemic and started doing a lot of research online in 2020. We would email and call developers but never met them. The developer we ended up working with is based in Australia and we still haven't met them in person.
You currently have three flavours. Are there plans to add more?
We'll be launching a fourth flavour later this year, and next year we're looking at launching a different product line. We've also used Asian ingredients as we're based in Asia, and our future flavours down the line are going to have a similar theme.
What were your best moments since setting up the brand?
When we did a sampling at Hong Kong Liquor Store, seeing their in-person reaction was a real highlight. I think many have this perception about vodka-based drinks, but when they try it, that perception completely changes. Around 50% of our business is direct to consumer and sold through our own platform, so when we engage with our customers and they give their feedback on the drink, that's special.
What gives your product the edge over peers?
What people have picked up on with Only is that there's no aftertaste, as we use vodka rather than a distilled spirit like hard seltzer brands. In addition to being sugar and carbohydrate-free, we're 80 calories, while a beer is around 150 calories, but with the same alcohol content of around 4.5%.
You sell online and at physical stores including Hong Kong Liquor Store. Are there plans to reach more stockists?
So far, I think we have around 20 stockists, including some private clubs like the American Club and Hong Kong Yacht Club, and we're the only such brand in these clubs. We've just confirmed a deal with an international five-star hotel, too. We're very selective on which retailers we work with as we want to build a premium brand. Our ultimate goal is to have Only everywhere, but first we want to be recognised as a premium brand.
Have you done any events, or do you plan to?
Yes, as mentioned with Hong Kong Liquor Store and also one at WeWork. One of the reasons we do this is that these hard seltzer-style of drinks are very new to Hong Kong and most people don't know they exist. We want to let them try it and explain the benefits. It's been very difficult to do events, but when we can we'll do pop-ups and events. As Hong Kong opens up, we're hoping to do a summer party with our new flavour.
How did you go about partnering with a beverage developer in Australia to develop Only?
We still haven't been to Australia – the developer couriers the samples to us and then we invite our friends to taste them with us. If we had been able to visit, that would have been so much easier. Things just take longer so you have to plan it better.
What are the advantages of doing business in Hong Kong?
In Hong Kong, it's very easy to set up a business, plus tax rates are low. In the United States, you have to use distributors to sell alcohol, whereas in Hong Kong you don't, so that means we can go direct to, say, city'super. This makes the process quicker and the margins are better as we don't have to share it with the distributor. I also think Hong Kong is very supportive of local businesses, and consumers are very open to trying new things.
How ambitious are you for Only and what are your long-term plans?
We are focused on Asia first, and we want to be one of Asia's top ready-to-drink beverages. In five years, we'll hopefully be operating in multiple markets and growing this category.
What is your focus for the rest of the year and 2023?
We're focused on expanding our distribution network and we've been speaking to more hotels. Hopefully before the end of this year, we will have entered another Asian market. We're also going to be sponsoring sports team – rugby perhaps, and a dragon-boating team – to build brand awareness.
Find out more about the beverage industry in Hong Kong and abroad at the Hong Kong International Wine & Spirits Fair in November.
Related link
Only