When asking what comes next, it is always a good idea to look at what came before. This year's Asian Financial Forum (AFF) began on Monday, 10 January under the theme "Navigating the Next Normal Towards a Sustainable Future" and began with a plenary session where business leaders from across the world laid out their vision.
New trends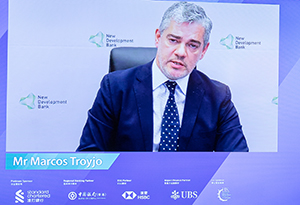 Marcos Troyjo, President of the Shanghai-based New Development Bank, said we need to consider what the old normal was. He pointed out that between the fall of Berlin Wall in 1989 to the Great Recession two decades later, the prevailing normal was deep globalisation, with lower barriers to investment and trade being the norm, along with regional economic integration.
This normal has been challenged since the 2008 global recession, with a risk of deglobalisation.
New trends have come to bear, he said, with emerging economies comprising a greater slice of the world's economy. He pointed out that the Emerging Seven (E7) – Mainland China, India, Russia, Brazil, Mexico, Turkey and Indonesia – have a combined gross domestic product of US$53 trillion, which is driving a reconfiguration of global value chains and supply chains. The mainland is no longer a low-cost country and leads the world in many technologies that will bring change to various sectors. Brazil, meanwhile, exports more to other emerging economies, sending more to Thailand than it does to Italy, Mr Troyjo cited as an example.
Virtual platform
As a highlight event celebrating the 25th anniversary of the Hong Kong Special Administrative Region (HKSAR), the 15th AFF, organised by the Government of the HKSAR and the Hong Kong Trade Development Council (HKTDC), is being held entirely online through the AFF virtual platform on 10 and 11 January. The decision to go entirely online was made with public safety as the primary concern and was in line with the tightening of the government's public health measures in response to the latest COVID-19 pandemic developments. The two-day forum will help participants from both Hong Kong and overseas build business connections, exchange market intelligence and seize global opportunities.
Speaking at the conference opening, Carrie Lam, Chief Executive of the HKSAR, (main picture) referenced the focus on sustainability at AFF 2022. She pointed out that in its climate action plan announced in October last year, Hong Kong committed to cutting 50% of its carbon dioxide output by 2030. The government was exploring turning Hong Kong into a regional carbon trading centre.
Adapting for the future
Giving special remarks during the opening session, Xiao Yuanqi, Vice Chairman of the China Banking and Insurance Regulatory Commission, said the COVID-19 pandemic has had an extensive impact on people and economies. He was confident the pandemic will end soon and the time had come to think about how to adapt to the post-pandemic era. Governments, for example, would need to consider exiting their proactive stimulus policies.
Economies worldwide needed to curb their sharp inflation rates, he said. Whether transitory or not, inflation was very high globally. The world had had some experience historically, such as in the 1980s when a bout of global inflation was successfully controlled.
There was also a need to restore global supply chains, he said, as disruptions had lasted longer than anticipated.
Mr Xiao said fintech development in the mainland and Hong Kong had been rapid. To facilitate this, the rapidly developing Guangdong-Hong Kong-Macao Greater Bay Area needed many more experts such as actuaries, financial planners and auditors.
Recovery prospects
More than 170 global business leaders, policymakers, financial experts, investors, entrepreneurs, tech giants and economists are speaking at AFF 2022. In addition to addressing the key issues reshaping the economic landscape amid the gradual global economic recovery, the speakers will shed light on how industries can realise sustainable and inclusive development through impactful venture capital and business strategies.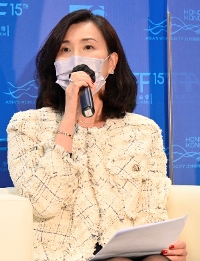 Opening the plenary session, Christopher Hui, Secretary for Financial Services and the Treasury of the HKSAR, said Hong Kong had managed its economy well during COVID-19, with growth for last year likely to be 6.4%. The city provided an example of sound pandemic control and economic recovery. There was a need to build resilience into the financial system to allow for recovery, he explained.
In the run-up to the conference, Mary Huen, Chairperson of the AFF 2022 Steering Committee and Executive Director and CEO, Hong Kong, and Cluster CEO of Hong Kong, Taiwan & Macau of Standard Chartered Bank (Hong Kong) Limited, said: "The pandemic has led us to enter the era of the new normal. The world's economy and businesses are resuming under a new model. Entering 2022, changes in the global landscape continue to deepen, while governments and enterprises in different economies are taking innovative approaches to promote sustainable development. I hope we can see stable growth in the global economy this year."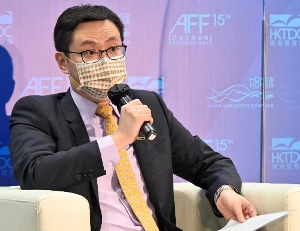 Patrick Lau, Deputy Executive Director of HKTDC, noted: "Even though it has been two years since the onset of the pandemic, businesses are still facing all sorts of challenges, and versions of the new normal are continually emerging in different sectors. We must step further ahead to sense the pulse of the market and generate business opportunities. The theme of AFF 2022 is sustainable development, which is a goal shared by everyone touched by the pandemic. We must strive to conserve our natural resources and minimise the impact of climate change."
Creating connections
In addition to providing valuable updates through some 60 sessions of speeches and discussions, the forum will host AFF Deal Flow Matchmaking Sessions and a fintech exhibition to help participants identify investment opportunities and explore innovative solutions.
It is also hosting the InnoVenture Salon, a platform for start-ups to connect with international incubators, investors and potential business partners. With a mission to support entrepreneurship and innovation, the Salon is joining hands with Hong Kong's regulators to help start-ups resolve their business pain-points.
Additionally, the HKTDC, Mizuho Bank and Eureka Nova, a start-up incubation and open innovation platform established by New World Development, are coming together for the first time for AFF Accelerate. On the platform, innovators introduce their innovation and technology solutions and demonstrate how innovative concepts can be commercialised for adoption in the business sector.
Related link
AFF