With the growing popularity of high‑tech applications involving big data, cloud computing, mobile internet and geographic information, the smart fire-protection industry has been making tremendous progress in Mainland China. Numerous technology firms and manufacturers have devoted considerable financial resources to the research and development of related equipment and technology. The intense competition in the industry has, in turn, driven the further expansion of the market.
With this in mind, interest was high in the 19th China International Fire Protection Equipment Technology Conference and Exposition (China Fire Expo) hosted by the China Fire Protection Association, which concluded recently in Beijing. Taking "Smart Fire‑Fighting Science and Rescue Technology" as its umbrella theme, the show attracted more than 800 domestic and overseas suppliers as well as several scientific research institutions.
The expo covered the entire fire rescue industry chain with exhibits of various fire-protection products and technologies newly developed around the world, such as fire trucks, drones, robots, personal‑protection equipment for fire‑fighters as well as firefighting and rescue devices. The event set out to unveil the full picture of the latest developments in the field of fire protection equipment and technology over the past two years.
In addition, the expo showcased a wide array of high‑tech products that integrate fire rescue equipment with scientific intelligence. This saw it serve as a leading channel for sourcing smart fire-protection products, as well as a platform for displaying and understanding smart fire-protection technology.
At the venue, a number of renowned manufacturers, including Xuzhou Construction Machinery Group (XCMG) and Sany Heavy Industry, had on show new fire-protection equipment incorporating smart technology, such as a long‑reach ladder and jet‑equipped fire truck, an aerial platform fire truck, a high‑jet water tower fire truck, a fire extinguishing foam/water tanker, a solid‑liquid‑gas fire truck, and a rescue robot with remote‑controlled dismantling functions.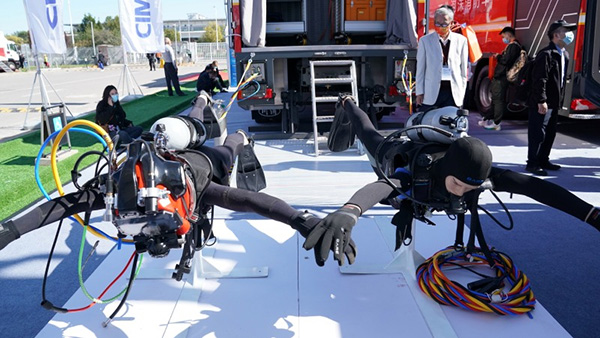 Launchpad for US
The United States‑based Oshkosh Corporation, meanwhile, debuted its third‑generation Striker Airport Rescue and Fire‑Fighting (ARFF) foam vehicle at the event (main picture), which proved to be one of the highlights of the expo's opening day.
According to the presentation, this ARFF vehicle is a consolidation of several advanced technologies, including smart control, data analysis, 3D GPS navigation and ultra‑power systems. Both the cockpit and doors come equipped with ergonomic‑based control systems that allow a more flexible driving operation and wider vision. In order to enhance its firefighting performance, it is also equipped with an all‑terrain pump on‑the‑go system driven by a power divider, a high‑altitude piercing arm with aiming device, and electronic smart foam testing functions. This mega‑ARFF vehicle not only comes with powerful features but is also said to be "smarter" than other fire trucks.
According to its North Asia General Manager, Lin Qingqi, Oshkosh has a positive outlook on the mainland's aviation market, believing it to be one of the fastest‑growing in the world, with airport fire trucks now the mainstay for protecting the safe operation of airports. At present, Oshkosh's fire-protection products and equipment can be found at Beijing Daxing International Airport and several other international airports across the mainland.
Ms Lin said that, although COVID-19 has had a global impact, the mainland's economic development has remained very impressive, driving strong demand for high‑end smart products in the fire protection, emergency and rescue market. He maintained that this was why Oshkosh continues to focus on the mainland market with its latest products, technologies and services.
Drones and robots
The safety of high‑rise buildings has always been among the most important segments of the fire-protection industry. This is largely because rescue operations at such sites often pose challenges to high‑rise firefighting equipment, technology and capabilities.
With this in mind, over recent years, drones have become the rising stars of the fire-protection industry, a development that saw Beijing Droneyee Intelligent Technology Company premiere its Alpha Uma‑X12 high‑rise tethered firefighting drone at the expo.
According to company President Ren Xuefeng, its exhibits at the show are capable of solving problems related to limited operating altitudes, long preparation time and safety of fire rescue personnel during firefighting operations at high‑rise buildings conducted through aerial platform fire trucks.
According to the company's presentation, its drone makes use of optical fibre composite low‑voltage cables to connect with the power‑supply system on the ground in order to achieve the goal of remaining airborne without interruption. Following an upgrade to its loading capacity, it can now carry DN40 fire hoses to any building up to a height of 50 metres. It can also support general fire transport vehicles by carrying drone‑operated firefighting equipment, such as water‑ or dry powder-based fire extinguishers.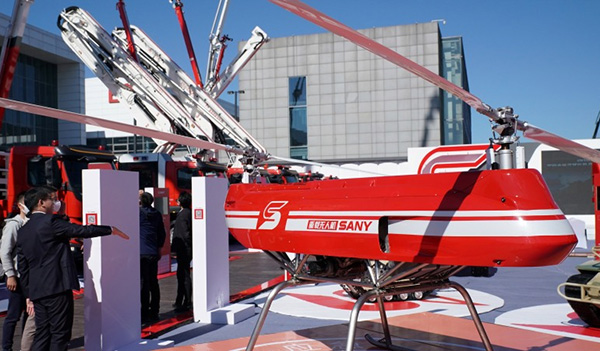 Firefighting robots have also rapidly become a major industry segment, with many companies presenting new generation models at the expo. Notable debuts here included all‑terrain wheel‑driven fire detection and rescue robots, as well as underwater rescue robots for use in rivers and lakes.
According to some analysts of the mainland market, future changes in information technology from one generation to another will increase the penetration of smart fire equipment in the fire-protection industry and continue to see the sector grow exponentially.
Related link
HKTDC Research