Start-ups work with limited resources and have a wide range of needs – from finance and research and development (R&D) facilities to bespoke manufacturing. One of the best ways they can move ahead is by, quite literally siting themselves in the best possible geographical region.
For entrepreneurs from around the world, Hong Kong and its neighbouring centres in the Guangdong-Hong Kong-Macao Greater Bay Area (GBA) offer enticing benefits. Within its boundaries the GBA offers a superbly connected global financial capital in Hong Kong, the research hot house of Shenzhen (main picture), specialty manufacturing centres such as Guangzhou and Dongguan, and the tourism and cultural hub of Macao.
Naturally with opportunities come challenges, one of the biggest being the very diversity that serves as a drawcard. Start-ups operating in the GBA need to adapt to working from centres with different cultures and regulations.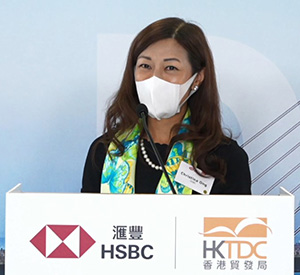 Christina Ong, Head of Business Banking, Commercial Banking, Hong Kong, HSBC, said the strategic partnership between HSBC and the Hong Kong Trade Development Council (HKTDC) leveraged both organisations' networks and resources to help start-ups do business in GBA. Ms Ong was addressing a webinar on the GBA start-up ecosystem and strategies as part of the HSBC x HKTDC Exploring GBA Series. She said the GBA was now an international focal point for growth.
Business for small and medium-sized enterprises (SMEs) and start-ups is growing. In 2021, Hong Kong had 3,755 start-ups, a 70% expansion since 2017. As an international financial centre, Hong Kong has drawn many talents from all over world. It has also spawned 12 world-class unicorns – which is quite an achievement for a single city.
Regional knowhow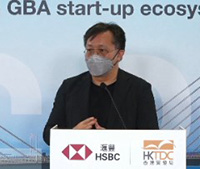 Dr Samson Tam, Partner Hong Kong INNO Angel Fund, said entrepreneurs had to be familiar with the environment as the GBA is a large area.
Start-ups needed to consider how to test the waters before proceeding, while entrepreneurs needed to become familiar with the environment and understand the risks involved. The success rate for start-ups was low, he pointed out, at just 5%. Success required dedication and familiarity with the technology the start-up was trying to develop.
Dr Tam suggested start-ups initially focus on one region such as the GBA city of Jiangmen and develop there before expanding to the region as a whole, and then to the rest of China. Making small advances in many places was no good, he said. Begin by concentrating in one place.
Accelerating opportunities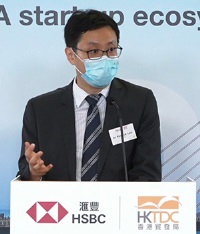 Addressing the same webinar, Dr Patrick Lau, Deputy Executive Director of the HKTDC, said the pandemic had accelerated adoption of new technology and pointed out that the GBA was full of opportunities. As with Dr Tam, he said start-ups needed to understand GBA rules and its ecosystem, and also needed to stand out among competitors.
To allow for start-ups' limited resources, the HKTDC offers many services to help entrepreneurs set themselves up in the GBA, including the one-stop GoGBA platform launched in June, along with a WeChat GoGBA mini-app. The HKTDC also runs a GBA services centre in Shenzhen and other cities.
Dr Lau explained that the HKTDC's Transformation Sandbox (TBOX), a support service for small and medium-sized enterprises in Hong Kong, had already supported 1,600 enterprises.
At the same time, the HKTDC runs competitions to help promising entrepreneurs, including the Start-up Express competition which helps them find partners and funding.
It also hosts IPHatch Hong Kong, which supports cross-boundary enterprises in the city and provides intellectual property support for start-ups, helping them develop new technologies.
The Hong Kong Special Administrative Region Government is also investing heavily in technological development, bringing a bright outlook for start-ups.
Entrepreneur profile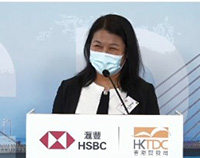 Alice Tsang, Assistant Principal Economist, Greater China, for HKTDC Research, gave the seminar a profile of start-up founders based on a survey in which the HKTDC and HSBC questioned 308 start-ups established after 2016.
Most founders were young, she said, with 61% aged between 21 and 40, while 19.8% were aged 22 to 30 and 15.6% were in the 41 to 50 age range.
Postgraduate education did not seem to be critical to entrepreneurs, she said, revealing that 66.9% had bachelor's degrees while 20.5% had a masters and just 9.7% had PhDs.
Biotech start-up founders were more mature, largely aged above 41, and were also more highly educated. Conversely, retail technology firms had the highest proportion of bachelor's degree holders.
Ms Tsang said of the founders who originated from overseas, most came from the United Kingdom (19.5%), while 14.6% came from the United States, 9.8% from India, 7.3% from France and 4.9% from each of Germany, Canada, Italy and the Netherlands.
Looking ahead, just 29.5% of those surveyed plan to expand over the next three years, with difficulties in raising funds amid fierce competition given as the main reason.
Meeting industry needs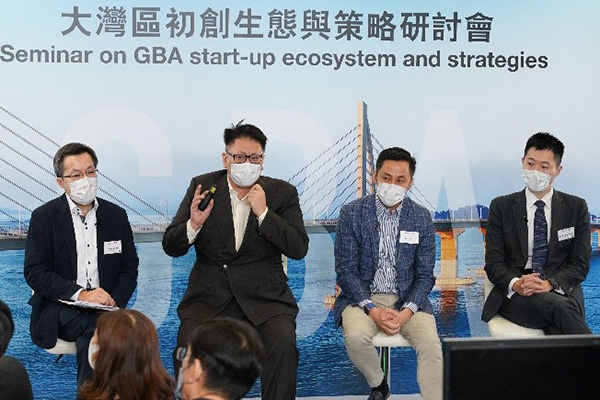 The seminar panel discussion was moderated by Mingles Tsoi, Chief Exploration Officer of ParticleX Venture Capital Accelerator. Michael Lai - CEO, Inspire Mountains (Shenzhen) Multimedia told the panel he went to Mainland China in 2006 to develop the film industry. Noting the GBA opportunities, he brought his business south from Beijing to Shenzhen in 2019 and established his firm in Qianhai, focusing on the new media market, online movies and drama series.
"Short videos are currently very popular," he said "driving a new retail economy of up to RMB1.2 trillion [US$188 billion]. Short videos have brought huge business opportunities and prompted many participants in the market." Inspire Mountains set up a team to launch high-quality short videos to attract viewers and intensify their desire for consumption.
Anthony Wu, Group CFO of GeneHarbor (Hong Kong) Biotechnologies Ltd Group, pointed out that Hong Kong, as an international city, enjoys sales advantages. High standard universities also aggregate talents, bringing scientific minds to research centres, while the GBA urban agglomerations in the mainland provide production advantages. It is recommended that small and medium-sized enterprises and start-ups should use the diverse advantages of the GBA.
Banking services
Jaff Lau, Head of Innovative Business & Growth, Commercial Banking, Hong Kong, HSBC said Hong Kong has a world-class science and innovation ecosystem. The key to start-up success lies in introducing capital and turning technology into commodities. "We start from Hong Kong to help small and medium enterprises set up. In the GBA. HSBC supports firms by finding funds, partners, business information and other services. We also provide financial support for SMEs and start-ups of different sizes, such as support for the new-economy and medical-related companies." HSBC has launched two major funds, the GBA+ Technology Fund and Healthcare Fund, with a credit line of US$1.8 billion, to boost new economy and medical-related companies. HSBC's GBA 4 Connect, namely Account Connect, Credit Connect, Payment Connect and Service Connect also supports Hong Kong businesses going to the GBA.
Raymond Ling, Senior Vice President, Greater Bay Area, HSBC Commercial Banking, said more and more Hong Kong companies have settled in the mainland market, and mainland companies use Hong Kong as a springboard to venture abroad.
"Because of the foreign exchange control regulations in Hong Kong and Mainland China, effectively directing funds between Hong Kong, Macao and mainland cities will be a critical consideration. HSBC has different teams at home and abroad to help GBA companies open up the financing channels and support their capital needs. Our high efficiency and convenient payment platform also facilitates the cross-border transactions in businesses' daily operations."
Related links
HKTDC Research
HSBC GBA+ Technology Fund