The COVID-19 pandemic and lightning-fast development of vaccines, as well as coordinated global efforts to slow the spread of the disease, emphasised the need for a unified effort to combat health threats.
The need for a global joint effort in research, development, manufacturing and logistics leads in turn to the need for a hub where such efforts can be based – and the Guangdong-Hong Kong-Macao Greater Bay Area (GBA) is ideally placed to fulfil such a role.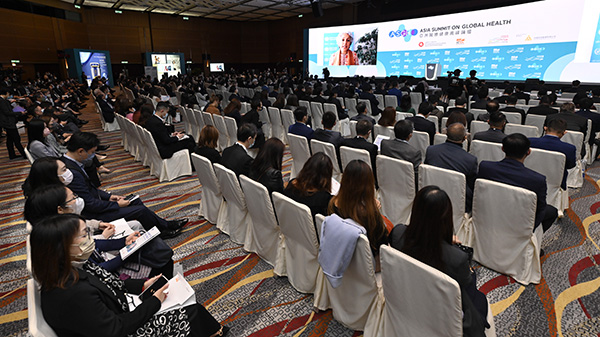 Delegates at the inaugural Asia Summit on Global Health (ASGH), which concluded successfully on 24 November, received this message from several of the internationally renowned speakers invited to the event. Co-organised by the Government of the Hong Kong Special Administrative Region (HKSAR) and the Hong Kong Trade Development Council (HKTDC), and running on the theme "Shaping a Resilient and Sustainable Future", the summit took place at the Hong Kong Convention and Exhibition Centre in a hybrid format, offering both online and in-person participation from different regions and time zones. The event featured more than 70 speakers, including senior government health officials from around the world, representatives of international organisations, medical research experts, as well as investors and business leaders.
Through 18 thematic sessions, a succession of distinguished speakers discussed the latest scientific research development and investment opportunities in the medical and health industry from the perspectives of healthcare, finance and technology. The summit received an overwhelming response, attracting more than 21,000 onsite and online participants from 46 countries and regions. It also facilitated more than 200 one-to-one matching meetings between investors and project owners, helping to connect different players within the industry and create business opportunities. In addition, the summit highlighted the strengths of Hong Kong's healthcare industry in the areas of scientific research, investment and financing, as well as the access to business platforms the city provides. All conference sessions are available for on-demand replay through the event website until 23 December 2021.
Adapting to change
The global healthcare industry's ability to pivot, innovate and adapt to the new normal has become paramount. At the plenary discussion under the summit's theme, "Shaping a Resilient and Sustainable Future" (main picture), global business leaders and healthcare experts shared their views on the rapid reform and investment opportunities in the healthcare industry, exploring how to create a more resilient public health system that can withstand short-term and long-term challenges. The speakers included Chen Qiyu, Executive Director and Co-CEO, Fosun International Limited; Fred Hu, Chairman, Primavera Capital Group; Dr Dennis Lo, Director and Li Ka Shing Professor of Medicine and Professor of Chemical Pathology, The Chinese University of Hong Kong; and Leon Wang, Executive Vice President, International and China President, AstraZeneca. The session was moderated by Victor Chu, Chairman & CEO, First Eastern Investment Group (Hong Kong).
Mr Chen said: "Joint global R&D is an important model going into the future. This can expedite leading technology in the world so that it can move to clinical use faster. So, in the future, no matter whether the source of innovation is in the US, Europe, China or Japan, with this highly effective global cooperation we hope that in the shortest period of time these products can be used in Greater China. When we face the future, we need to change. We need more health innovations globally [and] we need far faster reform in the healthcare system integrated with new technology, digital technology, mobile healthcare facilities and also personal health data."
Mr Lo said global collaboration and innovative responses helped build resilience. He is positive regarding innovation since it is accelerating rapidly. He pointed out that unlike in the 2003 SARS outbreak, which did not lead to any vaccine creation, multiple vaccines have already been developed for COVID-19.
Mr Wang said that in April 2020, the partnership between AstraZeneca and the University of Oxford developed a vaccine which is now used in many countries, including less-developed nations. Global collaboration had accelerated production and supply, with technology transfer to 15 countries hosting 25 production sites. Production facilities are in a wide range of places, from Mexico to Shenzhen.
Mr Hu said the pandemic precipitated overnight change in the healthcare system in Mainland China – it leapt online with virtual care visits growing 19 times in 2020 and consumer searches increasing 20 times from a year earlier. Similar patterns appeared everywhere. He felt this was not transitory but permanent, adding that consumers have been very receptive towards mobile health apps.
He said such technological development expanded access to healthcare, which had been heavily skewed towards big cities. Second and third tier cities in the mainland could benefit greatly, he said, adding that remote availability can reduce healthcare inequity and cut costs.
Matchmaking service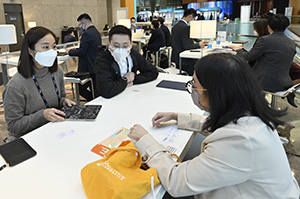 The ASGH Deal Flow Matchmaking service connected investors with owners of healthcare and medical projects based on shared areas of interest. One-to-one physical and online meetings between project owners and investors from venture capital, private equity, family offices and institutions at the summit provided a platform for global business exchange and collaboration. Investors, project owners and start-ups from around the globe proved eager to use the service, and the summit organised more than 200 one-to-one meetings, matching funds with global investment projects covering industries such as biotechnology, medical devices and drugs, digital health, community health and wellness.
The InnoHealth Showcase and Exhibition demonstrated the latest technologies from more than 150 global healthcare projects. Medical and healthcare investment project presentations and various activities took place both onsite and online, covering industries such as biotechnology, pharmaceuticals and medical equipment. Biotechnology and healthcare start-ups had the opportunity to meet with investors and industry experts in the Business of Healthcare Advisory Zone either onsite or through the summit's digital platform to exchange ideas, seek advice and formulate business strategies.
Flagship event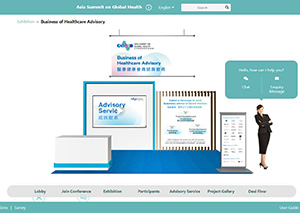 The HKTDC invited 18 healthcare industry and business leaders from around the world, as well as representatives from internationally renowned companies, to act as Honorary Advisers to the inaugural Asia Summit on Global Health and provide guidance on the agenda and arrangements. The HKTDC also arranged online roundtables to facilitate in-depth exchange and discussion on business opportunities between participants from different countries and regions, including Austria, France, Germany, the Netherlands and the United States, and industry representatives from Hong Kong and the mainland. The ASGH is now set to become an important annual flagship event in Asia addressing the issue of global healthcare.
Related link
ASGH