Cyclops were one-eyed giants in Homer's Odyssey, which were given the slip by the warriors returning from Troy.
Hong Kong has its own Cyclops, the flagship product of a local start-up that provides analytics technology to improve retailers' sales.
Patrick Tu, co-founder and CEO of the start-up Dayta AI said:"Most of the time when people hear about facial recognition, they have concerns about compromised privacy. However, data we collect using facial detection complies with privacy laws in various countries, including the European Union's General Data Protection Regulation (GDPR).
"For example, the latest third generation Cyclops software provides the engagement rate metrics by looking at interactions between customers and products. This reading allows retailers to understand which items customers have come into contact with and which were not bought. This process does not involve identifying or labelling individuals."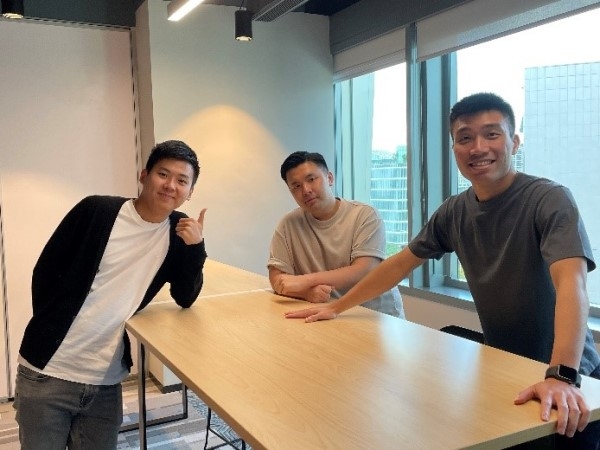 AI way to go
Since its establishment in May 2018, Hong Kong start-up Dayta has focused on artificial intelligence (AI), big data and cloud technologies to help retailers and shopping malls craft business strategies. Dayta AI started with just three co-founding members. It is now a company of 20 employees with an average age of just 26.
Mr Tu had a difficult start when developing a personalised learning mobile application while studying at the Hong Kong University of Science and Technology but this experience prepared Tu for his second venture.
"We started customising different AI programmes for clients. We slowly realised their demands are rather similar and eventually introduced our 'Smart Retail' service in 2020."
Camera-ready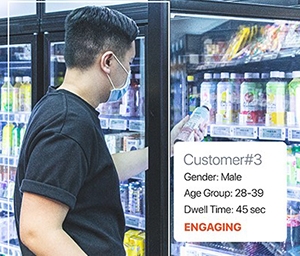 Mr Tu said Cyclops' biggest selling point is that clients do not have to buy new equipment if they already have security cameras that support Real Time Streaming Protocol (RTSP). Once existing cameras are connected to the Cyclops platform, streamed videos will trigger algorithms to collect data, such as time customers spend checking out products, their gender and age group, consumer behaviour and even emotions. These metrics can be used to generate heatmaps showing store areas with the heaviest foot traffic. AI technology can turn data into insights to improve store performances after referencing the key performance index analysis and customer engagement.
"We charge clients according to shop size and number of cameras. It works out to be about HK$300 to $1,000 a month. This is highly cost-effective and affordable to [small and medium-sized enterprises]s," Mr Tu said. The latest, third-generation Cyclops offers further benefits from enhanced AI technology, he believes. "A lot of people like window shopping. That's why our latest generation of Cyclops will analyse which products consumers looked at but didn't buy during time spent in-store. We also improved the user interface by using more diagrams to help clients make sense of the data compiled."
Enhanced exposure
Mr Tu understands how data-driven insights can help stores boost sales. "For example, if a brand hosts an online promotion, this will undoubtedly attract consumers to the webstore and purchase. Though the key is whether or not that traffic will continue at the physical stores. We can draw comparisons between online and offline sales using our AI system."
Dayta AI has been actively building its presence since its admission into the Hong Kong Science Park incubator programme. It won an entrepreneurship contest by LVMH and was a winner in the Hong Kong Trade Development Council's (HKTDC) "Start-up Express" programme aimed at mentoring and connecting start-ups. Mr Tu said: "When we participated in 'Start-up Express', we met start-ups and judges from different industries. They gave us a lot of advice. Winning the award is more than receiving recognition from our trade, it also helps us bring in new investors and clients. The most valuable experience was being introduced to different international contests by HKTDC, so we can keep our exposure and reach out to potential clients overseas."
ASEAN market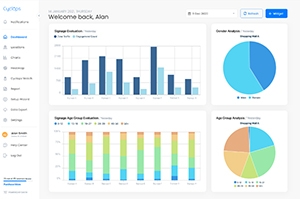 Dayta AI brings in about HK$10 million a year, with as much as 90% coming from Hong Kong and the balance from markets such as Australia and Malaysia. More than 60% of Hong Kong property developers use Cyclops for their shopping malls, leading Mr Tu to seek to expand coverage to all malls in Hong Kong.
He has also set his sights on overseas opportunities and entered the Association of Southeast Asian Nations market through the HKTDC's Transformation Sandbox (T-box) SME support programme. "Even amid the pandemic, we were able to negotiate business online and successfully set foot in Thailand and Malaysia. The HKTDC understands the needs of different industries. Reputable enterprises learnt about us through HKTDC. That greatly boosted their confidence in our services." Talks are now under way with Indonesia's major shopping malls to introduce Dayta services. South Korea, Japan, Vietnam, the Philippines and Mainland China are next on the list.
"With its abundance of talent and funds, it is not difficult to develop AI technologies in Hong Kong. For start-ups though, we need to first tackle fund-raising and marketing," Mr Tu said Dayta AI has managed to accumulate US$3.5 million from two rounds of funding. Another round is scheduled for next year to bring in US$10 million to enhance the system, open new markets and data protection. "If we can maintain our market lead for one to two years, then we won't have to worry about competitors copying us."
Related links
Dayta AI
Startup Express