Agriculture may not be the first thing to come to mind when considering industries in the very urban Hong Kong, but one start-up is turning to a smart device that lets users experience the joy of growing food in the comfort of their homes.
Growgreen developed a range of hydroponic planting systems which has been well received in American and European markets as well as locally. Building on that success, the firm plans to enter the Mainland China market later this year.
Modern farmer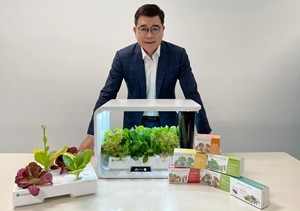 The start-up was founded by Hong Kong electronics expert Dr Humphrey Leung, after he was inspired by an entrepreneur who started his business at the age of 60.
"It inspires me that it's never too late to start a new career," he enthused.
With a background in the semiconductor industry and integrated circuit development, Dr Leung looked for opportunities to apply his expertise to sustainable lifestyles and healthy foods.
As such, Growgreen came into being in 2016. It has since grown to more than 20 people, comprising talent from the agriculture, electronics and food science sectors. The skilled team has created the aspara range of indoor hydroponic smart growers.
No soil, no problem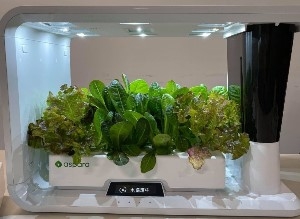 "No genetic modification is involved. We are merely using technology to create better growing conditions than outdoor ones," assured Dr Leung.
"Once you eliminate pollution, pesticides, pests and additives, it normally takes plants around 28 days to reach maturity. That's a 50% increase in planting efficiency."
Dr Leung said the aspara plant growers are based on the concept of an indoor greenhouse but incorporate smart technology to improve the planting environment with adjustable lighting, luminosity, temperature and humidity. The devices come with a smartphone application reminding users when to water, fertilise and harvest plants.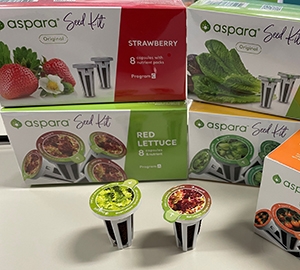 Apart from smart growers, the aspara range offers seed kits of different plants. Users can use the app to scan the QR code on the packaging of the seed kit for the species they want to grow and the device will automatically adjust the lighting, photoperiod, watering cycle and nutrient level to give the plant the best growing environment. The app can also control multiple aspara machines concurrently, enabling larger-scale indoor farming on such premises as hotels, clubhouses, restaurants, schools, elderly homes and research institutes, in addition to home farming.
The seeds come in biodegradable capsules, which look similar to coffee-machine capsules and are to be put in the smart grower. Once the plants are harvested, users can grow a new batch by placing new seed capsules in the machine.
Green lifestyle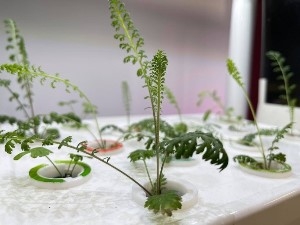 With more people cooking at home during the COVID-19 pandemic, Growgreen has expanded its aspara range from salad vegetables to include tomatoes, chili, edible flowers and herbs.
Alongside the growing systems, seed-kit sales are also a major revenue source for Growgreen, with an eight-capsule kit priced at about HK$140 (US$18).
"The cost of growing your own vegetables may be about the same as buying premium vegetables imported from overseas, but the difference is that aspara users can see how their vegetables grow pesticide-free at home," explained Dr Leung.
Growgreen's smart growers are a hit especially with local schools, allowing teachers to bring science, technology, engineering and math (STEM) classes to life. Dr Leung wants to extend its reach to elderly care homes, believing the smart-plant growers can make care homes livelier, while creating a stronger bond between the residents and their families.
Entrepreneur success
The plant growers are available at local retailers as well as Growgreen's e-shop. The e-commerce business model has enabled the company to tap into overseas markets including the United States, Canada and a number of European countries.
The systems have also created a buzz at various international and local trade fairs, including the CES tech show in Las Vegas, the International Home + Housewares Show in Chicago's and the HKTDC Hong Kong Electronics Fair in Hong Kong. Additionally, Growgreen was a winner and named "My Favourite Start-Up" in the pitching contest held as part of the 2021 Start-up Express entrepreneur development programme organised by the Hong Kong Trade Development Council (HKTDC).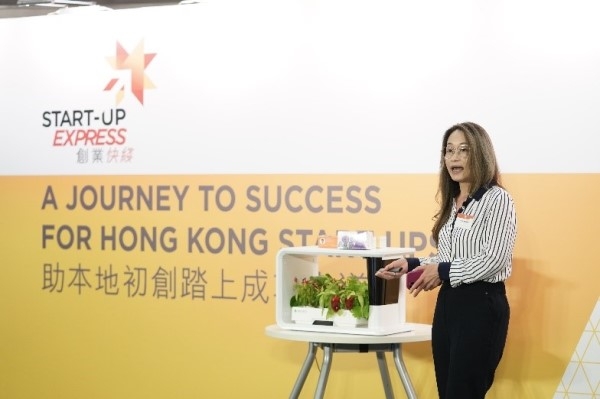 "With travel restrictions amid the pandemic, it's hard to attend overseas shows and find business partners. Fortunately, the HKTDC is helping us promote our brand through its global network," said Dr Leung.
The company has not forgotten the mainland market, where sheer size and lower transportation costs prove attractive. "We are now in talks with a high-end homeware home furnishing company on the mainland for B2B sales. That company has over 1,000 retail points.
"We also wish to team up with international kitchenware brands and bring hydroponics into modern homes for a more sustainable and healthier lifestyle."
Related links
Growgreen
Startup Express