Consumers are switching away from high-sugar drinks, a boon for canned sparkling tea tonics producer Lify Wellness. The firm offers sugar-free tea-based beverages with herbal additives including ginseng and turmeric, boosting consumers' vitamin C and collagen levels.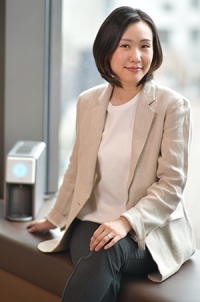 The start-up was set up in 2017 with the launch of a smart herbal-tea brewer, which helped Lify become a winner in the pitching competition of Start-up Express 2019, an entrepreneurship development programme organised by the Hong Kong Trade Development Council (HKTDC).
The brand has since diversified into herbal teas and then sparkling tea drinks, of which it offers four – Unwind (hibiscus and blood orange), Energy (turmeric and ginseng), Recover (oolong and goji) and Radiance (matcha and rose), which are bottled and distributed by a local firm. They are currently available at a Lify pop-up in the vibrant Central business district until mid-December. There, busy professionals can stock up on Lify tea tonics along with healthy lunches and snacks to power them through the day.
The company believes carbonated "super drinks' that tackle gut health and mental wellness are the next big thing for the food and beverage (F&B) sector and its goal is to increase awareness of the importance of balanced living and make healthier lifestyles more accessible. Co-founder Mazing Lee, who established the firm together with her sister Connie, shares their experience.
What led you to set up the Lify Wellness?
We started Lify with our herbal teas and this is an extension of that concept. It's like a daily dose of wellness, with ready-to-drink herbal beverages that are a mix of east-meets-west. Our first [and currently] retail pop-up is like a wellness oasis in the heart of the city, right in the middle of the hustle and bustle. We want to promote wellness and see that it's accessible in everyday life and can be achieved by making small changes. At the pop-up, customers can sign up for free membership, get product discounts and giveaways while also keeping abreast of the latest wellness trends.
What challenges did you face when developing tea tonics?
It took us a few months to get them right! The major challenge was balancing the benefits of the drinks with the flavour profiles, and we did some focus groups so we could meet the expectations of our consumers. We want customers to consume our drinks on a day-to-day basis, not once in a while. Herbs expand differently at different temperatures, so we had to make sure they were not over-steeped. Carbonation also affects taste – you don't want to add too much but then you expect some foam from a canned sparkling drink.
Can sparkling tea tonics eclipse rival beverages?
We think with time, hopefully yes! First, we need to educate people about the concept, promote the product within the wellness community, and get early adopters to bring it to the masses.
Do you plan further improvements?
The next stage is to add probiotics to our drinks, as we know a lot of people have gut problems. We've been collaborating with some researchers from the Chinese University of Hong Kong who've been working on probiotics and [we] hope to launch something in the second or third quarter next year.
What do you like about doing business in Hong Kong?
Hong Kong is a great testing point for our products and there's a close-knit wellness community here. The city provides us with an environment where we can work closely with partners and brands and build a reputation. Now we've created this wellness platform, we hope to expand into Southeast Asia and other markets overseas.
Are Lify products available overseas at the moment?
The Lify Herbal Brewer is currently available in Hong Kong, Macao and Taiwan. We're looking at distribution in California and New York, and we've had interest from Japan, Korea and the Middle East. Sparkling tea is another huge opportunity.
What are your plans for Lify over the next 12 months?
Our focus will be on the pop-up and we're considering a permanent retail location, which would feature snacks and cannabidiol goods alongside our own products to complement the holistic lifestyle we're trying to promote. On the business-to-business side, collaboration is key – we love working with local brands and building the Lify Wellness community. We want to give out healthy tips, tap into wellness trends and do some cross promotions. We'll also launch two more flavours of the tea tonics and are in talks with a few F&B groups looking for new concepts. We'd like to launch wellness retreats, too, and will continue to host tea tasting sessions in corporate environments like co-working spaces as well as gyms.
Related link
Lify Wellness