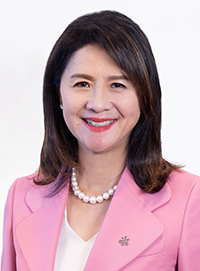 Hong Kong's private wealth management (PWM) industry is growing strongly, a newly released PWM report co-authored by the Private Wealth Management Association (PWMA) and business services firm KPMG China shows. Amy Lo, Chairman, Executive Committee of PWMA, outlines the key findings, including a forecast that, within five years, Mainland Chinese investment could account for more than half of assets under management in Hong Kong.
How was this research compiled?
The Hong Kong Private Wealth Management Report, now in its sixth annual edition, is largely based on an online survey of PWMA member institutions and a client survey, as well as interviews with industry executives, regulators and other industry stakeholders.
What was revealed?
Despite COVID-19 and against a challenging macroeconomic backdrop, Hong Kong's PWM industry saw net fund inflows of HK$656 billion [US$84 billion] in 2020 which, combined with a 17.5% return on assets, led to AUM [Assets Under Management] growth of 25% to HK$11.3 trillion last year, according to data from Hong Kong's Securities & Futures Commission.
A majority of PWM institutions surveyed expect AUM to grow by 6-10% per annum over the next five years as a result of significant new opportunities, slightly above last year's expectations.
What does that tell you?
The research confirms what we already knew: that Hong Kong remains one of the world's most robust private wealth management hubs. I'm extremely pleased to see the healthy growth of the industry in recent years. It also validates our understanding that Mainland China has continued to be a key priority for our members, particularly with the recent launch of the cross-border Wealth Management Connect (WMC) pilot scheme. We look forward to engaging with relevant authorities on how to expand the scope of the pilot scheme in the future.
What's Wealth Management Connect?
Officially launched in September 2021, the WMC pilot scheme allows eligible mainland, Hong Kong and Macao residents in the Greater Bay Area to invest in wealth management products distributed by banks in each other's market, through a closed-loop funds flow channel established between their respective banking system. In widening the scope of investment opportunities available to clients of the Greater Bay Area, the scheme is an important step toward realising the potential of the Greater Bay Area to become a leading global hub of wealth creation and management.
Any other takeaways from the PWM report?
We found that the investment appetite of high-net-worth clients has been expanding, with three main drivers: Firstly, ESG [environment, social and governance] and sustainable investing: currently, only 6% of the surveyed member firms have more than 10% of their AUM in ESG investments. However, 72% of the respondents believe that in five years more than 10% of their AUM will be in ESG investments, indicating a significant shift in the medium term. Secondly, virtual assets: 69% of the surveyed PWM firms agreed that their clients are increasingly interested in cryptocurrencies such as Bitcoin and other virtual assets, though portfolio allocation to this asset class has remained fairly low at the moment. Thirdly, risk appetite: for the next 12 months, 42% of the surveyed high-net-worth clients said their risk appetite has significantly or slightly increased across all asset classes, compared to 29% in 2020.
Anything on your members' wish list?
Attracting more family offices to set up in Hong Kong (73%) continues to be another important area for growth for the PWM industry. Survey respondents suggested more regulatory clarity and the introduction of tax incentives will help attract family offices to the city.
Related link
Full report