This story is a part of the Hong Kong Means Business "Powered by HSBC – Bridging the GBA" series.
Breast cancer is one of the leading killers for women, but early detection can greatly boost patients' chance of survival. To help fight the illness, a Hong Kong-based enterprise with Mainland Chinese origins offers what is believed to be the world's first home-use breast cancer-risk warning tool and hopes to go global.
Hong Kong Bio-Rhythm R&D Co Ltd (HK Bio-Rhythm) was founded by a group of mainland entrepreneurs who started the business in Shanghai many years ago before moving its base to Hong Kong in 2019, bringing its core intellectual property (IP) -- the breast cancer warning tool resulting from over 15 years of research and development (R&D). The headquarters located at Hong Kong Science Park focuses especially on the group's R&D, marketing and fundraising for future expansion.
The firm, together with its subsidiary Shanghai BioRhythm Technology Co. Ltd, is achieving these objectives through various activities in Hong Kong, including participation in this year's Start-up Express entrepreneur development programme organised by the Hong Kong Trade Development Council (HKTDC).
Timing is key
"Early-stage breast cancer has no obvious symptoms but cancer cells grow rapidly. Some cancer cells double their number every 25 days. If cases can be detected early and receive proper diagnosis and treatment, the chance of recovery and survival can be greatly improved," said Jeff Wu, CEO of Shanghai BioRhythm.
"Breast cancer patients diagnosed at stage zero or stage one have a close-to-100% chance of a cure, and the 10-year survival rate for stage-two patients is 80%," he added.
"Therefore, regular check-ups are very important, and our home-based risk warning system will help cover the window period between check-ups carried out at medical institutions."
Abnormality warning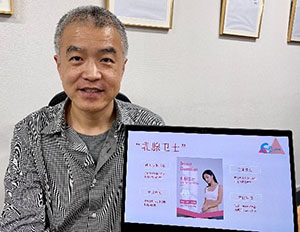 Mr Wu said the Breast Guardian, developed by HK Bio-rhythm, involves a non-invasive and painless procedure. Women only need to wear a special bra with a sensor for eight hours during a low-activity period, such as while asleep, and the sensor will collect physiological data. It will send the data through Bluetooth using the patient's mobile phone, upload the data to the cloud, compare it with database information and determine their breast health. Artificial intelligence (AI) technology is applied to eliminate interference factors and improve accuracy.
Should the data reveal signs of an abnormality, the user will be immediately prompted or advised to seek medical attention for further testing and diagnosis.
High accuracy
Mr Wu said a clinical trial involving 211 people had shown an accuracy level as high as 85.9%.
He added Breast Guardian is the result of more than 15 years of R&D by the group's professional team, which comprises researchers, research institutions and universities from the mainland and Hong Kong, as well as experts from multiple multinational pharmaceutical and medical institutions. They innovatively drew on cell thermodynamics and modern biological rhythm principles and built a cloud database with reference to research literature collected over 20 years.
The system conforms to CE standards, and has been recognised by the Shanghai Medical Apparatus and Instruments Inspection Institution as a system for breast biorhythm monitoring.
Certification expands professional market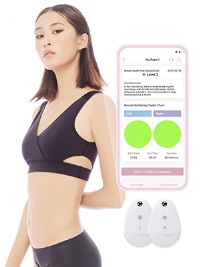 Mr Wu said the product, already soft-launched in the mainland and Hong Kong, is currently undergoing higher-level clinical trials in the mainland and he hopes it will soon obtain the highest-level certification there, which will enable it to be widely used in mainland medical institutions as well as at home for routine self-examinations.
"I hope that the product can be applied to universal medical and home care as soon as possible, to the benefit of all," enthused Mr Wu.
"Medical expenses for cancer treatment are huge and the amount of medical insurance claims is high. Therefore, many insurance companies are willing to cooperate and encourage policyholders to use our system to conduct regular self-examinations," he explained.
For the consumer market, HK Bio-rhythm had earlier forged cooperation with a well-known underwear brand in Hong Kong to launch a functional brassiere, the CareBra, featuring a built-in breast monitoring device.
Strategic plans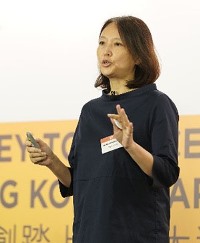 "We will accelerate our expansion in the mainland and Southeast Asia, especially Malaysia and Indonesia," said Mr Wu.
The company was one of 10 winners in a pitching competition held to select start-ups into this year's Start-up Express development programme. It also won the AMTD SpiderNet Start-up Award at the contest.
As a pitching contest winner, HK Bio-rhythm is entitled to join the range of Start-up Express activities offering international exposure and connections with mentors, potential investors and partners.
"Start-up Express helped us build contacts and expand business. We are also seeking strategic investors through the scheme's business matching activities," said Mr Wu.
"HK Bio-rhythm has already raised about US$10 million from Hong Kong investors, and will conduct two more rounds of financing to optimise our technology and products," he said, adding the firm plans to seek a listing in the coming years in Hong Kong, one of the world's top initial public offering (IPO) hubs.
Mr Wu believes the Guangdong-Hong Kong-Macao Greater Bay Area (GBA) offers advantages for the medical and healthcare industry. His group uses Shenzhen as one of its R&D, design and production bases, while leveraging Hong Kong's advanced AI computing and big data technology, alongside its strengths as an international financial centre and extensive links with global markets.
HSBC launched a new USD 700 million debt financing scheme in August to support fast growing, early-stage healthcare companies in the Guangdong-Hong Kong-Macao Greater Bay Area. This latest initiative reinforces HSBC's ongoing strategic commitment to helping entrepreneurs capture new opportunities in the GBA. The dedicated Fund is customised for the healthcare sector, focusing on companies in the sub-sectors of healthcare tech, healthcare services, pharmaceuticals, medical devices, contract services and third-party medical institutions. It aims to provide senior debt financing to support the scaling up of companies with viable business models, primarily at the pre-profit stage.HSBC is one of the largest international banks in the Greater Bay Area and the only foreign bank in Guangdong with a presence in 21 prefecture-level cities, connecting customers to its global network. HSBC aims to become the international bank of choice for customers in the GBA, playing the role of their "super-connector" to the international market. HSBC is committed to helping companies of all sizes in the region who wish to expand their business across borders to seize the opportunities and meet their cross-border banking needs, providing a seamless service experience. The bank has recently launched the GBA Payment Connect, Credit Connect, Account Connect and Service Connect, providing a full range of information and services to enable enterprises to enter Mainland China.
Related link
Care Bra - Biorhythm HK
Follow us for updates on the GBA and HKTDC: