As Hong Kong matures as Asia's foremost trading centre for wine and spirits, auctions of rare vintages are drawing interest.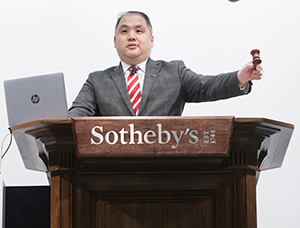 Sotheby's Asia is set to put the oldest ever bottle of single malt, a Glenlivet Gordon & MacPhail Generations 80-Year-Old, under the hammer in the city on 7 October, estimating a final price of HK$800,000 to HK$2 million (US$103,000 to US$257,000). The following day, six rare single malt whiskies, from the Dalmore Decades No. 6 Collection from 1951-2000, are expected to fetch HK$4 million to HK$8 million at another auction. Yet more excitement will follow the next day when a single-owner wine sale may turn out to be the second-highest in Asia ever.
The limited supply of old, rare whiskies means they continue to generate great interest at auction, according to Paul Wong, Head of Wines and Spirts at Sotheby's Asia, the Hong Kong based regional headquarters of the multinational auctioneer.
He sees a good chance for both lots to exceed estimates and expects plenty of bids from Asian collectors, given that 73% of total bid amount in all wine and spirits sales at Sotheby's worldwide in 2020 came from collectors in the region.
Who are your clients for wines and spirits at Sotheby's Asia?
It's an increasing number of passionate younger collectors: around 40% of our clientele are under 40. Whisky has become very fashionable and the younger generation like to try drams from different distilleries. A lot of these distilleries have adopted innovative marketing strategies [to draw younger clients in] and also work with us to offer bottles at auction.
Sotheby's has a strong record in whisky. What are some recent auction highlights?
This April, we sold the Black Bowmore whisky collection, five whiskies housed in a bespoke cabinet utilising artefacts from the distillery that fetched US$563,000, considerably exceeding its estimate of US$500,000.
Which whiskies do well with the Hong Kong market?
Japanese whiskies remain really popular, as Hong Kong clients are familiar with brand names like Yamazaki and Hibiki and feel more comfortable with them. In addition, Hongkongers love Japanese food, which all adds up to making them very popular. There are less than 10 distilleries in Japan, so there's only so much they can produce, so it's very difficult to satisfy demand. Scotch whisky tends to be more affordable, with more different price entry points. Bottles from the Lagavulin distillery in Islay, which makes smoky, rich whiskies, are also popular. But people have varying tastes: some may prefer something sweet, like those aged in sherry casks. The people I meet like and drink all different kinds of whiskies – just as long as they're good.
How does the fine wine and spirits market in Hong Kong differ from other markets?
In Hong Kong, we are very open to different styles of whisky. This is perhaps because there are so many different styles of cuisine available in the city, so that makes us very open-minded, and likely to fall in love with all different kinds of whiskies.
How have you kept in touch with key collectors in the COVID-19 pandemic?
In Hong Kong, I meet with clients regularly for a coffee or lunch. I usually see them in one-on-one sessions, whereas before we might have had a group tasting, although we definitely hope to get back to hosting these soon. We are keen to reach out to different clients and see that spark in their eyes when we talk about whiskies they really like.
Are more people attending live auctions or do they still prefer to bid online?
Online auctions continue to do really well but they were doing well pre-pandemic, too, as our online catalogues offer 24-hour access, and clients can also place bids on the Sotheby's app. At live auctions, you still can't move around too much. If the pandemic changes our habits permanently, we may end up moving away from the more traditional live format. I'm happy with both – I really like online bidding as it's convenient for our clients and us. But with the live auction, it's a different experience. We can serve you good food and wine, and clients can spend the whole day in the auction room with us, so it's good entertainment. Some people still prefer the traditional format of coming to the auction or bidding on the phone.
How do you expect the spirits and fine wine auction market to evolve in Asia?
The online platform will continue to grow, and we also expect to see more bids coming from growth regions like Vietnam, Indonesia and Thailand.
What other notable upcoming auctions do you have?
The day after the Dalmore auction, we'll have a single-owner wine auction from a really famous collector, Pierre Chen, with more than 360 lots estimated at US$11.4 million. This represents the second-highest estimated single owner wine sale in Asia. Everyone will have a chance to get a lot or two.
Do spirits and wine present a good investment opportunity?
It's more about passion than investment return. Our clients enjoy tasting and learning and want to know what they like to drink before buying it. Most of our clients purchase wines and spirits for drinking purposes rather than investment.
Related link
Sothebys