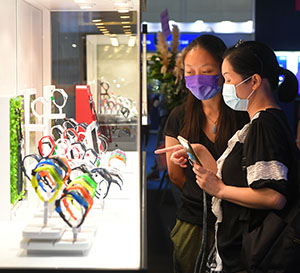 Quality timepieces call to mind the image of the watchmaker painstakingly assembling cogs and springs. Modern watchmakers identify with this image of tradition and craftsmanship but when marketing products, they are firmly placed in the cyber 21st-century.
A year and a half since the COVID-19 outbreak started, many players in the watch and clock industry are adopting e-commerce to capitalise on a recovering market.
In a survey conducted by the Hong Kong Trade Development Council (HKTDC) at two recent watch shows —the 40th HKTDC Hong Kong Watch & Clock Fair and ninth Salon de TE — 41% of exhibitors said they were engaged in e-tailing, while 47% said they intend to develop an e-tailing business in the next two years to capture more orders, putting themselves on the cutting edge of electronic marketing.
Meanwhile, 50% of the more than 540 exhibitors and buyers polled were positive on the industry outlook and expected their overall sales to increase.
Most respondents considered the recovering purchasing power of customers (42%) and e-tailing (35%) as presenting the biggest opportunities for their businesses.
In terms of markets, about 68% of respondents viewed the Mainland China market most favourably, followed by the Association of Southeast Asian Nations (ASEAN) region (49%) and India (46%).
As for product trends, smart watches (50%) were expected to be the most popular watch category in 2022, followed by mechanical watches (16%), and digital analogue watches (12%).
Online trading builds opportunities
This year, the physical fairs held at the Hong Kong Convention and Exhibition Centre (8-12 September) were complemented by an online version for the first time (8-19 September).
By 12 September, more than 1,100 online business meetings had been arranged at the online shows, enabling global watch and clock traders to engage in business discussions through video conferencing, while more than 2,400 buyers had browsed products and conducted business discussions online.
Reaching out to consumers
This physical shows not only welcomed industry buyers, but also opened their doors to the general public during the whole fair period for the first time. The five-day physical events attracted around 4,900 industry buyers and more than 23,600 public visitors.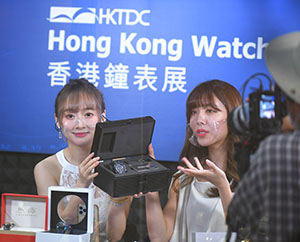 "The Watch & Clock Fair and Salon de TE returned as special editions this year to help generate business opportunities for industry players. Opening the five-day fairs to the public for the first time also provided an excellent opportunity for watch and clock traders to reach out to retail customers and boost the industry's retail businesses," said HKTDC Deputy Executive Director Benjamin Chau.
"According to our on-site survey, public visitors who were interviewed spent an average of HK$1,059 per person at the fairs."
Brisk business
Many exhibitors agreed the fairs had helped them tap into the retail market. Philip Lau, General Manager of Chit Tat Clock and Watch Company Limited, a Hong Kong exhibitor at the Watch & Clock Fair, said the firm offered wholesale prices to attract visiting consumers and received a better-than-expected response.
"These consumers have high purchasing power and strong confidence in the quality of our watches. We estimate that our sales turnover at the fair will be around HK$200,000 [US$25,711] to HK$300,000," Mr Lau said. On the trade front, Mr Lau had met with five buyers from the Hong Kong buying offices of European and United States buyers.
Fellow exhibitor Gary Ching, Co-founder of ANPASSA Watch Company, said that within just a few hours of the fair opening, two watch retailers had expressed interest in the firm's watches and started discussing cooperation.
"We also attracted the attention of many local consumers. We expect our on-site sales to reach HK$500,000-HK$600,000, which demonstrates that our watches have great potential in the local market," Mr Ching said.
The Watch & Clock Fair also attracted smart watch manufacturers to source for parts and components.
"I have found three potential suppliers at the fair," said Ricky Tsang, Managing Director of Eternal Keen Investment Limited, which specialises in the production of smart wearables including watches. "I plan to purchase parts and components worth US$1 million from new suppliers I met at the fair."
The twin shows were jointly organised by the HKTDC, Hong Kong Watch Manufacturers Association Ltd and the Federation of Hong Kong Watch Trades.

Related links
HKTDC Hong Kong Watch & Clock Fair