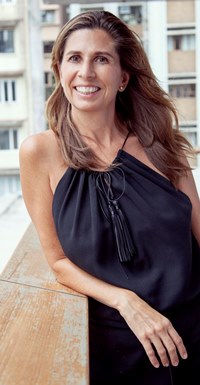 Luxury residential properties in Hong Kong is seeing robust demand, as reflected in the surging revenue of real estate agencies such as Habitat Property, which is forecasting a 25% growth for 2021. Founder and Managing Director Victoria Allan outlines the drivers fuelling the market, and why she expects these to continue.
Firstly, what are you seeing?
Confidence returned to Hong Kong's luxury residential property market in the first half of 2021, with transactions, prices and rental rates all posting positive growth for the year to date. Both primary and secondary sales sectors have attracted attention from end-users as well as investors based in Hong Kong, who see the rebounding luxury residential market as a key asset to consider. On the rental side, there's a lack of supply of anything ready to move into, so prices there are on the rise again.
Any discernible client preference?
Properties that meet a new set of COVID-19 home lifestyle criteria, recently renovated to high specifications and ready for immediate move-in, have emerged as crucial features for both buyers and tenants. First to draw interest are flats with four bedrooms, outdoor areas and enough space for a study, office and family room.
This new appreciation for a home lifestyle experience, driven by the pandemic, is particularly strong among prospective buyers in the HK$100 million-plus market who, in addition to more interior space, also seek outdoor living areas for entertaining at home, scenic views, and walking access to restaurants, beaches, hiking trails and so on.
Do any particular locations stand out?
The traditional luxury areas of Hong Kong Island's south side - Repulse Bay and Stanley, along with Tai Tam, Pokfulam and Red Hill - are seeing values rise due to their ability to fulfil these new home-lifestyle demands. Nearby, Wong Chuk Hang has really turned itself around. Once a factory-packed industrial area, the neighbourhood has been transformed in the last few years into a trendy hub with great characteristics for young professionals, couples and households with different generations. The old factory buildings have been repurposed as gallery and studio spaces for local and international artists, chic cafes and private kitchens for fine dining. Being home to some of the city's most prestigious international schools, Wong Chuk Hang also appeals to families. To add to the mix, the area has seen an influx of A-grade commercial office spaces attracting international corporate firms.
What has this meant for Habitat Property?
Hong Kong's better-than-forecast economic performance and strong demand for lifestyle homes resulted in Habitat Property's sales transaction volumes and transaction values for the first half of this year growing 20% year-on-year. We forecast our total revenue for this year to be 25% ahead of that in 2020, whilst also reaching as much as 20% above total transactions in 2018, Habitat's best year on record. In a strategic evolution, we have recently opened a second branch in Stanley to further cater to Hong Kong's growing appetite for luxury residences, especially in the most sought-after south-side neighbourhoods.
Where do you see these trends heading?
A variety of factors indicate that the Hong Kong luxury residential sector can expect growth to continue for the remainder of 2021 and into 2022. Hong Kong is entering its third decade of low interest rates and monetary policy continues to underpin liquidity and low debt in the market to create favourable conditions. As the COVID-19 situation stabilises, border restrictions are being incrementally relaxed and businesses are once again feeling the confidence to expand as sentiment improves.
Your own prediction?
There will be increases across the board. With secure capital growth, Hong Kong property as a long-term asset class is looking very attractive again. Assets worldwide are behaving the same way and I don't see them cooling down in the immediate future.
Habitat Property foresees that in the secondary luxury market, tight supply in both sales and leasing will maintain [upward] pressure on prices, and overall growth will reach 5% year-on-year in 2021, with further gains of up to 10% year-on-year expected in 2022.
Related links
Habitat Property