As financial technology (fintech) grows and matures, this creates fertile ground for cooperation between vibrant, tech-savvy economies such as Hong Kong and Korea.
This theme was in focus at the "Global Fintech Market Updates: Hong Kong-Korea Ecosystem" seminar held in Hong Kong last week. The hybrid event, with both physical attendees and remote participation, was organised by the Hong Kong Trade Development Council (HKTDC), the Consulate General of the Republic of Korea in Hong Kong and Korea Trade-Investment Promotion Agency (KOTRA) Hong Kong.
Fertile ground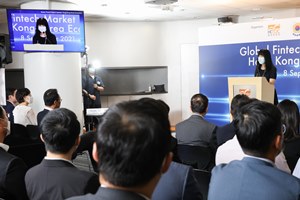 "As an international financial centre with robust technology infrastructure, Hong Kong has developed a sizable and vibrant fintech sector over the past years," HKTDC Executive Director Margaret Fong told the seminar.
"There are currently over 600 fintech companies in the city, including virtual banks, virtual insurers, a virtual asset trading platform and e-wallets, among others," she added. "Local fintech firms raised about US$1.75 billion between 2014 and 2020," she added.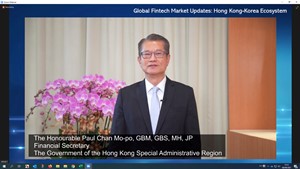 Hong Kong Special Administrative Region (HKSAR) Government Financial Secretary Paul Chan advised that the local government is pursuing further fintech development, with prospects including the use of central bank digital currency for cross-border transactions.
"The boundless possibilities of financial technology can only boost Hong Kong's competitiveness as a global financial services centre," he added.
Doh Kyu-sang, Vice Chairman, Financial Services Commission of Korea, addressing the seminar remotely, said: "Even though we are physically disconnected during this difficult time, the pandemic has accelerated digitalisation of the economy and society, leading to a hyper-connected world." He was confident that coordinated efforts and cooperation will pave the way for a better future.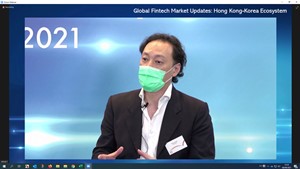 King Leung, Head of Fintech at the HKSAR Government's investment promotion department Invest Hong Kong (InvestHK), said the city had a well-developed fintech ecosystem supported by organisations such as Cyberport.
Two key factors made Hong Kong an ideal home for fintechs, analysed Mr Leung. Firstly, the city had sophisticated and well-developed capital markets and was one of the global leaders in funds raised through initial public offerings (IPOs). The second key factor was a massive pool of funds available for investing.
The Limited Partnership Funds Ordnance, implemented in August last year enabling private funds to be registered as limited partnerships, was a further draw, he said.
Mr Leung added Hong Kong's status as an offshore renminbi (RMB) centre, creating a large amount of US dollar-RMB exchange business in the city, was also important in driving its fintech development.
Potential in GBA and ASEAN
Apart from boasting a vibrant fintech industry, Ms Fong noted Hong Kong also serves as the springboard to two promising fintech markets -- the Guangdong-Hong Kong-Macao Greater Bay Area and the Association of Southeast Asian Nations (ASEAN).
"The Greater Bay Area has a population of 86 million. Its gross domestic product, at US$1.7 trillion, is comparable to Korea's," Ms Fong said. "Strategically positioned to be a global economic powerhouse and an international innovation and technology hub, the Greater Bay Area offers plenty of opportunities in fintech."
As the international financial centre for the region, Hong Kong can help Korean fintech firms access this enormous market, she pointed out.
"ASEAN, on the other hand, is home to more than 650 million people, almost twice the population of the United States," Ms Fong said. "Demand for fintech solutions in this region is underscored by the rapid technology adoption, high mobile usage and rising Internet penetration of an increasingly urban and young population.
Hong Kong-Korea partnership
"Korean fintech companies will find added value by partnering with Hong Kong in their ASEAN expansion – because we are geographically closer to the region and have decades of experience doing business with ASEAN companies," she said.
"Moreover, Hong Kong is a leading global IPO centre where fintech companies from Korea or other parts of the world can raise funds for expansion in the Greater Bay Area or ASEAN.
"The city also serves as a link between the Greater Bay Area and ASEAN, helping businesses from either region to access the other," she said.
Ms Fong cited the example of Shenzhen-headquartered fintech start up Webot, which has decided to set up a regional sales and marketing office in Hong Kong, where it plans to raise funds for expansion in ASEAN.
The Consul General of Korea in Hong Kong, Baek Yong-chun, pointed to the synergy between his country and the city.
"Hong Kong and Korea are major financial markets in Asia, and play an important role in the region," he said.
"In Korea, we also have more than 600 fintech companies doing their business in mobile payment, funds transfer and so on," he informed.
"In the field of fintech, Korea and Hong Kong are both good partners and competitors. So I hope to develop our relationship," he said.
Connections count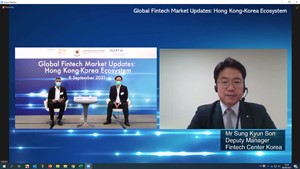 Speakers at the seminar noted that connections and linkages were key features of fintech.
Francis Oh, Head of Korean fintech firm Qraft AI ETFs, said fintech was making the financial industry hyper-connected, and Hong Kong and Korea needed to build up fintech ecosystems.
As regards connections, Sung Kyun-son, Deputy Manager of the Fintech Center Korea, advised that fintech firm could not start up alone but needed partners in its early stages
Upcoming forums
Ms Fong said fintech is a key theme at the annual signature Asian Financial Forum (AFF) jointly organised by the HKSAR Government and the HKTDC. The AFF also offers comprehensive business showcasing, networking and matchmaking opportunities through such activities as Fintech Showcase, FintechHK Start-up Salon and Deal Flow Matchmaking session. "I invite you to join us at the upcoming edition on the 17th and 18th of January 2022 to make connections and explore partnership opportunities."
Related links
AFF
Fintech Week