A year and a half into the COVID-19 pandemic, many small and medium-sized businesses (SMEs) in Asia have adapted to the environment and are preparing to capitalise on the recovery of the global economy.
For SMEs from Hong Kong and Thailand, the Hong Kong Trade Development Council (HKTDC) held a webinar on 3 August to highlight cooperation opportunities between the two economies, especially in Thailand's Eastern Economic Corridor (EEC) and China's Guangdong-Hong Kong-Macao Greater Bay Area (GBA).
Close ties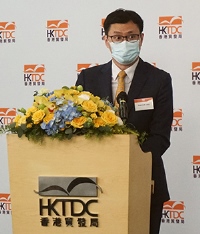 "Thailand and Hong Kong have long been close trading partners, and our ties have further strengthened in recent years with growth in two-way investment and new cooperation agreements such as the FTA [free trade agreement] and investment agreement [between Hong Kong and the Association of Southeast Asian Nations (ASEAN)]," HKTDC Deputy Executive Director Dr Patrick Lau said in welcome remarks.
Tull Traisorat, Consul-General of Thailand in Hong Kong, delivered opening remarks, highlighting three important factors as the way forward for the country's post-pandemic economic recovery: technology and innovation; strengthened economic resilience; and sustainability.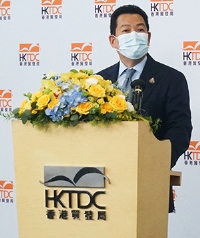 He stressed that Thailand and Hong Kong, as close and long-term economic partners, could further deepen their cooperation as the two economies serve as strategic links between the Ayeyawady-Chao Phraya-Mekong Economic Cooperation Strategy (ACMECS) plus ASEAN and the GBA plus the Belt and Road Initiative.
He added there are abundant opportunities for Hong Kong SMEs to strengthen collaboration with their Thai counterparts, arising from the development of the EEC and the new national agenda known as the Bio-Circular-Green Economy. These opportunities cover such areas as advanced technology, innovation and sustainability.
Infrastructure projects
At the webinar, Luxmon Attapich, Deputy Secretary-General of Eastern Economic Corridor Office of Thailand, introduced the development of EEC in Thailand, focusing on the sea, land and air infrastructure under construction.
She said the Thai government also attaches great importance to digital infrastructure driving technology development and innovation in the EEC, which has completed 5G network construction and comprehensive signal coverage. The administration targets to attract investment in 12 industries, including digital technology, automation and robotics, aviation and logistics, innovative foods, and healthcare.
The Thai government encourages SMEs and start-ups to set up in the EEC through such measures as training support and subsidies, to help create "Thailand 4.0" smart factories and establish a sound ecosystem. She also said the Thai government is promoting a green policy and aims to cut carbon emissions 20% to 25% by 2030.
Value-added services
Wimonkan Kosumas, Deputy Director of Office of Small and Medium Enterprises Promotion of Thailand, said about 90% of Thailand's goods are re-exported to Mainland China cities through Hong Kong and Guangzhou, meaning Hong Kong businesses play an important role in Thai trade. While Thailand's exports are concentrated in food and fruit categories, she added, cosmetics and clothing also account for a small proportion and are worthy of Hong Kong businesses' attention.
She said Hong Kong companies have unique development advantages in technology, creative and professional services, such as internet of things, AI (artificial intelligence), and digital payment, which are target industries promoted by the Thai government.
Dr Wimonkan said Thai food companies can partner with Hong Kong companies to use EEC's scientific research and development (R&D) capability and creative concepts and expand into the huge Greater Bay Area market. She cited the example of a Thai manufacturer that had developed tom yum goong rice crackers and exported them to the mainland through a Hong Kong company.
Practical support for SMEs
"In terms of helping companies access the GBA, I must mention our GoGBA one-stop platform," said Dr Lau.
"It is a multi-faceted business support programme that consists of digital information and business tools, advisory services and training, as well as promotional and networking activities.
"We welcome both Thai and Hong Kong companies to use the platform to navigate GBA opportunities," he added.
The webinar was held under the HKTDC's "T-box" SME support programme.
"Empowering SMEs to seize global business opportunities has always been a core task for the HKTDC," he said.
"Our "T-box" programme, which stands for 'Transformation Sandbox', aims to help Hong Kong SMEs upgrade and transform by enhancing their competitiveness in the areas of branding, e-commerce, manufacturing and supply chain solutions, and new markets."
Hong Kong companies plan market expansion
The webinar marks the second time T-box has arranged for members to meet Thai consuls and representatives in Hong Kong for the second consecutive year. The participating Hong Kong SMEs came from a range of industries including information technology services, catering, medical technology, health food and overseas real estate consulting services.
Many attendees found the session useful. Carrel Kam, a representative of the Yung Kee Catering Group operating the renowned Yung Kee restaurant, said Thai tourists have always patronised the restaurant and its roast goose has been popular among tourists. At the webinar, he learned that food is a key development project of the Thai government and expressed interest in further understanding the feasibility of exporting Yung Kee roast goose to Thailand.
Related link
T-box