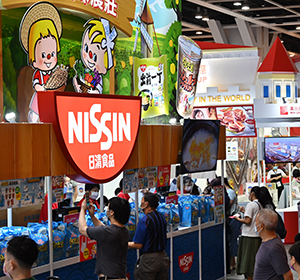 Asia's world city, Hong Kong has for many years brought together cultures and customs from across the globe. And nowhere is this more clear than in the city's eateries. Many city blocks have restaurants offering cuisine from three or more continents, let alone countries.
Amid the COVID-19 epidemic, food, recipes and technologies can travel even if people are obliged to stay at home. To boost trade in food and related technologies and cater for Hongkongers' eclectic tastes, the Hong Kong Trade Development Council (HKTDC) this week opened the 31st HKTDC Food Expo running from 12 to 16 August.
The Food Expo runs concurrently with several related events – HKTDC Hong Kong International Wine & Spirits Fair (Special Edition), HKTDC Hong Kong International Tea Fair, HKTDC Home Delights Expo and HKTDC Beauty & Wellness Expo. The five public fairs have assembled 900 exhibitors from Hong Kong and beyond to showcase a global selection of delicacies and lifestyle products.
Providing visitors with greater convenience, about 85% of the exhibitors accept electronic consumption vouchers distributed by the Hong Kong Special Administrative Region (HKSAR) Government to boost retail sales following the COVID-19 slowdown.
Alongside the five public fairs, the International Conference of the Modernization of Chinese Medicine and Health Products (ICMCM), jointly organised by the HKTDC and the Modernized Chinese Medicine International Association, runs at the HKCEC.
Guest of Honour Edward Yau, Secretary of Commerce and Economic Development of the HKSAR, officiated at the opening ceremony for the fairs, where HKTDC Executive Director Margaret Fong delivered welcome remarks.
"Given the current travel restrictions, we are grateful to see group and individual exhibitors from outside Hong Kong showcasing products through their local representatives, including those from Mainland China, Cambodia, Finland, Indonesia, Japan, Korea, Norway, the Philippines, Poland, Thailand and Vietnam," said Ms Fong.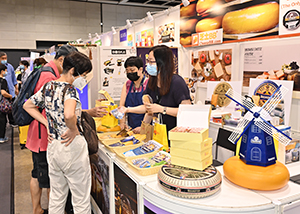 "Their presence underlines Hong Kong's strength as the ideal trading platform through which food suppliers from around the world can expand their business networks. We are most delighted to welcome 900 exhibitors who are showing their support for these events."
Culinary masterclasses
The Food Expo comprises the Gourmet Zone and Public Hall, both targeting consumers. The Public Hall, which opens throughout the five-day fair, showcases a global selection of food items.
The much-anticipated Gourmet Zone opens for the first four days (12 to 15 August) and features five thematic zones – Asian Cuisine, Western Delicacy, Sweet Delight, Green Palate and Coffee Avenue. Speciality food items are showcased in each zone.
Food in action
The expo features a myriad of activities including culinary masterclasses on "Less Salt and Sugar"recipes to encourage urbanites to develop healthy eating habits, as well as cooking demonstrations performed by eight celebrity chefs.
Visitors can attend the Local Fresh 123 session with the Fish Marketing Organization and Vegetables Marketing Organization introducing fresh ingredients from local fisheries and farms. There are also as a series of seminars covering topics such as Dark Magic in Microwave Cooking, Plant-based Meat Development in Hong Kong, EatSmart Restaurant Star+, Diet Therapy and Foodwise.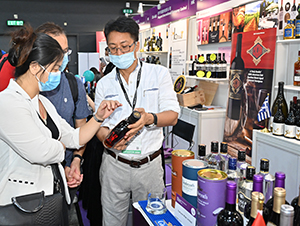 The Beef-and-egg King Prize Presentation Ceremony highlights what goes into making the beef and egg sandwich that is one of the most popular choices served at Hong Kong-style cafes. Hosted by international film star Jacky Chan, Chef's Dialogue invites three renowned Hong Kong chefs to share their tips on cooking, eating and ingredient selection.
Wine & Spirits Fair
A new addition to the August fairs, the Hong Kong International Wine & Spirits Fair (Special Edition) introduces a broad range of old and new world wines, as well as beers, fruit wines and spirits.
Wine lovers should not miss the series of activities covering the outlook for natural wines; sake basics delivered by the Hong Kong General Chamber of Wine & Spirits; a chit-chat on wine and food pairing with TV host Cecilia Wong; a talk on criteria for selecting high-quality wines from different production regions by an MWM Wine School recognised instructor; spirit recommendations by the Hong Kong Wine and Spirits Association, and more.
Tea time
Founded partly on the tea trade, Hong Kong could not have been a better venue for a tea event like the 12th Hong Kong International Tea Fair, which features a variety of high-quality specialty teas and teaware as well as inspirational events.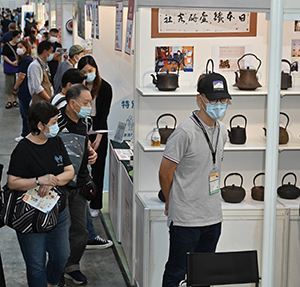 Home Delights Expo
The Home Delights Expo returns for its seventh edition. Highlights include the Avenue of Delights gathering multiple lifestyle brands (main picture).
Formula for improved wellbeing
The fifth Beauty & Wellness Expo presents a variety of health- and beauty-related products and events. Beauty and health columnist Yoko Tsang will share tips on treating mask-related skin problems, which have become an increasing concern since the pandemic began.
There will also be an event introducing the Hong Kong Bodybuilding & Fitness Invitation Championship.
Convergence of healthcare insights
Themed "Integrative Medicine for Prevention and Treatment of COVID-19 and Related Disorders: Clinical Studies and Product Development", ICMCM presents invaluable traditional Chinese medicine insights to industry practitioners. The speaker line-up features professors from Yale University in the United States and experts from the Netherlands, Malaysia, Mainland China and Hong Kong. Running in a hybrid format, physical and online sessions will be offered to facilitate the exchange of ideas among participants.
Related links
HKTDC Food Expo