Bestowing high praise on historians and biographers, British author Oscar Wilde said: "Anybody can make history. Only a great man can write it." And renowned American science fiction writer Robert Heinlein once said: "A generation which ignores history has no past – and no future".
Drawing inspiration from history was the common thread among many of the authors who addressed seminars during the 31st HKTDC Hong Kong Book Fair which ran last month, under the theme "Inspirational and Motivational Reading".
More than a smudge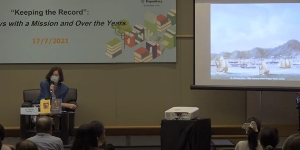 Describing her motivation for writing, British-born Gillian Bickley said she had attended a talk showing historical photographs of Hong Kong and one of the pictures had a smudge in front of the buildings the photographer had been capturing. At that time photographers needed to leave their shutters open for several minutes to catch a scene on film, and the smudge had been a person walking in front of the camera.
"I thought it a little sad that all that was left of this passer-by was a smudge on a picture," she said when introducing her seminar, "Keeping the Record: Journeys with a Mission and over the Years."
Having arrived in Hong Kong in 1970 to teach English literature, Ms Bickley has been a long-time resident of the city and decided to put together the memoirs of George Smith, the founding Anglican bishop of the Victoria diocese covering Hong Kong and a key supporter of mission work in China. The result is a book entitled Journeys with a Mission.
Highlighting how easily records could go astray, she said many letters from the bishop had been mislaid because he signed himself "George Victoria", using the name of the diocese rather than his surname. Records of his mission work included descriptions of travels in China's Zhejiang province during the turbulent Tai Ping Rebellion period in the middle of the 19th Century.
Russian princess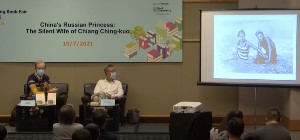 Looking at more recent history, another veteran Hong Kong-based writer Mark O'Neill introduced his biography of Faina Vakhreva, the Russian wife of Chiang Ching-kuo, son of Kuomintang (KMT, or Chinese Nationalist Party) former chief Chiang Kai-shek, who himself led Taiwan for 10 years.
Moderating Mr O'Neill's talk on his latest book, China's Russian Princess: The Silent Wife of Chiang Ching-kuo, columnist Chip Tsao asked what inspired him to choose this topic.
Mr O'Neill said he had lived in Taiwan from 1981 to 1983 when the KMT-ruled island was under martial law and Chiang Ching-kuo was the president. The writer said Chiang Ching-kuo had been a very public figure and was rarely out of the limelight but his wife appeared to be completely unknown.
People in Taiwan told him she was Russian and there were many stories about her, including one that she had in fact been a princess in the Tsar's household. Curious, Mr O'Neill began looking up historical records about her and pieced together a fascinating history.
Faina Vakhreva was not a princess, but a girl from a poor family born in Osher, Belarus in 1915, during the First World War. Losing their parents when young, she and her sister Anna fled the war zone and ended up in the Siberian city of Yekaterinburg, where she worked in an electronic machinery factory and met her future husband.
Mr O'Neill said that working in a Siberian factory seemed an odd occupation for the son of Chiang Kai-shek, the then leader of China. Following the younger Chiang's path to Siberia, Mr O'Neill takes readers through a fascinating trip through the geopolitical landscape of Asia in the 1930s.
Chiang Ching-kuo was born in Zhejiang in 1910. Eager to cultivate relations with the Soviet Union under Joseph Stalin, his father sent him to study at Sun Yat-sen University in Moscow at the age of just 15. At the time, most of the students were drawn from the Communist Party of China and the elder Chiang wanted to find out more about them.
Geopolitical play
For his part, Stalin was pleased to have the son of China's leader in his country as a potential hostage. Chiang Ching-kuo excelled as a student but when his studies were completed, Stalin did not let him return home but sent him to the Yekaterinburg factory where he met Faina.
The younger Chiang's break came in 1936, following the Xi'an Incident which led Chiang Kai-shek to join with the Chinese Communist Party to oppose Japan. The younger Chiang wrote to Stalin, warning that the Soviet Union was in danger of invasion by Japan should China fall. Stalin responded by allowing him to return to China to help his father fight the Japanese, and his Russian wife suddenly found herself in very different circumstances in a new country.
Mr O'Neill covers the rest of her life in Mainland China and Taiwan in a similar vein — world history from a personal perspective.
Holocaust
Drawing on European history, author Helen Morris (main picture) addressed her seminar "Writing & the Power of Listening" remotely from her home in Australia.
She introduced her newest book Three Sisters which describes a death march for three Slovakian sisters in Holocaust-era Germany. The book is the third in her Holocaust series, the earlier ones being The Tatooist of Auschwitz and Cilka's Journey.
When researching Cilka's Journey, Ms Morris had engaged with elderly people in Slovakia. This made her realise how important listening is – or the power of listening.
Describing the inspiration that led to Three Sisters, Ms Morris said she had been in Cape Town when she received an email early one morning from a Canadian man who had read Tattooist on a flight to Tel Aviv. He told her he had left a copy of the book on his mother's coffee table in Tel Aviv, and the edition featured pictures of two tattooed wrists. His mother saw the tattoo numbers and realised they were those of two old friends, who were as close to her as "sisters", because her own number was just two away. The three had grown up in the same town in Slovakia, and had been on the same train to Auschwitz and in the same queue for tattooing. The woman had been slightly behind her two friends in the queue and thus had a nearby number.
Wasting no time to start listening to people for the next book, Ms Morris went on to Tel Aviv to meet the woman.
Related links
"Keeping the Record" – full recording
"Russian Princess" – full recording