The COVID-19 pandemic spurred demand for a wide range of digital devices as lockdown measures forced many live events to go virtual, and people sought to recreate their business, work, study, entertainment and sports in remote formats. Many high‑tech business sectors have been impacted by these changes, and as an essential supplier, the semiconductor industry has been especially affected, albeit to different extents and in different directions.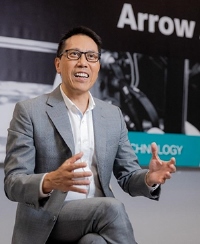 Semiconductors, also known as chips, contain miniature interconnected electronic circuitry, which form the brains of modern electronic devices. As with many other industries, at the beginning of the pandemic, there were widespread factory lockdowns and delays in manufacturing investment. This, together with the increasing demand for electronics, resulted in an unprecedented chip shortage, posing great challenges for many global supply chains and requiring the postponement of a substantial number of product deliveries and launches.
To understand how the global chip shortage has thrown the semiconductor industry into the spotlight and impacted stakeholders along the supply chains in the long term, HKTDC Research sat down with Simon Yu, President for the Asia Pacific components business of Arrow Electronics, a world‑leading technology distributor.
Disequilibrium continued
"No one could have foreseen the far‑reaching impact of the global pandemic and the strain it would put on supply chains," Mr Yu said. "The supply‑and‑demand imbalance originated from a market correction in 2019 where some manufacturing segment clients reduced inventories in anticipation of weaker demand. Heading into the pandemic of 2020, the forecasters in charge of manufacturing lines expected further deteriorating economic conditions. This further widened the supply and demand gap."
But not all sectors are feeling the pinch. Mr Yu continued: "The global health crisis has fuelled consumer spending, which partly shifted from travelling and dining out to stay‑at‑home lifestyles and work/learn‑from‑home practices through electronic devices, including personal computers, tablets, video‑game consoles and wearable gadgets. It has also increased the demand for medical supplies such as respirators and portable monitoring devices that have been critical for the fight against the virus. All these have increased demand for electronic components."
Asia Pacific is not only the world's leading production base for semiconductors, but also the biggest market, accounting for almost 60% of global chip sales in 2019.
The vehicle industry is another heavy consumer of chips. This sector saw lacklustre investment in the early months of the outbreak as production ground to a halt but a faster‑than‑expected comeback as global supply chains became better adapted to the pandemic. Mr Yu explained: "Electrification and autonomous driving are reshaping the automobile industry. There are typically around 3,500 semiconductors in an electric vehicle, powering everything from safety sensors to infotainment systems to driver‑assistance technology. This, together with the uptick in automobile demand since late 2020, has further fuelled semiconductor demand."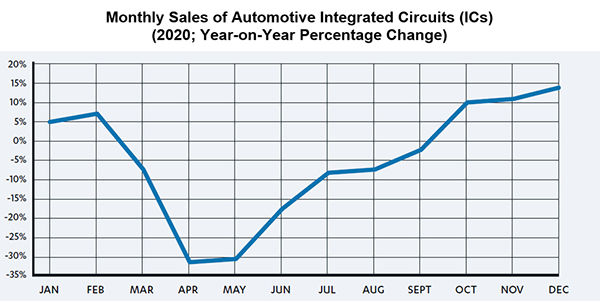 The nascent recovery across several sectors is one factor leading to an upsurge in demand for semiconductors. Mr Yu continued: "Most modern electronic devices are embedded with a wide array of semiconductors including logic, memory, and DAO (Discretes, Analogues, Optoelectronics, and sensors) to manage functions including user input, display, wireless connectivity, processing, storage and power management. The omnipresence of semiconductors goes hand‑in‑hand with breakthroughs that have been pushing the boundaries of physics and driving the industry for cheaper and more efficient chips."
The strong upturn in demand suggests an improving outlook for global semiconductor manufacturers and distributors. Mr Yu said: "The rapid return to manufacturing operations in the Asia Pacific region is driving strong demand for electronic components across a wide range of applications such as transportation, wireless, and power management. With the current supply‑and‑demand imbalance, we are seeing more stable prices and some price increases."
The market recovery has benefitted economies such as Hong Kong. With electronics parts and components accounting for the lion's share of its exports, Hong Kong managed to achieve an encouraging export growth of 3% in 2020 and moved its global ranking up to the sixth‑largest export economy, behind only Mainland China, the United States, Germany, the Netherlands and Japan.
No quick fix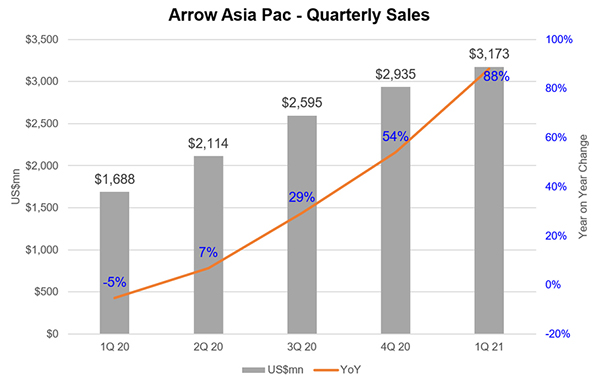 2020 saw a 7% increase in sales for semiconductor manufacturers around the world, and they have responded by ramping up production. However, they are still unable to meet the demand from multiple end‑users worldwide. Some electronic‑device makers have faced significant challenges in meeting demand and have delayed product deliveries and launches.
Mr Yu said: "While demand has been much stronger than anyone forecast, supply has been constrained by several challenges such as production capacity limits, regulations, shipping and logistics and adverse weather events."
The problems have been compounded by the accelerated transition from the 8‑inch to 12‑inch wafers for cheaper and bigger output. Some automotive semiconductor companies shut their 8‑inch wafer facilities in the face of the massive order cancellations in the early months of the pandemic. ON Semiconductors, for example, decided to sell its 8‑inch wafer manufacturing facility in Japan in August 2020.
Accidents and natural disasters have also impacted semiconductor fabrication plants and in turn the entire electronics supply chain. One prominent example was the severe winter storm in the US state of Texas in February this year, which shut down foundries of Samsung, NXP and Infineon for weeks. Samsung's factory closure alone is estimated to have caused global smartphone production to drop by 5% in the second quarter.
Similarly, a fire in Renesas Electronics' foundry in Naka, Japan in March 2021, damaged more than 20 units of semiconductor manufacturing equipment. This foundry is one of the company's six key fabs. Production capacity of the semiconductor giant, which shares 30% of the global in‑car microcontroller market, was significantly reduced, although production was expected to have fully resumed by mid‑June 2021.
The COVID-19 legacy
The semiconductor industry is taking active steps to tackle the imbalances of demand and supply and enhance supply chain resilience through increased investment. Several governments in the European Union as well as the US, Japan, South Korea and Mainland China have committed significant funds to expand local semiconductor manufacturing, while leading chip companies such as Intel and TSMC have announced plans to build new semiconductor fabrication plants, although production is not expected to start right away.
Prior to the COVID-19 pandemic, buyers of semiconductors usually pre‑ordered from chip manufacturers based on their business forecasts. Chipmakers would then optimise their production and delivery just‑in‑time to save storage space and cost. But when the business forecasts went wrong, the divergence could have big implications on production and price of the final product, as shown during the pandemic when many, including industry leaders, failed to turn around stock or smooth out production.
As supply is gradually catching up with demand, Mr Yu suggests the lessons learned from supply chain vulnerabilities during the pandemic will oblige companies to rethink their procurement and supply chain strategies. He explained: "This is probably a good time for companies to revisit their supply chain management practices. Companies should seek out business partners with proven track records to help them adopt more robust services and tools, which will enable them to assess risk impact and formulate risk‑mitigation strategies and develop corresponding response plans to manage supply chain risks."
Related link
HKTDC Research