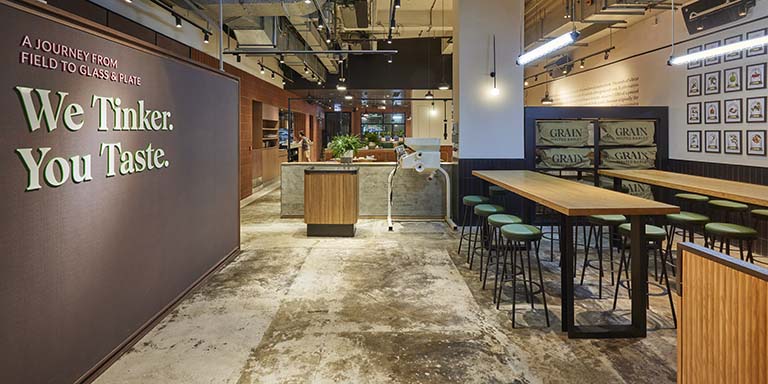 https://hkmb.hktdc.com/en/1X0ALL45
Brewing up on the spot
On-site brewing had its heyday in Medieval times but one Hong Kong restaurant has a 21st-century take.
In Medieval Europe, alewives brewed the beverage daily and sold it on their premises. During and after the Renaissance, technological improvements took the craft into large-scale brewhouses.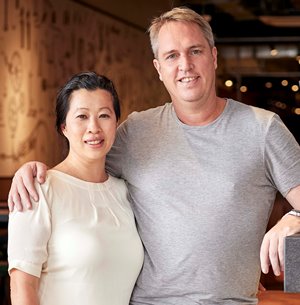 In Hong Kong, however, one food and beverage (F&B) outlet has turned the clock back and begun brewing on-site.
Gweilo Grain lays claims to being the city's most established craft brewer and the only local restaurant-bar to brew its own beer on the premises.
The centrepiece of this hybrid venue is Gweilo Brewlab, a research and development brewing facility that lets customers test newly developed brews before they are released for broad consumption.
The Brewlab's 24 taps issue six core beers – Gweilo Lager, Pale Ale, Session IPA, Hazy IPA, Citrus Crusher and American IPA – alongside regular limited batch and collaboration releases. Grain is also home to a workshop and beer tasting space where guests can find out more about the process of making craft beer.
Gweilo Grain is the brainchild of F&B group Woolly Pig, whose founder Chris Woodyard work with wife Bronwyn Cheung to operate seven other local restaurants as well. He said Grain had been reassuringly busy right from the start.
What are Grain's patrons like?
Customers are a real mix as the F&B landscape has really changed, as has the demographic. Locals are getting more and more adventurous with dining options.
What cuisine does Grain serve?
We really wanted to involve beer in the food menu, not just beer batter, and feature all the brewing ingredients in the food, like our pork and beer malt sausages and "GFC" [a chicken dish], which incorporates Gweilo IPA [India Pale Ale] and buttermilk into a marinade for the fried Japanese chicken thighs.
We've never gone down this angle with beer before – we've done it with wine – so it's been a big learning curve. Grain's Head Chef, Matthew Ziemski, previously helmed the kitchen at another of our restaurants, Big Sur. His CV [curriculum vitae] was really well matched to this undertaking as he's worked in United Kingdom gastropubs and experimental kitchens like Dinner by Heston Blumenthal.
Before, this was a night-time hangout and now we're positioning it as an all-day venue. In a venue of this size, with space for up to 150 guests, we need to give people reasons to come here and try different things, so they can do brunch one week, then a Sunday roast the next.
How will you go about hosting beer workshops?
We'll not only educate guests about the brewing process but also get customers involved by asking them for ideas on new beer recipes and flavour combinations. If we decide to use their suggestion, we'll invite them back to try the new brew.
What brought you to Hong Kong?
I've been a chef all my life and worked all over the world, opening my first restaurant in Sydney in 2000. My wife said there was a job in Hong Kong at the W Hotel as Culinary Director. I thought my days of travelling were over but I was happy to hit the road again although I didn't come to Hong Kong with the intention of settling here long term.
What are the advantages of being a restaurateur in Hong Kong?
We set up Woolly Pig in 2010 and found it's a lot easier to find backing in Hong Kong [than other locations] which is good as the hardest part of starting a restaurant is financing it. So many people here are investing and want to diversify. Plus Hongkongers eat out here all the time! In Sydney or London, it might be once or twice a week, but Hong Kong people eat out more than they eat in. That creates a different style of venue. Here, there are more restaurants focused on filling the gap, and just more of a diverse restaurant scene as there's enough people eating out here [to accommodate that].
Are there be plans to roll out the Grain concept elsewhere in Hong Kong or in other locations?
It was set up with the view that we could open something like Grain in the UK or perhaps Sydney, but we're certainly not thinking of that right at the moment [amid the pandemic]. We could have offshoots of Grain in Hong Kong. There's no point having a second brewery here, but there could be another couple of concepts that we could roll out related to Grain in smaller venues.
Related link
Grain