As the world of trade and industry resets and consolidates following the acute phase of the COVID-19 pandemic, Asia has re-emerged as a promising market for international companies. In tapping these new opportunities, successful companies soon realise that working with Hong Kong adds value to their business.
To help European businesses capitalise on Asia's potential, the Hong Kong Trade Development Council (HKTDC) hosted a webinar entitled "Hong Kong: Enhanced Value for Capturing New Opportunities in Asia" on 10 June. Twenty European trade and business groups were involved as co-organisers or supporting organisations.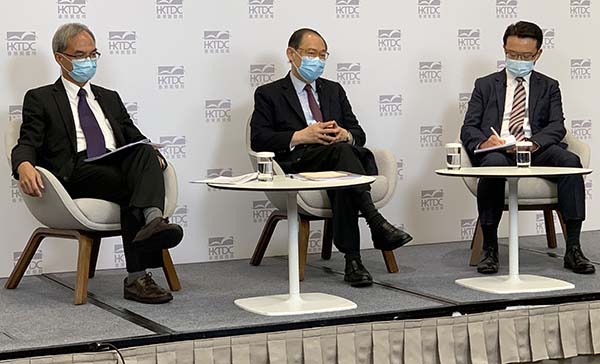 Bright spots
In welcoming remarks, HKTDC Deputy Executive Director Patrick Lau highlighted the Guangdong-Hong Kong-Macao Greater Bay Area (GBA) and the Association of Southeast Asian Nations (ASEAN] regions as high-potential markets.
"More than a year into the pandemic, despite vaccination programmes in many parts of the world, global business landscape remains fraught with challenges. The way forward is to identify and capture new opportunities," he said.
"On economic growth, one of the obvious bright spots is Mainland China, which presents a key growth driver for the world. The Greater Bay Area, in turn, is a key growth driver for the Mainland China," he shared.
"The Greater Bay Area offers a myriad of opportunities for overseas companies in various sectors, including innovation and technology, sustainability, healthcare, creative industries, consumer products, and much more."
Dr Lau also explained the potential of the ASEAN market. "The region has a huge population of more than 650 million, almost twice that of the United States and these economies are on a robust uptrend," he remarked.
"For international businesses, the most efficient way to tap these markets would be by working with Hong Kong – which is a two-way business and investment hub with close connections with ASEAN and the mainland, and is itself part of the Greater Bay Area," said Dr Lau.
The Greater Bay Area links Hong Kong and Macao with nine cities in Guangdong Province, including the provincial capital Guangzhou and Hong Kong's neighbouring metro, the innovation and technology hub of Shenzhen (main picture).
HKTDC Research Director Nicholas Kwan said the GBA is fastest growing part of China, which in turn is among the fastest growing economies in the world. The GBA is also the most open, and market-driven part of China. He noted that the GBA has a population of 86 million, comparable to that of Germany.
He said Hong Kong's strengths, including its open and market-driven economy and international connections, would help European businesses access the GBA.
Resilient, competitive city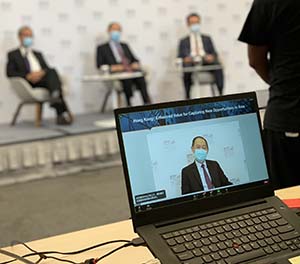 Veteran investor Victor Chu, Chairman and CEO of First Eastern Investment Group and Chairman of the Hong Kong-Europe Business Council, told the webinar that the city is resilient and competitive. Overseas firms seek a centre with innovation, uniqueness, differentiation, competitiveness, which Hong Kong offers, he said.
As an international financial hub, Hong Kong had done very well even over the past two years, he added. Hong Kong is the world's second largest initial public offering (IPO) hub and the second largest IPO hub for biotechnology.
Traditionally Hong Kong is a centre of excellence in property, logistics and financial services but growing connections with the mainland brought new opportunities, including in synthetic biology, which calls for a cluster of expertise. Digitisation or the fourth industrial revolution is another promising new development, said Mr Chu.
"Hong Kong and the GBA have it all" when it comes to grasping these opportunities, he said.
The GBA is an exciting development with tremendous potential, he said. The three Chinese stock markets – in Hong Kong, Shanghai and Shenzhen – had market capitalisation of greater than US$10 trillion, making up more than one-tenth of the global equities market.
Sustainability
Sustainability finance was also becoming a key growth area, Mr Chu said. The Hong Kong government has mandate green finance projects worth up to US$20 billion in green bonds over the next five years. Globally US$30 trillion is committed to sustainable finance but now Asia just accounts for just 1% of this, meaning there is huge potential to grow.
"My firm, which is a big investor in sustainable projects in Europe, Japan and ASEAN, uses Hong Kong as springboard to international investment," Mr Chu said. "But closer to home, we will be doing more in Hong Kong and the GBA in the months to come."
Mainland link
Arnold Cheng, Director, Hong Kong & PRD for John Swire & Sons (China) Ltd, said his firm, a conglomerate with interests ranging from airlines to property and beverages, had a lengthy history in Hong Kong, which it has used as a platform to access the mainland.
The firm had been expanding in the mainland for many years and was looking to expand further, he said.
"We managed to capture and capitalise on opportunities arising as a result of the reform and opening up of [Mainland] China over the past 40 years," he said.
"We believe the next opportunities for growth will come from the GBA," he said. The initiative to integrate Hong Kong and Macao with the mainland area offers Swire excellent opportunities in terms of scale, demographics and infrastructure.
Mr Chu said Hong Kong's advantages over mainland special economic zones and free trade ports included a solid track record as a bridge connecting businesses from different parts of the world, and its use of language.
ASEAN
Turning to a query about Hong Kong as a launch pad for business elsewhere in Asia, Mr Kwan said that historically many of the connections between Hong Kong and the mainland had in fact originated in ASEAN countries.
For example, much of the capital entering the mainland from Hong Kong originated in ASEAN centres. Hong Kong has a free trade agreement with ASEAN, he pointed out. The Regional Comprehensive Economic Partnership for leading Asia-Pacific countries had already benefited Hong Kong, he said. Last year the mainland became the largest trading partner of the European Union, he pointed out, while remaining the largest trading partner of ASEAN. This underlined how East Asia was becoming the centre of globalisation, he added.
Hans Poulis, Vice Chairman of the Federation of Hong Kong Business Associations Worldwide, noted Europeans are keen to leverage Hong Kong as a link to other markets.
"Europe is very interested in using Hong Kong as a bridge to other [markets], particularly [Mainland] China," he said.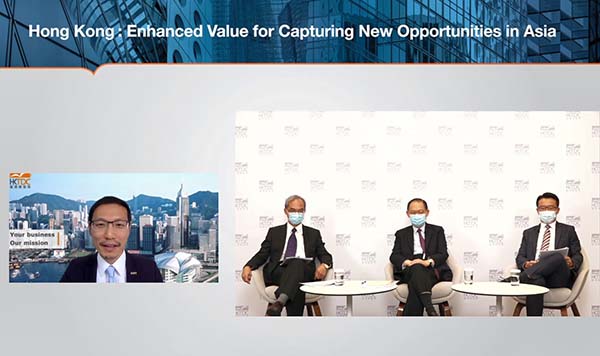 Related links
Federation of Hong Kong Business Associations Worldwide
Full video