The biggest country in both Europe and Asia, Russia is recovering following a sharp recession induced by the COVID-19 pandemic last year, giving Hong Kong-based exporters attractive opportunities.
COVID-19 shrank Russia's gross domestic product by 3% last year, stunting its spending power, but at the same time social-distancing restrictions fast-tracked consumers' move into online shopping.
Online shopping in Russia jumped 59% to 3.2 trillion rubles (US$44 billion), Hong Kong Trade Development Council Economist Jenny Lam told a webinar on e-commerce opportunities for Hong Kong exporters.
Demand for e-commerce product categories closely matches the leading sectors of Hong Kong exporters – the top five categories are electronics and electrical appliances, clothing and footwear, food products, furniture and household goods, and beauty and health.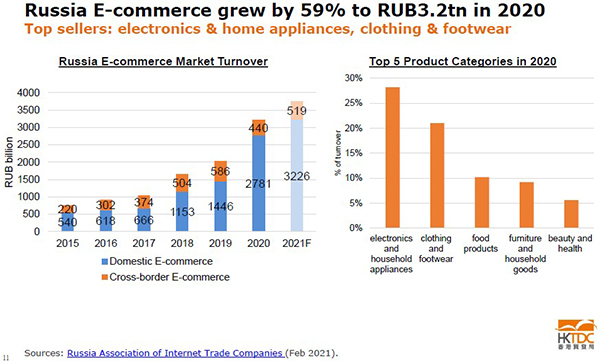 Shift online
Along with consumer patterns worldwide, young people are more inclined to shop online, Ms Lam said. They enjoy watching films, playing games and reading books online. Consumer electronics imports for Russia rose 12% last year despite the pandemic as users bought high-end gaming hardware and related accessories such as cameras and projectors. In the first quarter of this year, household electronics sales jumped 18% to €850 million (US$1 billion).
Sports and outdoor activities are very popular in Russia, she said, with the sports and related equipment flourishing (main picture shows rafting on the Chulishman River in the Altai Mountains of southern Siberia).
Sport reports, recordings, broadcasts and streaming, through such services as the Sportrecs site, also draw many readers and viewers.
With 146 million people living in a continent-sized country, distribution always poses a challenge for fulfilment in Russia but leading e-commerce firms have established networks of pick-up points throughout the country.
Leading export
Ms Lam said Russia is a leading oil exporter and the price of crude is a key driver of the country's economic performance. The global price of crude has recovered since its nadir in April last year, when New York Mercantile Exchange oil futures prices sank to negative on worries storage space could run out. Prices have since recovered, however, and GDP is expected to grow 3.8% this year. The national COVID-19 vaccination campaign featuring home-grown Sputnik V shots, boosted by offers of chocolate popsicles at the country's most iconic department store GUM!), has also substantially reduced the case count.
Timur Khamitov, Head of Ozon Global, a leading multi-category e-commerce company in Russia, told the webinar that the cross-border online market had great potential.
Business volume for Ozon had risen to more than 11 million stock keeping units and over 73.9 million customer orders per year in 2020, he noted.
As COVID kept shoppers at home, the company's gross merchandise volume grew 147% year-on-year in the final quarter of 2020.
Ozon's current strategy is to increase customer base and loyalty, attract more suppliers, expand its logistics footprint, including providing for the last mile, and building a diversified platform with greater fintech capability.
Global launch
Mr Khamitov said suppliers can manage logistics, adding their own warehouse and shipping. There is no value-added tax on online sales in Russia. Inventory stays inside the sellers' country and does not move until sold.
Ozon generated revenue through commission, ranging from 2% to 13%, he said. Russia does not impose import taxes on goods valued at less than €200 (US$245) per parcel or weighing less than 31 kilograms. There is no limit on the number of qualifying parcels from a source.
Olga Kuznetsova, Business Development Manager at Ozon Global, said the firm has a special support department for businesses from China, noting the close commercial ties between China and Russia. She said Russian consumers trusted Hong Kong as a source of electronics.
Related link
HKTDC Research
Full webinar
Ozon