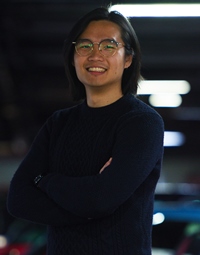 As a first-time car owner, Danny Chan struggled to find vehicle workshops offering quotes, and realised this was a pain point many drivers face.
This inspired him to establish an app-based platform, AutoMate, in April 2019, connecting car owners with workshops providing wide-ranging car-maintenance services with transparent pricing.
Despite the COVID-19 pandemic, the brand's user numbers have tripled in the past year alone. Today, AutoMate has more than 26,000 users in Hong Kong and a continuously growing network of workshop partners.
Mr Chan shares his story as an entrepreneur with Hong Kong Means Business.
What did you do before this?
Having graduated from the Hong Kong University of Science and Technology with a bachelor's degree in business administration, I started my career co-founding an accounting firm.
Had you always aspired to be an entrepreneur?
Yes. The entrepreneurial journey, going from zero to hero, appealed to me. After graduation, the connections that I had in the business and finance industry helped a lot with the accounting firm I co-founded. However, for AutoMate, I had never worked in this industry before and did not have any connections so I had to start from scratch. Running a business means endless challenges and opportunities which gives me the feeling of accomplishment when I overcome all kinds of problems and difficulties.
How does it work?
With AutoMate, car owners no longer need to deal with multiple auto shops to receive a quote for their services. Users will automatically receive service quotations from three auto shops at once for swift and easy comparison. The AutoMate app enables users and auto-shop service professionals to connect directly via the in-app chat function, allowing for quicker and easier communication as well as direct liaison on quotation and payment. AutoMate also keeps a record of your services that are in progress or completed - all in one place.
What is the scope of services?
AutoMate partners with more than 250 local auto shops including acclaimed car service providers Shell, Challenger and Inchcape [the car service company of Toyota, Lexus and Land Rover] - covering over 80 service locations across Hong Kong.
What if I need a repair, not just a service … does AutoMate allow for that?
Through AutoMate, car owners can enjoy no less than 300 types of auto services, from general maintenance, car inspection to body paint and engine replacement, etc.
AutoMate users can also enjoy a basic check-up service at only HK$10 — a service technician will visually examine the designated part of the vehicle to find out the potential issues. Users can then decide whether they would like to pay separately once they agree on the recommended repairs or services.
How are prices made transparent?
With a fixed quote on the app, users can feel confident that the price they've agreed to for the service will be the price they'll pay – thus reinventing the quotation process that in the traditional industry would involve fluctuating prices.
In addition, through AutoMate, users can also enjoy promotional offers from partner brands such as Cars Restoration and CarWash.HK for regular car care and maintenance.
Is there a review process for your providers?
We know it can be a challenge for car owners, especially new drivers, to find a trustworthy auto shop or one that is best for a specific type of service. Our in-app system allows AutoMate users to share and reference authentic auto shop service reviews and ratings, and upload photos to support their review. This gives customers access to genuine feedback from real users in order for them to make an informed decision when choosing an auto shop or service.
The road ahead?
In the second half of 2021, we plan to launch a 24-hour car towing service on the platform incorporating a tracking function so that users can monitor the tow truck's real-time location on the app. AutoMate will also partner with the Hong Kong Automobile Association to present a series of workshops — with topics ranging from car maintenance, such as cleaning, waxing, coating and painting, to road safety tips — for users to participate in.
Going forward, AutoMate will continue to innovate and expand its range of auto services to cover all the needs of drivers in Hong Kong.
Related link
Automate