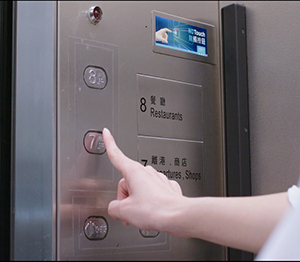 Worries over tactile transmission amid the COVID-19 pandemic has driven many innovative cleaning and sterilising solutions for heavily used surfaces such as lift buttons. But there is another option – avoid touch altogether.
This is the idea behind the contactless elevator control panel developed by the Hong Kong Productivity Council (HKPC), a statutory organisation tasked with supporting Hong Kong industry. HKPC Executive Director Mohamed Butt (main picture) explains the project.
Tell us about your invention.
HKPC, with strong support from both the Innovation and Technology Bureau and the Innovation and Technology Commission of the HKSAR [Hong Kong Special Administrative Region] Government, successfully developed kNOw Touch, a contactless elevator control panel, in mid-2020.
To date, our solution has been installed in many locations across Hong Kong, such as government departments, office buildings of public organisations, Hong Kong International Airport, shopping centres, municipal buildings, places of worship, private housing estates and private organisations.
What is its main advantage?
Easy and simple to install, the kNOw Touch panel can be applied conveniently in different models and types of elevators without the need to change the original - elevator button system or perform vast mechanical alterations, thereby ensuring swift retrofitting. By fitting a set of infrared distance sensors near the control panel and calibrating according to the distance and layout of the elevator buttons, the users can just select the corresponding floor by pointing their fingers at close range without touching the panel, an effective means to minimise the risk of virus transmission through touching the elevator buttons.
How has it been received by industry?
On top of being awarded the Pandemic Innovative Digital Solution Awards 2020 Outstanding Healthcare Award by the Hong Kong Computer Society, in March 2021 kNOw Touch won the highest accolade of gold medal, with congratulations from the jury, at the prestigious 2021 Geneva International Exhibition of Inventions, a laurel to R&D [research and development] achievements that contribute towards the [global] community's anti-epidemic efforts.
Where do you see market potential for this solution?
Since its invention, we have striven to seek collaborative opportunities with different parties to expand its application. Already, we have signed two technology licensing agreements with Roborn DT Limited (Roborn) and Schindler Lifts (Hong Kong) Limited (Jardine Schindler) respectively to promote the solution not only in Hong Kong but also to Mainland China, Belt and Road countries and the rest of the Asia-Pacific region. This is testament to HKPC's efforts to help the world combat the pandemic and its proactiveness and professional competence in R&D and technology development application.
What does this home-grown solution to a global need say about Hong Kong's technical capability?
Launched at the start of the pandemic, the cost-effective kNOw Touch solution leverages novel technology to solve the pressing public demand. The central government's 14th Five-Year Plan supports the development of Hong Kong into an international innovation and technology hub, and as one of the key R&D institutions in Hong Kong, HKPC will continue to give full play to its R&D strength, steering the development and adoption of innovative technologies.
What is your ultimate vision for this invention?
The collaboration with Roborn and Jardine Schindler is a successful example of the commercialisation of our R&D achievements. We hope kNOw Touch will extend its reach beyond Hong Kong and tap into the Guangdong-Hong Kong-Macao Greater Bay Area market, riding on the "dual circulation" opportunity and enable the technology to flourish further, create value for the community and promote the development of smart city.
Roborn and Jardine Schindler will actively promote the adoption of our solution in elevator facilities of different building types and in non-elevator scenarios in Hong Kong, as well as other [countries and] regions including Mainland China, Macao, Taiwan, Japan, South Korea, Australia, India and Southeast Asia. They will also provide aftercare services such as installation and maintenance. We firmly believe such cooperation is an important demonstration for all parties to jointly build the brand of Hong Kong Tech.
Related link
HKPC