Many children learning English as a foreign language grow up in households where there are no English speakers, and lose out on the chance to learn through conversation. Thanks to technological advances, however, a Hong Kong start-up has developed a chatty robot to fill the gap.
The Talkbo conversation robot can process incomplete English words and sentences, helping improve children's English ability since it is able to make sense of English spoken by children learning it as a second language, improving their English grammar and pronunciation, according to Jeff Cheng, founder of PopSand Robotics.
Language-teaching edutech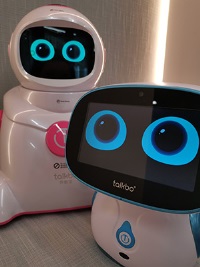 "We know that children who are learning English need someone to practise speaking with them, but often there are no English speakers at home," Dr Cheng said.
"So our robot combines the increasingly mature voice-interaction technology with artificial intelligence (AI) to help children practise English conversations and letters, and enable them to listen to interesting English stories in the classroom and at home," he explained.
In 2018, Dr Cheng established PopSand Robotics and developed Talkbo with intelligent teaching functions. Talkbo uses Amazon's Alexa voice technology to receive voice input, augmented by a self-developed non-native English speech processing technology that corrects for errors the children are likely to make. Talkbo also uses AI to understand the meaning of sentences and voice commands. If the grammar or pronunciation is wrong, it will correct it.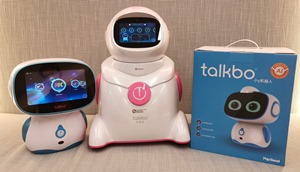 Dr Cheng said English is an international language and learning it is essential for those wishing to work in much of the world.
"There are many places where students wanting to study English face high tuition fees and a lack of qualified teachers," he said. "Technology can be used to great advantage to help address these problems.
"Robots are new products so many people have never had these tools or do not know how to use them. There is a need to seek technical support and teaching, so we first work on a business-to-business basis and then develop B2C [business-to-consumer] business."
Dr Cheng said the Talkbo robot system takes into account use-cases often found in schools. Once teachers learn to use the robots, the children are taught to learn English with the machines. Parents can then buy the robots to let their children learn English at home, transitioning from B2B to B2C business. The global push towards online learning, driven by the COVID-19 pandemic, also boosts the business from the point of view of both enterprises and consumers.
After establishing itself in Hong Kong, PopSand is actively expanding into other markets, including Mainland China and India.
Indonesia beckons
"We successfully entered Indonesia," shared Dr Cheng. "Indonesia has a population of more than 270 million people and is a densely populated country. The relatively low penetration of English means there is strong demand English learning and large market."
Establishing links
Despite the pandemic Dr Cheng managed to establish contacts with Indonesian political and business leaders in Indonesia with the help of the Hong Kong Trade Development Council's (HKTDC) T-box (Transformation Sandbox) programme which helps small and medium-sized enterprises (SMEs) achieve transformation and enhance competitiveness.
"Attitudes to smart robots differ from the view people take of smartphones. Smart robots still need to be explained, and dedicated personnel need to train users," said Dr Cheng.
"Since personal experience is important, the T-box team helped line up meetings and exchanges with the Indonesian Consul General in Hong Kong in October last year. T-box also arranged a series of online conferences and teaching sessions, connecting us with Indonesian companies and schools interested in online educational technology. As a result, some of them have bought robots from us. This has greatly helped us in entering the Indonesian market."
Through online meetings with HKTDC representatives in the Middle East and Africa, PopSand has learnt about local markets and companies, he said. Through the HKTDC's help, the firm also exhibited at the GITEX electronics exhibition in Dubai in December and received inquiries from local companies.
The T-box team works with SMEs to identify their goals and provide support over a three-month period, with group and individualised services including advisory services, workshops, government-funding information, market knowledge and networking opportunities. The programme is offered free of charge and is open to all companies registered in Hong Kong.
T-box has seen a strong response since its launch in April 2020, with more than 1,200 SME members at present. Over 300 free consultations by professional organisations, chambers of commerce, government agencies and representatives of consulates of various countries have been arranged.