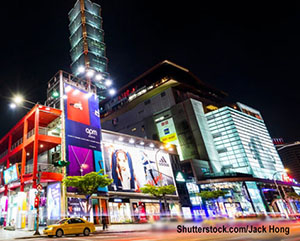 With online shopping becoming a way of life for many consumers across Taiwan, this – coupled with the global drop in footfall occasioned by the COVID-19 pandemic – has made life tough for many of Taiwan's conventional retailers, particularly those in the department-store sector. As early-mover e-commerce platforms have assumed a dominant position in the market, brick-and-mortar vendors have inevitably been obliged to play catch‑up and launch their own online platforms.
As competition both online and offline has intensified, this has led many of the territory's high‑street giants – notably Shin Kong Mitsukoshi, Far Eastern Department Stores and Far Eastern SOGO – to open new sites in a bid to maintain market share. The situation has been only exacerbated by the arrival of such aggressive newcomers as the Breeze Center, which has fast-tracked its expansion across the territory.
Competitive squeeze
This unrelenting competition has already squeezed a number of smaller operators out of the market. According to statistics from the Ministry of Finance, there were just 713 department stores in Taiwan as of September 2020, 40 fewer than in 2019. Tellingly, prior to 2010, the territory was home to more than 1,000.
As well as increased intra-sector competition and the challenge of the new generation of online retailers, recent years have also seen the rise and rise of the mega shopping malls. Among the most notable examples of this particular phenomenon are the Mitsui Outlet Park in New Taipei (or Xinbei), Gloria Outlets in Taoyuan, Lihpao Outlet Mall in Taichung, the T.S. Mall in Tainan and Dream Mall in Kaohsiung.
Despite this, consensus remains that the gravest threat to traditional department stores is the rapidly expanding e-commerce sector. According to the Ministry of Economic Affairs, retail sales in Taiwan hit an all‑time record of NT$3,862 billion (US$136 billion) in 2020, up 0.2% year-on-year. Of this, however, some NT$341.8 billion was related to online sales, representing a year‑on‑year increase of 19%. For the same period, online retail sales accounted for 8.9% of total retail sales, a 1.4 percentage point rise from the 7.5% recorded for 2019.
It was particularly notable that online sales rocketed in the fourth quarter of 2020. This was seen as arising from a number of high‑profile promotions, including the Line Friends anniversary celebration, the Double 11 shopping festival and the Double 12 shopping festival. Together, these events saw online retail sales in the quarter shoot up to NT$100.5 billion, a 20.6% year-on-year increase, far higher than the 2.4% growth recorded for the retail sector overall. In more specific terms, online takings accounted for 9.5% of overall retail sales in this quarter, a 1.4 percentage point rise from the 8.1% recorded in the fourth quarter of 2019.
Following the shoppers
This phenomenal growth has – and continues to – put traditional department stores under tremendous pressure, with the pandemic having accelerated the rate at which consumers are shifting from in‑store shopping to online purchases. The question now, though, is whether the move by department stores to set up their own online platforms, integrating online and offline services in a bid to reduce reliance on third‑party e‑commerce traders, can ever turn the tide.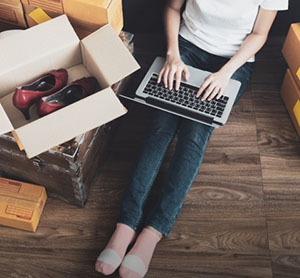 To be fair, while the COVID-19 outbreak was devastating for many brick‑and‑mortar department stores, it wasn't catastrophic for all of them, especially those canny enough to have invested in their online offerings beforehand. Something of a frontrunner here was Far Eastern SOGO, which began trial operations of its SOGO istore in June 2016 before officially opening in January 2017.
For its part, the SOGO istore primarily focuses on clothing, cosmetics, footwear, handbags / accessories, watches, electrical household appliances and food. It also offers selected products from the group's three major outlets in downtown Taipei.
Outlining the company's approach to online shopping, Sophia Huang, Chair of Far Eastern SOGO, said: "Our platform aims to continue serving customers beyond the opening hours of the brick‑and‑mortar stores, as well as bringing convenience to consumers who may not be able to visit us. Or priority is to turn our online store into a major business arm, while also introducing experiential retailing in our physical stores."
O2O model
Another early adopter was the department store heavyweight Shin Kong Mitsukoshi, which opened its beauty STAGE online store in June 2017. Favouring an online‑to‑offline (O2O) business model, integrating online and offline services, it has also launched a successful membership rewards campaign. Overall, it has tended to focus on services and products for women, notably cosmetics, healthcare, fragrances, fitness and hair / beauty items, with 70% of its customer base said to be in the 18‑34 age group.
For 2021 as a whole, the company is projecting a 10‑fold increase in revenue for beauty STAGE which will see it delivering some 3% of Shin Kong Mitsukoshi's total income. In 2020, meanwhile, the Shin Kong Mitsukoshi group generated NT$80.7 billion in total revenue, with that figure expected to exceed NT$82.1 billion in the current year.
Coming a little later to the game, Far Eastern Online was rolled out by the Far Eastern Department Store in April 2018. Prior to this, the company had operated online primarily via FriDay, a subsidiary of Far Eastern Group, its ultimate parent company. Detailing its current strategy, Nancy Hsu, the President of Far Eastern Department Stores, said: "As we have come to accept that O2O is an irreversible trend, we have positioned Far Eastern Online as an extension of our physical sales channels, while looking to extend our customer base and make the best use of our existing client database.
In 2020, the Far Eastern Department Store's annual revenue soared to NT$46.6 billion, overtaking Far Eastern SOGO and becoming the second‑largest department store in Taiwan. It is anticipated that its total revenue will exceed NT$47 billion this year.
In terms of the most recent digital debuts, the fast‑growing Breeze Center launched BREEZEONLINE in November last year. Similarly, Kaohsiung's iconic Hanshin Department Store has recently set up its own dedicated website and app, although it had been utilising a third‑party e‑commerce platform for a number of years.
While many of Taiwan's department stores are relative newcomers to online trading, with digital profits accordingly well below those accruing from their more traditional revenue sources, they are clearly at something of a crossroads. With the COVID-19 outbreak having accelerated their embrace of a more hybrid online‑offline sales model, it is likely that the rate of change will become ever more rapid. The question now is when – not if – online sales overtake their conventional counterpart as the biggest contributor to the bottom line of many of the territory's longest‑established department store operators.

Related link
HKTDC Research