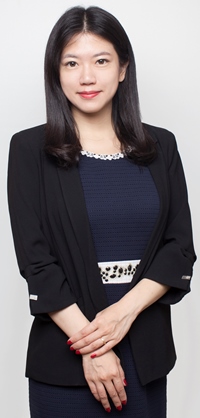 Bespoke, high-value jewellery has remained popular during the COVID-19 pandemic, ensuring solid demand for platinum and glittering opportunities for suppliers such as Hong Kong-headquartered Platinum Group International (PGI). Funded by producers in leading platinum exporter South Africa, the company markets the metal for jewellery use worldwide.
Zhenzhen Liu, PGI's Director for Global Corporate Marketing, tells
Hong Kong Means Business
how the precious metal has managed to hold its own, and its prospects going forward.
Are platinum jewellery buyers driven by its intrinsic qualities and appearance, rather than its investment value, or is it a combination?
Platinum's uniquely differentiating qualities and its strong connection with meaningful moments makes it a metal that holds both value and meaning for platinum jewellery buyers.
Platinum is a precious metal that has superior physical qualities, is very rare and it doesn't change colour, which allows it to be the best precious metal for bridal jewellery, high-end jewellery and to securely set diamonds and gemstones. Therefore, it is usually associated with commemorating life-changing milestones and celebrating important achievements and rare moments. Consumers choose to buy platinum jewellery not only because it holds superior qualities, but also because it represents and signifies something rare, emotional and meaningful. Some consumers also purchase for its investment value. For example, asset-type jewellery such as Kihei chains in Japan have been selling well in 2020.
Unlike many other luxury products – fine food, cosmetics and fashion items – jewellery is permanent; as with diamonds, platinum is forever. Has uncertainty created by COVID-19 turned buyers towards jewellery?
Yes. In fact, PGI's 2020 consumer research shows that there has been a strong trend of people shifting priorities and a willingness to purchase luxury goods, including jewellery, that hold value and meaning. However, it is first important to note that consumers with the purchasing power to buy luxury items went into the pandemic with bigger than average wallets and have hence fared better than others.
COVID has changed life in many aspects, and one is that many consumers started to re-evaluate their lives in a more positive way, to appreciate their relationships and companionship with their family and loved ones. Consumer surveys and PGI partners are reporting that consumers are looking for a token that possesses what love can enable – hope, resilience, strength, comfort – contextual to this time and yet meaningfully rare, like platinum. Platinum is a precious metal that has meaning in itself, compared to other luxury products, which makes it a unique offering and integral part of that message.
PGI's research also shows consumers are driven to purchase platinum when making an emotional jewellery purchase. For example, in India — one of the key markets of PGI — 78% of the respondents of the Q4 [fourth-quarter] 2020 consumer survey strongly agree that precious jewellery signifies significant relationships that they cherish. Young generations of Indian consumers buying platinum love bands that symbolise the togetherness that supports them through the hard time.
As COVID shutdowns put a damper on so many activities – dining out, travelling – do couples consider settling down and forming families, creating a desire for symbols of eternal love?
We can't speak to the statistics of couples settling down and forming families, but in 2020, we have seen some couples have chosen to spend more on bridal platinum jewellery during and post-pandemic, especially with the delay of wedding ceremonies and the cancellation of honeymoons. Some also diverted money from travelling and dining out to buying higher ticket jewellery items to signify their love and their journey in a trying time. Platinum is perceived as the "metal of love" and has a dominant position in bridal jewellery, especially in high-ticket items, therefore it has boosted sales of bridal platinum jewellery in key markets.
We are also seeing this in our consumer survey research. In Q4, PGI's survey across four markets — Mainland China, India, Japan and the United States — state higher average expenditure on bridal jewellery through self-purchase, compared to the same period in 2019. This sentiment is reflected in the strong bridal jewellery sales especially among high-ticket items, as couples have a strong desire to show their appreciation in this difficult time.
Gold has high value but many young buyers consider it dated; silver has much lower value but is seen as up to date. How could jewellers capitalise on the high value, up-to-date appearance feature of platinum?
Traditionally, a large share of jewellery is often a mass product that very often lacks a compelling story through thoughtful or branded design to attract younger consumers. The younger generations are more drawn to a unique brand story which integrated into the design. They treat that as a way to show their individuality and discerning understanding and taste.
Jewellers and jewellery retailers need unique brand positioning to differentiate from other luxury products, and platinum is well-positioned in this area. Platinum is perceived as the metal of meaning and love. It's a modern metal in many markets, which is very different from gold's traditional image. Platinum serves as a premium metal, which creates added value for jewellers by expanding the customer base to young consumers and high-end customers. It's also likely to generate a higher profit margin.
Jewellers can capitalise on this by implementing the "5P" – product, price, place, people and promotion. PGI has developed the five factors with our partners throughout the value chain: upgrading their product offerings by launching collections with a brand story, creating new designs and innovative alloys, introducing higher-margin and higher-turn pieces, training sales staff on platinum and platinum jewellery, and implementing an omnichannel marketing and sales strategy and it's proven successful.
Many consumers in Mainland China are the first generation able to afford jewellery. How could jewellers leverage this fresh perspective to boost sales?
Jewellery retailers should look into the expanding consumer segments in Mainland China to target the emergence of new segments, as well as capturing the existing ones in the mainland.
Largely, consumers in the mainland buy jewellery when they get married, especially jewellery for brides. With higher disposable incomes, consumers in both large and smaller cities start to spend on jewellery for other occasions, such as gifting on important dates or to commemorate relationships. There is also a growing trend of buying jewellery for themselves to celebrate one's achievement or special moments in their life, or simply because they like the design. Yet, ultimately this creates an opportunity for the industry.
As mentioned, jewellery retailers should look to expand the consumer segments in Mainland China, especially the non-bridal purchase, and consider the potential in lower-tier cities.
One of the biggest opportunities for the industry is female self-purchase. A cross-market consumer survey conducted by PGI in November 2020 shows women self-purchasing demand for precious jewellery has been strong in the past year and will continue in the coming 12 months. PGI has discovered that female purchase is a key target for all the global markets for 2021. This is based on recent research revealing 77% of Mainland Chinese female respondents have bought non-bridal jewellery for themselves in the past 12 months and 82% plan to buy non-bridal jewellery for themselves in the next 12 months, respectively.
The research has provided mainland jewellery retailers with insights to expand their offerings in targeting women's self-purchase by leveraging platinum jewellery, which is usually associated with a sense of authenticity, purity, rarity, and timelessness. These physical attributes also help align platinum jewellery with an emotional connotation for modern women. PGI also successfully developed several collections which target the women self-purchase segment in the key markets.
Expansion and activation to lower-tier cities in Mainland China is another key to jewellers' future success. From November 2019, PGI started the Reboot programme, an integrated programme that ensures participating stores in lower-tier cities upgrade their platinum jewellery offerings to consumers. PGI collaborated with manufacturers, leading retailers and local department stores in Guangdong province in 2019 and extended the programme across other provinces in 2020, adding over 500 new SKUs [stock keeping units] to the participating stores, contributing to the rejuvenation of the platinum jewellery industry.
Platinum is harder to work than gold – but new technologies allow easier working, while design trends are changing. Do you suggest jewellers try innovative designs to attract younger customers?
Absolutely. PGI's consumer survey shows that platinum is popular among the young generation. Specifically, in the mainland, platinum is most popular among Gen-Z and millennials aged 18-45, the future drivers of jewellery consumption and they want designs. Younger mainland consumers prefer platinum in jewellery not only to signify relationship milestones, but in a wide range of non-bridal types of jewellery, such as fashion rings, necklace, earrings and chains. In India, it is also quite popular among the young generation who want to display their attitudes towards value, modern love and fashion.
Innovative designs that allow jewellery to have a role to play for one to express individuality is more likely to capture a more competitive market position in the jewellery space among the younger generation.
In order to provide new designs to attract younger customers, PGI has been focused on driving the development of new hard platinum alloys that allow for much more diverse interpretations in shape, contours and product types. Hard platinum can create thinner cross-sections, open structures, better polish, better shape retention and higher scratch resistance, giving hard platinum products an upgrade in diversity in design, price range and product types. This innovation is already enabling platinum designers and manufactures to expand their offerings. The incorporation of new materials including enamels also add colour and novelty, allowing for more designed collections that appeal to younger generations.
The global jewellery spotlight will be on Hong Kong in July as the Hong Kong Trade Development Council rolls out the HKTDC Hong Kong International Jewellery Show along with the HKTDC Hong Kong International Diamond, Gem & Pearl Show.
Related link
Platinum Guild International