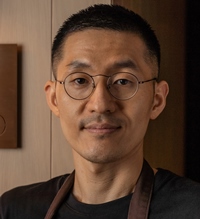 Noting the Korean fried chicken and barbecue restaurants in Hong Kong, chef Mingoo Kang felt the market had space for a progressive Korean dining concept. His thoughts led to Hansik Goo, which received Michelin Plate recognition for "very good food" shortly after opening in the city last July.Feeling Hong Kong diners are not familiar with authentic "hansik", or Korean cuisine, Mr Kang seeks to introduce them to the essence of Korean cuisine through dishes based on traditional recipes with a modern twist.
The Seoul-based chef manages Hansik Goo remotely from Korea. Still in his early 30s, Mr Kang is a highly rated Korean chef, having worked in Miami and the Bahamas. In the Korean capital, he runs a two-Michelin-starred restaurant, Mingles, which incorporates Korean, Japanese, French and Spanish cooking styles.
Why did you choose Hong Kong for your first restaurant overseas?
Hong Kong has one of the best food scenes in the world and is widely recognised as a gourmet's paradise. It's home to a wide range of culinary experiences and it's a good place to debut new trends. In addition to good local produce, the free trade port also makes it easy to source high-quality ingredients from around the world.
How has the Michelin Plate recognition for Hansik Goo boosted business?
Being recognised by the Michelin Guide Hong Kong offers proof of and motivation for our daily efforts and hard work. It definitely helps us reach not only new local customers but also the global audience. A lot of guests have expressed interest in visiting us once the travel ban is lifted.
Which menu items are popular?
Main course Samgye Risotto and dessert Jang Trio remain the two most popular dishes. Taking inspiration from samgyetang (Korean ginseng chicken soup) and Korean fried chicken, we combine the best of old and new worlds to create the risotto. We use whole local chickens from the New Territories to make this dish, with the bones for the soup, chicken breast and legs made into a roulade before being slow-cooked, coated in rice flour and fried for a crunchy KFC-style crust.
Jang Trio is my ode to jang, the fermented soy sauce that's the cornerstone of Korean cuisine. It is also the only [condiment] that we serve in Hansik Goo and Mingles. These intensely umami fermented sauces are typically incorporated into savoury cooking but here they are spun into a dessert featuring doenjang (fermented soy bean paste) crème brulee, ganjang-(soy sauce) glazed pecans, and dehydrated gochujang powder (fermented chili paste) sifted over rice puffs.
Are there any similarities between the menu and approach of Mingles and Hansik Goo?
Mingles serves creative and innovative Korean food but it still uses Korean cooking as a base. The more I studied Korean food, the more I wanted to introduce a variety of Korean cuisine to diners. I wanted to introduce comfortable food that Koreans enjoy in Hong Kong. When the opportunity of starting a new brand came up, I decided to bring in traditional food consumed by Koreans daily but in my style of cooking as opposed to the innovative style of Mingles.
What was it like being the youngest-ever Head Chef at Nobu Bahamas before returning to Korea?
During my years at Nobu Miami and later at Nobu Bahamas, I learned about Western-style cooking and contributed my opinions as an Asian chef. We served Japanese cuisine reinterpreted in a modern way. The takeaway for me was to always be on the lookout for new things.
You are known for your use of seasonal herbs and jang, the traditional Korean fermented soy sauce. How do these ingredients elevate your dishes?
Jang is commonly used in Korean cuisine. It is the most essential ingredient that acts as the fundamental of a dish. Only a small amount of jang added at the last phase of cooking really enhances the taste. It is not only a seasoning but also a key to combining the tastes of all ingredients to create harmony.
It takes time to make jang, so we import quality jangs from Korea directly for Hansik Goo alongside fermented ingredients such as kimchi – we use three to five types per season – and jangajji, or Korean pickles.
What were the challenges of setting up Hansik Goo from Korea?
Having to make decisions without being physically present was a new experience for me. That said, the process of communicating with the team remotely was not as difficult as I expected. Our partner, ZS Hospitality Group, the team of chefs in Korea and the Hansik Goo team in Hong Kong all showed great teamwork. As the chef-founder of Hansik Goo, I learned to trust the team and how to distribute the workload without meeting in person. I did travel to Hong Kong last year to officially launch the restaurant, despite having to quarantine for 14 days, as I felt it was important to be there in person.
What are your long-term plans for Hansik Goo – would you like to open other outlets?
I've always wanted to introduce authentic Korean cuisine to the world, and Hansik Goo is my very first step towards achieving that. But for now, we want to concentrate on Hansik Goo in Hong Kong.
Related link
Hansik Goo