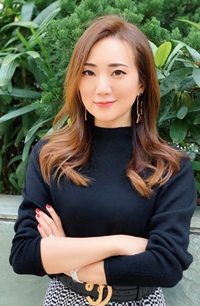 As overseas brands scramble to reboot business in Mainland China following a year of COVID-19 upheaval, Hong Kong-headquartered EternityX is using artificial intelligence (AI) to help boost their prospects.
The start-up runs a technology platform specialising in AI marketing services and providing real-time insights into consumer behaviour. Founded by Taiwan-born CEO Charlene Ree in 2018, EternityX has expanded into a network of seven offices in Hong Kong, Guangzhou, Beijing, Shanghai, Singapore, Australia and New York, staffed by a team of 40.
To date, the company has performed more than 2,000 campaigns for over 300 advertisers, including The Peninsula Hotels, LVMH, L'Oréal, Procter & Gamble, HSBC and Manulife.
Immense market
"As we all know, the market opportunity in Mainland China is immense and continues to grow but the mainland's digital landscape is changing very fast and many marketers are overwhelmed by the complexity and the ever-increasing number of platforms and tools available," Ms Ree said.
"EternityX is a cross-cultural and cross-border bridge for global brands to connect and engage with the mainland market. Our insights into unique audience profile categories and the ability to help precisely reach target consumers makes us a perfect fit for this gap."
The company's omnichannel platform is directly connected to leading media and data sources in the mainland, offering marketers transparency on every campaign.
"AI-powered data capabilities comprehend audience profiles in multiple dimensions real-time, allowing marketers to identify full-funnel behaviour [capturing as many leads as possible then narrowing down to those who show the most interest] for extremely precise audience targeting," Ms Ree said. "Built-in auto-optimisation delivers campaigns with the highest effectiveness, while at the same time deriving insights for our clients' next campaigns."
Today's consumers expect companies to understand their needs and expectations, research shows, and AI marketing enables more meaningful conversations with vendors.
"At EternityX, AI helps us consolidate all of the scattered data from multiple parties and comprehend the needs and consuming behaviours of different types of customers in real-time, empowering marketers to deliver meaningful messages that will inspire the right audience, on the right channel, at the right moment," Ms Ree said. "As a result, more consumers will find the ad relevant and be more likely to take action."
Efficient conversion
For marketers, achieving higher conversion means less wastage of both advertising and budget, resulting in a more efficient and better performing campaign. "We have a successful track record of enhancing clients' digital marketing performance by a minimum of 20-30%," she said.
EternityX has provided much service for luxury and travel brands but Ms Ree said its technology is universal.
"Last year, we saw a drastic diversification of our clientele, achieving a 400% surge in service-related clients from the finance, insurance, property and education industries," she said. "We also worked with various emerging brands that aim to target the mainland market for the first time."
Adoption of digital technologies is especially important for small and medium-sized enterprises (SMEs) as they have been hit hard by COVID-19, Ms Ree continued. "They often look for immediate ROI [return on investment). AI digital marketing can help them manage their campaigns more easily and effectively, thus enhancing efficiency."
Domestic flavour
Among the trends identified by EternityX for 2021 is the surge in young mainland consumers' interest in domestic brands and products that incorporate traditional Chinese style and culture — a trend known as guochao, which loosely translates as "national chic".
"These young Chinese consumers grew up amid strong economic growth in the mainland and thus they are extremely well educated, open-minded and very proud of their country," Ms Ree said. "Local mainland brands are keen to establish partnerships and collaborations with international brands and industry experts. This creates a lot of possibilities and opportunities for those who want to enter the mainland market and create new products that the mainland consumers can resonate with without crossing cultural taboos."
Ms Ree also sees Hong Kong as an ideal base for overseas brands looking to launch or grow in other markets.
"Hong Kong is seen as an aspirational lifestyle trendsetter with the most discerning designers and fashionistas in the region," she said. "Its open-market policies also attract international brands to expand their business here and make the most of its low tax rate, zero customs tariff on imported and exported goods, etc.
"Hong Kong takes a truly global approach to business that encourages networking, knowledge exchange, and the forging of new partnerships. English is also widely spoken in Hong Kong, especially in business, which creates a welcoming working environment for global talents from different countries."
Ms Ree has some tips for overseas brands aiming to enter the mainland:
The brands should understand the market. Those without a strong existing presence in the mainland should first understand its complicated and different digital ecosystem.
Suppliers need to become familiar with e-commerce, identify and leverage suitable social and content platforms in the mainland, and use the power of key opinion leaders to carve out a niche for their product.
Customer profile segmentation needs to be strategic, as the mainland market is far too big for any single brand to capitalise all of it.
The role of the physical store needs to be rethought. Physical stores will continue to remain crucial for maintaining brand awareness, but brands will need to adjust their store location strategy, and integrate the role of the store with that of their online offerings Related link
Eternity X