In the four decades since establishment of the Shenzhen Special Economic Zone (SEZ) turbo-charged Mainland China's switch to export-driven growth, Hong Kong and its neighbouring Guangdong cities have been pivotal in the development, driving investment and commodities in and products out.
Two decades into the SEZ's life, the mainland's export-driven model received a massive boost from admission to the World Trade Organization. The Hong Kong Special Administrative Region (HKSAR) played a key role in the growth that followed, through innovations such as the Stock Connect schemes which boosted investment flows into and out of the mainland.
Strong growth in the domestic market and rising protectionism overseas have driven a rethink on export dependency, with the mainland adopting the "dual circulation" policy last year balancing domestic and overseas trade. As happened in the previous transformations, Hong Kong, as part of the Guangdong-Hong Kong-Macao Greater Bay Area, will be pivotal in the new strategy.
Budget provisions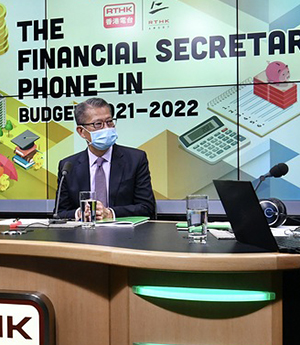 HKSAR Financial Secretary Paul Chan emphasised this when presenting the city's Budget last week. He allocated HK$375 million (US$48 million) to the Hong Kong Trade Development Council (HKTDC) over the next three years to develop virtual platforms that enhance its capability to organise online activities and to proceed with digitalisation. The HKTDC will also promote Hong Kong's strength in Greater Bay Area development and in healthcare products and services, which have expanded greatly amid the COVID-19 pandemic.
"Our country's economy will continue to advance during the 14th Five-Year Plan period. The signing of the Regional Comprehensive Economic Partnership (RCEP) Agreement will further promote economic integration in the region," Mr Chan said. "Hong Kong can open up greater room for development by leveraging the advantages under 'One Country, Two Systems', playing its unique role as a gateway and an intermediary, integrating into the new overall development of our country, actively participating in the national dual-circulation development strategy and seizing the opportunities brought by the development of Guangdong-Hong Kong-Macao Greater Bay Area and the Belt and Road Initiative."
Renminbi channel
Banking and financial services are key industries for Hong Kong and the city serves as a financial centre for the Greater Bay Area.
"Hong Kong has prominent functional roles in various aspects such as pooling international capital and talent, and providing a platform to align our country's standards with the international ones," Mr Chan said. "In addition, Hong Kong serves as a testing ground and firewall in our country's promotion of financial sector reform and opening up (such as the internationalisation of renminbi). Under our country's dual circulation development strategy, Hong Kong will definitely achieve greater success in the future as long as we can give full play to our unique roles as a gateway, a springboard and an intermediary."
The Stock Connect schemes, enabling investors in Hong Kong and the mainland — namely Shanghai and Shenzhen (main picture) — to trade on each other's markets, had thrived during the past year despite the COVID-19 pandemic.
"Last year's total transaction value of the Southbound and Northbound Trading of Stock Connect programmes more than doubled that of the year before," Mr Chan said. "The mutual market access programmes have been operating smoothly. Hong Kong can contribute more proactively to our country's 'dual circulation' strategy."
Innovation and technology
The city has a number of advantages in innovation and technology (I&T) development, such as top-notch capabilities in basic scientific research, intellectual property rights protection, attractiveness to research talents from all over the world and first-class financial support services, Mr Chan said.
The Government had allocated substantial resources and implemented a number of preferential policies, and been blessed with national support. "As long as we can leverage our advantages and achieve coordinated development with our brother cities that have advanced manufacturing industries in the Greater Bay Area, we can form an I&T upstream, midstream and downstream industrial chain and develop the Greater Bay Area into an international I&T centre, thus contributing to our country's technological self-reliance and at the same time identifying new areas of growth for Hong Kong's economy."
Greater Bay Area
The Greater Bay Area is the best entry point for Hong Kong to participate in the domestic circulation of the national economy, he said. "Be it for the mutual market access for financial services and products, cooperation and collaboration in respect of innovation and technology, or people's stay and living across the boundary, continued innovation in institutional and policy arrangements is needed so as to ensure a smoother two-way flow of funds, people and factors of production.
"The Guangdong-Hong Kong-Macao Greater Bay Area Development Office has been set up to strengthen the planning, coordination and promotion of the various policies and measures relating to Greater Bay Area development, and enhance the community's understanding of Greater Bay Area development. The Government also helps Hong Kong's businesses and youths to grasp the opportunities arising from Greater Bay Area development through various schemes."
Related links
Hong Kong Budget
Greater Bay Area Development Office