Many industries – from vehicles to power utilities – are fast becoming components of information and communications technology (ICT), which is now undergoing a revolution, jumping from 4G to 5G. The switch to 5G, with its massive data capacity and limited latency, is pivotal in the transformation of industries such as vehicles from their traditional manufacturing-based operations to information technology-heavy firms.
Economies in Asia – especially first-movers such as Mainland China and Korea – are already firmly into the early stage of the technology adopter curve for 5G. Since 5G is an industry of industries, impacting everything from transport to entertainment, progress along the 5G curve will drive innovation in many other sectors at the same time.
5G was a key theme at last month's Mobile World Congress (MWC) in Shanghai, where one of the world's leading 5G innovators, mainland ICT firm Huawei, charted a course the set of technologies could take to lead these industries out of the COVID-19 swamp.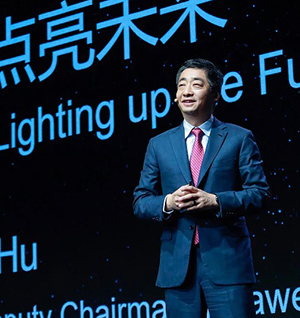 At the MWC opening ceremony, Huawei Deputy Chairman Ken Hu spoke about the impact COVID-19 had on countries, enterprises and people around the world, as well as the role technology plays in combatting the pandemic.
"Innovation isn't just about solving the challenges we face today," Mr Hu said. "It's about lighting up tomorrow. Once we get the pandemic under control, we need to think hard about how we can innovate to improve quality of life, make businesses smarter, and create a more inclusive world."
COVID-19 has created many new requirements for digital infrastructure. Over the past year, Huawei worked closely with carriers to ensure the stable operation of more than 300 networks across 170 countries and regions. In Indonesia, Huawei employed a new digital delivery technology to rapidly deploy more than 50,000 base stations. In northwestern China's Ningxia region, Huawei's integrated routers enable multi-cloud access for enterprise users, helping them move to cloud more rapidly – and at lower cost.
Quality of life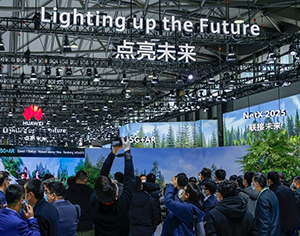 During his keynote, Mr Hu showed the audience Huawei's Cyberverse app, an augmented reality (AR) application that shows how 5G networks, 5G devices and AR can converge to create a more immersive virtual experience, be it a lifelike forest or a simulation in outer space. The app allows seamless integration of virtual and physical realities with centimetre-level positioning, massive computing power and high-bandwidth transmission through 5G. Huawei expects Cyberverse to create many new growth opportunities in multiple sectors, including education, entertainment, tourism, transport and navigation.
Smarter business
Mr Hu explained how a Huawei factory in southern China's Dongguan city uses 5G networks with cloud-based AI applications in its 5G smartphone production lines to boost productivity.
Huawei predicted that, by 2025, 97% of all large companies will use AI. Other estimates for 2025 include that 55% of the mainland's entire gross domestic product (GDP) will be driven by the digital economy and 60% of global carrier revenue will be derived from industry customers. Mr Hu noted that, to achieve these projections, "all industries should focus on improving their capabilities, building out the ecosystem, and creating value with digital technology."
The company is working closely with customers and partners to drive innovation in 5G. This includes collaboration with ecosystem partners to develop devices targeted at meeting specific industry needs. Through joint innovation and strategic partnerships with its customers, Huawei aims to drive expansion of 5G applications for business. It is also working to coordinate 5G communication and industry standards to more rapidly scale up 5G to business applications.
Mr Hu reported that, in collaboration with its partners and regional carriers, Huawei has signed more than 1,000 contracts for industrial 5G applications in more than 20 industries.
Inclusive world
He said the world risked seeing a K-shaped economic recovery (which means that that different parts of the economy recover at different rates, times, or magnitudes) from COVID-19 and predicts an increasingly wide divide between organisations and people who benefit from digital technology and those who do not. To avoid unbalanced development, bridge the digital divide and promote inclusive growth, Mr Hu emphasised that the focus of innovation needed to shift to producing greater social value.
The company has partnered with operators in Ghana on a rural network infrastructure project and currently plans to deploy more than 2,000 "RuralStar" base stations in remote regions of the West African country. This will help increase mobile coverage in Ghana from 83% to 95% and bring previously unconnected communities online for the first time. RuralStar is a solution that brings voice, text, and broadband data services to remote, hard-to-reach communities.
Similarly, AI services deployed on Huawei's cloud platform are being used to help a small company in Malaysia double its production capacity without increasing headcount during the pandemic.
In the congress, mainland telecoms giant China Mobile and Huawei jointly unveiled the 5G New Calling solution (main picture) which harnesses internet protocol multi-service (IMS) data channel architecture and provides high-definition, visual, and interactive services as well as voice communication.
The Voice over Long-Term Evolution (VoLTE) high-speed wireless communication standard, which was introduced as part of the 4G technology range, becomes a must rather than an optional solution in 5G. This will bring a surge in the VoLTE penetration rate and stimulate collaboration among operators. In addition, as VoLTE audio and video services become easier to access on 5G networks, the development of IMS data channels will continue to gain momentum.
"The 5G New Calling solution uses IMS data channel architecture and can be deployed on the top of an IMS network. The solution offers an opportunity for China Mobile to build a unified voice service platform and expand our service portfolio," said Zhang Hao, Deputy Director of the Department of Network and IT Technology at China Mobile Research Institute.
"China Mobile is looking forward to working with more industry partners to promote the development of new 5G voice services, unlock the potential of the voice market, and boost industry development," he added.
At a news conference held during the congress, Huawei Vice President Zhou Taoyuan released the company's Digital Power Zero Carbon Network Solution, which aims to help operators implement zero-carbon strategies and accelerate the green and sustainable development worldwide.
Enterprises are moving towards sustainable growth and green development, with traditional-energy giants proposing to aim for carbon-neutral operation. As the move to carbon neutrality emerges globally, the energy industry is bound to transform towards digitalisation and low carbonisation.
"The Zero Carbon Network has become an important strategic goal for leading operators worldwide," Mr Zhou said. In the context of carbon neutrality, renewable energy will play a vital role in the energy industry in the future. The global ICT energy consumption is increasing continuously. It is estimated that by 2030, the sector's global electricity consumption will reach 5%. Low carbonisation and reducing the energy consumption are the two key development directions of operators.
Mr Zhou pointed out that the Zero Carbon Network Solution encourages operators to move towards low carbon, green and sustainable development when confronted with internal and external challenges.
Huawei Executive Director Ryan Ding also gave a keynote speech at the company's "5G Brings New Value" forum held at the congress, where he announced the official launch of Huawei's new 5GtoB solution, which aims to create value for users across the entire 5G network value chain. During his speech, Mr Ding talked about the developments, commercial returns, and opportunities for industry digitalization that 5G would bring.
The 5G industry has been developing faster than expected, with operators already seeing commercial returns from the first wave of 5G rollouts. The 5G user base and the number of 5G devices in commercial use have exploded since 2019. By the end of 2020, 380 5G devices had hit the market, eight times more than there were the year before. The mobile 5G user base had also reached 220 million and wireless home broadband connections numbered 1.05 million, increases of 17 and 21 times year-on-year respectively. Mr Ding expected these numbers will triple in 2021.
The prices of 5G phones are also dropping rapidly. There are already multiple units on the market priced at less than US$150 and about 30 mid-range and low-end phones priced below US$300. Mr Ding said the 5G mobile phone ecosystem will become as mature as 4G over the next one to two years as network rollouts continue and the user base keeps growing.
In the markets that deployed 5G first, operators have already begun reaping commercial returns. In the mainland and Korea, operator revenue continued to increase as the 5G user base grew faster than in other countries. Finnish operator DNA and Saudi operator Zain also achieved impressive financial results in the early phases of their commercial 5G deployment, according to Mr Ding.
Related link
Huawei