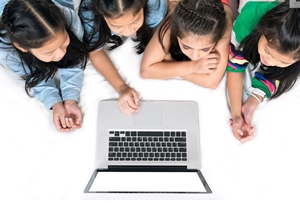 The wholescale migration of business and leisure interests to the online realm driven by the protracted global COVID-19 lockdowns has seen rejuvenated sales in the personal-computer sector, a development that has proven a huge boon to many of Taiwan's high-tech manufacturers.
Home-bound
Over the past decade, the growth of the smartphone market has arguably come at the expense of personal computers (PCs). In 2020, however, with the COVID-19 pandemic forcing countries and territories around the world to implement lockdowns and other restrictive measures, many people switched significant amounts of their daily activities from offline to online and from physical to virtual. As a result, sales of PC products surged. In particular, after years of depressed sales, Taiwan's PC industry benefitted considerably.
When PCs were first launched onto the global market in the late 1980s, they took the world by storm. As Taiwan already had a complete technology industry supply chain in place, it swiftly emerged as an important PC production base, not only for desktop computers but also notebooks, with the latter going on to become the favoured product line. In addition, for a number of globally renowned brands, including Acer and ASUS, Taiwan's PC sector became wholly synonymous with its network of assembly plants and accessories factories.
Manufacturing relocation
At the beginning of the 2000s, a number of factors - including labour shortages and rising wages - led many Taiwan technology companies to move production facilities to Mainland China, while retaining their headquarters and research & development operations in Taiwan. Under this arrangement, the PC industry maintained its role as a major driver of Taiwan's economic growth. As this period progressed, Acer, ASUS, Quanta, Compal, BenQ and Foxconn became firmly established as Taiwan's Big Six electronics firms.
Peak expansion
With the introduction of mobile communications devices (which subsequently evolved from keypad to touchscreen smartphones) and the popularisation of tablets, the traditional PC market declined. According to figures released by the global market intelligence firm IDC, the global output of PCs (including desktops, notebooks and workstations) was 346 million units in 2010, up 13.6% year on year. The top five players in terms of market share were HP, Dell, Acer, Lenovo and Toshiba. The annual growth rate with regard to PC output volume, however, dropped to 1.7% in 2011, marking the beginning of recession for the industry. It was not until 2019, when Microsoft launched its new operating system, Windows 10, that the negative seven‑year growth trend in the PC market showed signs of coming to an end.
At that point, a further revival of the industry's fortunes, largely driven by the COVID-19 outbreak, could not, of course, have been anticipated. Some 12 months later, though, as the pandemic spread throughout the world and strict preventive measures were put in place, governments and businesses were forced to make arrangements for employees to work from home, while many schools switched to online teaching. Consumption also migrated online, and the popularity of online gaming, e-sports and video platforms grew exponentially, all of which only served to boost PC sales.
Fresh momentum
The latest figures published by IDC show that total output of PCs reached 72.3 million units in the second quarter of 2020, an 11.2% year‑on‑year increase. This climbed to 14.6% in the third quarter, when output reached 81.3 million units, the highest quarterly volume since 2010.
From a Taiwanese perspective, figures from Gartner, a Connecticut‑headquartered research consultancy, show that the two PC brands with the highest output growth rates were Acer and ASUS, with registered respective increases of 29.5% and 12.9%.
In terms of product category, however, it was notebook sales that led the way. According to research conducted by Taiwan's Topology Research Institute in December last year, from 2016‑2019, the global annual sales volume of notebooks hovered around 161‑164 million units. By comparison, in 2020, their sales volume was estimated at about 200 million units, a 10‑year high. Sales in 2021 are expected to climb by a further 8%, reaching a total of 216 million units. For its part, the IDC has predicted that demand for traditional PCs will stay strong in the first half of 2021, with the first quarter achieving double‑digit annual growth.
Bumper year
For Taiwan's PC industry, 2020 was undeniably a bumper year. While many members of Taiwan's former Big Six have, in recent years, branched out to produce the likes of smartphones and smart speakers, they have maintained their core strengths when it comes to producing traditional PCs on an original equipment manufacturer (OEM) basis. In line with this, Acer and ASUS have not been the only firms to turn in an impressive performance of late, with other OEM assembly plants and accessories factories also enjoying a good 2020.
In the case of Foxconn, for example, while the company has become primarily associated with the assembly of Apple iPhones, it remains under contract as a manufacturer of Apple MacBooks, while also working for other PC brands. Due to the current PC sales boom and brisk sales of Apple's new iPhone 12, its business revenue in November 2020 reached a record high of NT$681.3 billion (US$24.3 billion), a 13.1% year‑on‑year increase.
The thriving operations of many of the large‑scale downstream assembly plants have also had knock‑on benefits for many upstream and midstream accessories factories, including Taiwan's top‑3 foundries – Taiwan Semiconductor Manufacturing Co (TSMC), United Microelectronics Corporation (UMC) and Vanguard International Semiconductor (VIS) – and for such passive components giants as Yageo, Walsin Technology Corp and Delta Electronics. All of these recorded impressive growth in the second half of 2020 and, given the buoyant market outlook for PCs in 2021, can be expected to continue to benefit.
The industry, of course, still faces many challenges, with the most pressing of these being the shortage of parts and components. According to the Topology Research Institute's report, demand for notebook computers has inevitably exacerbated supply shortages of the related parts and components, most notably power management integrated circuits (ICs) and display driver ICs. At present, it is widely anticipated that such problems will persist throughout 2021.
Related link
HKTDC Research