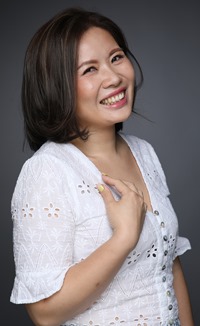 Hong Kong entrepreneur Kerry Tsang did not want to feed her children regular jam packed with sugar and preservatives. Keen to provide a healthy, home-made alternative, she began making jams at home, along with nut butters, and giving them to friends as gifts.
Welcome gifts
Ms Tsang received such positive comments that she began thinking about setting up a business. Her resolve to do so grew during the COVID-19 pandemic as her two businesses, a dance event company and nail bar, were quiet. In June last year, she launched the only start-up in Hong Kong making jams and butters, as far as she is aware, and found a niche.
"It's a passion project and it'll always be a very small business, but I think it's got potential," said Ms Tsang.
Wanna Jam's products, which also include an Osmanthus honey (main picture), have appeared at pop-ups and markets and inside hampers showcasing local artisan brands. Ms Tsang has also collaborated with the One Bite café and Around Wellington café, which uses blueberry jam in its blueberry soda. "People are willing to pay more for good quality items, and they want to support local products," she said.
Jam usually contains ample sugar but there is little or no sugar in Wanna Jam's products, into which no water is added, either. There was a lot of trial and error to hit on the right recipe, Ms Tsang said. "If I cooked the fruit for longer it brought out more sweetness," she said, adding that she sources produce from a fruit market.
All Wanna Jam products are handmade in a co-working kitchen space in Hong Kong. "Having a kitchen on our own was a bit daunting and being in a co-working kitchen has been tremendously helpful, and helped us with things like sourcing ingredients. Now we have our base, a licence and insurance, we can focus on making the product."
Ms Tsang is keen to collaborate, or "jam" with other businesses. In December, her firm did a crossover with local singer Blondie Chu, where they helped her make black sugar with ginger and black sugar with lemon jam at the One shopping mall. "It was a fun collaboration, and it drew a different crowd to what we'd normally have at the markets," she said.
Versatile products
Ms Tsang grew up in Vancouver, Canada, where peanut butter and jam sandwiches were a staple. But she said her jams and butters have many more uses than sandwich spreads. "I've done recipes online, like putting it in a protein shake or on Sichuan noodles. People don't think to put peanut butter on noodles but they use ready-made sauces like peanut and chili oil. It was fun to make it more Hong Kong-style and encourage people to try and buy." One of Ms Tsang's friends shared that she uses the jams and butters on ice cream.
Absence of preservatives means Wanna Jam products need to be sold promptly. "We want customers to get the product when it's at its freshest," Ms Tsang said. Being an artisan, hand-made product, there is a limit on how much it can produce. "We'll do a 'guestimate' of, say, 100 jars before we go to a market." Utilising seasonal fruits, she focused on cherries last summer while last winter the start-up created festive apple cinnamon jam and apple cinnamon butter, limited-edition products available at a pop-up supporting local businesses at the One shopping mall in Tsim Sha Tsui.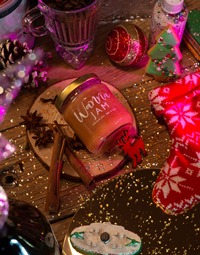 Last Christmas, Wanna Jam products were included in hampers which also showcased other local brands such as Stubborn Coffee and Dear Harley cakes. There will be future collaborations to mark key events throughout the year, including Valentine's Day and Chinese New Year. "We want to build synergies with local independent producers and create something more powerful together," she said.
Nostalgic flavours
The good thing about being a start-up in Hong Kong is it does not need much investment to get up and running, Ms Tsang said. "My partner and I started with basically no money, just two laptops, and our network of contacts," she said. The support they received from the business community had been overwhelmingly supportive and positive, she said. "I love the diverse culture here, and the open-mindedness of Hong Kong."
Plans over the next 12 months will be dictated by the seasons, with future jams and butters dependent on what produce is available. Given that this is a handmade product, Wanna Jam will never have a global reach. "We are limited in what we can do in terms of scaling up, but we'd like to be more well-known, build a solid customer base and keep on pushing out new products and new lines." Something based around the nostalgic flavours of Hong Kong is on the cards, she added.
With two other businesses to her name, Ms Tsang is not thinking too much about the financial viability of her latest start-up.
"Wanna Jam is a playful, happy brand. We want to educate people that you can use the simplest of ingredients and make really delicious products, and that you don't need all of these chemicals," she said.
"This is not a business that's going to bring in millions, but we want to build a socially responsible company that celebrates the simplicity of food."
Related link
Wanna Jam