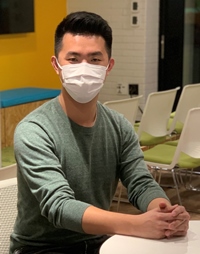 In setting up robotics company HandyRehab six years ago, Co-Founder and CEO Alvin Cheung had a vision to improve quality of life for people with disabilities and those taking care of them.
This was after his uncle suffered a stroke and Mr Cheung saw first-hand the difficulties patients with mobility restricting conditions from strokes, brain injuries or spinal injuries face performing even basic tasks such as feeding themselves or turning a doorknob. Determined to find affordable solutions utilising technology, he co-founded HandyRehab in 2015. It subsequently joined the Hong Kong Science and Technology Parks' (HKSTP) incubation programme.
By 2018, the start-up's first product, a lightweight and wireless robotic glove that is patented and clinically proven to restore as much as 90% of full motor control, had hit the market.
Lean team
The company, now headquartered at Cyberport, runs a lean team of seven full-time staff and five or six part-timers including freelancers. Its journey to date has been supported by funding from angel investors, HKSTP programmes and the government's Social Innovation and Entrepreneurship Development Fund. HandyRehab will seek another round of series A funding this year, targeting to raise US$3m.
Mr Cheung said the emphasis is on selling cutting-edge rehabilitation products at affordable prices to make technology work for all. "Having our own R&D [research and development] and sales team in Hong Kong means we are across all the touchpoints of the logistics chain," he said.
HandyRebab's robotic glove uses sensor-based technology to retrain the affected hand of a patient who retains some, but not all, control.
"Electromyography (EMG) sensors on the arm can intercept neuro signals and amplify the whole action," Mr Cheung explained. "So when the patient intends to open their hand, the technology helps interpret the signals sent from brain to finger, enabling them to open further."
It is recommended patients use the device as much as possible during the initial post-incident recovery period (the first three to six months), ideally for two to three hours a day, five days a week. With such intensive rehabilitation under the supervision of therapists, some patients recover to the extent that they can use chopsticks, draw or operate a mobile phone again.
Care homes
Currently, HandyRehab's glove is being used in various hospitals, rehabilitation centres and elderly care facilities in Hong Kong, and the start-up plans to release a version for use at home this year.
"Home editions can track the training data, which the health professionals can see to monitor their progress," Mr Cheung said.
Some devices have also been sold in Mainland China, Singapore, Malaysia, the United Kingdom and Germany.
Among products in the pipeline, HandyRehab is working on solutions for different body parts, including the upper limb, wrist, elbow and thumb.
In tandem, it collaborates with several manufacturing brands bringing technologies from various industries to help the elderly. One successful innovation, an autonomous robot developed in partnership with Israeli start-up Temi, has been a boon for those in elderly care homes during COVID-19.
With family members unable to visit their loved ones during the pandemic, the Temi robot goes from room to room delighting the residents with audio and visual communication right at their bedside or chairside, without requiring intervention from a carer.
Agile market
Hong Kong is a competitive place to launch a tech start-up, Mr Cheung acknowledged, but "as it's a small and accessible city, we can get good networks and referrals very quickly".
"We can get into both Eastern and Western markets with speed, and we certainly have great talents to develop and commercialise our products," he said.
The start-up has also benefited from Hong Kong's can-do spirit. "If you ask a Hong Kong person if you can get something done next week, the answer is usually yes," Mr Cheung added.
Related link
Handy Rehab