In Mainland China, as of 2019, more than 600 million people were affected by myopia. According to a white paper recently published by the National Health Commission, 53.6% of mainland children and adolescents suffered from the condition in 2018, including 14.5% of children aged six, 36% of primary school students, 71.6% of junior high school students and 81% of senior high school students. The mainland's young population has one of the highest rates of myopia in the world.
Huge market potential
The growing prevalence of myopia has created a huge market for spectacles on the mainland. According to a report recently released by ASKCI, a Shanghai‑based research consultancy, on the eyewear industry's prospects over the next five years, the sector's total value amounted to Rmb73 billion (US$11.3 billion) in 2017 and is expected to have further surged to Rmb85 billion in 2020. As household incomes and consumption levels continue to rise, in step with accelerated population ageing and growing health awareness among consumers, the mainland spectacles market has massive potential. The high prevalence of myopia is driving huge demand for optical products, making the mainland the world's leading manufacturing base and consumer market for complete eyeglasses and frames.
Youth as a key market segment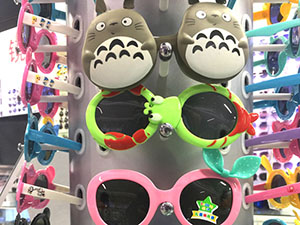 In the mainland, children and adolescents represent a key segment in the eyewear market. People's eyes change as they mature, with myopia tending to develop at a slower rate after the age of 16, and to stabilise at 18 – although experts believe increased use of screen devices such as smartphones is making myopia a growing problem among adults.
One ophthalmologist, who identified himself as "Dr Liu" of Beijing Tongren Hospital, asserted that the number of mainland residents suffering from myopia is rising at a faster rate than 10 years ago. He said the issue is particularly serious among children and adolescents and that it results from both lack of exercise and frequent use of electronic devices in modern life. Inevitably, greater incidence of myopia has catalysed changes in the eyewear market.
Diverse designs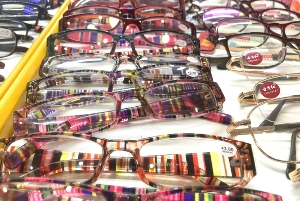 According to ASKCI's report, the mainland is not only the world's leading manufacturer and exporter of spectacles but also the largest consumer. As craftsmanship and new technologies continue to advance, new frame styles, such as tortoiseshell, wood, denim and mix‑and‑match, have emerged and been well‑received by the market. Frame designs involving acetate – whether in a fusion with metal, or used in carvings or inlays – have proven to be particularly popular.
According to official figures, the mainland produced 819 million pairs of complete glasses in 2019, representing a year‑on‑year increase of 23.9%, with Zhejiang, Guangdong and Jiangxi the leading manufacturing bases.
Targeting domestic market
As COVID-19 rages around the globe, many companies in the mainland that engage in exporting have experienced falling revenues and are therefore beginning to target the domestic market. One eyewear trader said: "We have been asked by a lot of overseas clients to postpone the shipments of their orders. The inventory backlog is putting us under considerable pressure." He added that the company must now work on a comprehensive plan to tap into the huge domestic market.
Live‑streaming by key opinion leaders (KOLs) is an excellent way to quickly gain a foothold in the mainland eyewear market, according to another trader who has switched his business focus from foreign trade to domestic sales. By grabbing consumers' attention through hosting live in‑shop streams, the company's sales went from strength to strength in the second half of 2020.
The Manager at Bajiao Eyewear, who identified himself as "Mr Chen", said: "In the past, we only focused on overseas sales and overlooked the substantial spending power within the country. Looking forward, we must find ways to attract more consumers in the domestic market." He added that apart from launching innovative products, the company would also look to make use of popular channels on Weidian (or WeChat store) to drive sales.
In Zhejiang, the mainland's leading spectacles production base, an official from the Zhejiang Provincial Department of Science and Technology said authorities had been actively helping the eyewear industry achieve market diversification over the past year. During March and April, for example, they worked with Zerser Eyewear to establish a brand operation service centre, which has helped transform the business and boost domestic sales.
With COVID-19 causing more of daily life to be spent as screen time, demand has risen substantially for the anti‑blue light lenses made in Danyang, Jiangsu, a major lens production base in the mainland, with sales of such products climbing 103% year‑on‑year. Indeed, many eyewear traders expect better sales figures for the year than in 2019, given their success in establishing new retail channels and the popularity of anti‑blue light spectacles. The higher awareness of the importance of eye protection during the pandemic means eyecare products are also a major growth area.
Contact lens users value comfort
In comparison with their approach to traditional glasses, consumers value comfort more when choosing contact lenses, which currently are mostly made of silicone hydrogel or regular hydrogel. Silicone hydrogel lenses have seven times higher oxygen permeability than regular hydrogel lenses, and are better at maintaining moisture when worn by users. Regular hydrogel contact lenses, on the other hand, are softer and therefore more comfortable to wear.
According to industry observers, most consumers in large to medium‑sized cities in the mainland prefer well‑known brands and attach significant value to visual comfort – as opposed to basing decisions mainly on appearance – when they buy contact lenses. The contact lens market is dominated by a few prominent brands that possess the craftsmanship required to make products that meet high quality standards in terms of materials, water content, oxygen permeability and lens polishing. Relatively cheaper products are available, but many consumers would prefer to purchase traditional glasses if the contact lenses available are inferior either in terms of craftsmanship or comfort.
More than 100,000 companies are engaged in the contact lens business in the mainland, of which 25,000 were established in 2019. According to 2019 rankings jointly released by CNPP Research and 10brand.cn, Bausch + Lomb, ACUVUE and Hydron are the most popular brands in mainland China.
Fashion boosts sales
Advertisements for spectacles can be seen everywhere on major streets in mainland cities, usually featuring a model showcasing the latest design. There are also many brand advertisements that feature models wearing sunglasses. To a considerable extent, spectacles are in vogue.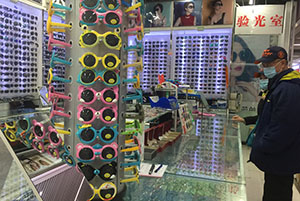 A middle‑aged worker at a public institution under the Beijing municipal government, who identified himself as "Mr Shen", said he started wearing glasses for myopia after graduating from university and once used the same pair of glasses for five years. Now, however, he has five pairs and wears them for different purposes, including daily work, driving, running, reading books and using his computer. They vary in colour and style, and cost an average of about Rmb300. Mr Shen admitted he likes the fact that wearing glasses can help hide his facial wrinkles.
For his part, a "Mr Zheng" who has more than 20 years of experience in selling spectacles said eyewear fashions will continue to grow and change, adding: "Glasses have evolved a lot in terms of design and material, but trendiness has always been an important element. As eyewear sellers, we must keep in touch with the latest fashion trend in order to maintain competitiveness."
Mr Zheng revealed that most of his long‑time customers like fashionable designs. Current trends of interest include lens-less frames and plano glasses (lenses without correcting power). Fashionable frames are particularly popular among young consumers living in cities, he added.
Some experts believe the high incidence of myopia only gives a partial picture of the potential size of the eyewear market in the mainland. Given that many consumers are paying more attention to eyecare, and to looking fashionable, they envision continued rapid growth of the market for the coming years.
Related link
HKTDC Research