A massive country, with 11 times zones spanning almost half the world, and a population of more than 140 million, Russia is one of Hong Kong's fastest-growing export destinations.
The Eurasian giant also has massive e-commerce potential. In 2019 only 9% of retail sales in Russia were e-commerce transactions – against 27% in Mainland China – despite Russia having a purchasing price parity per capita gross domestic product of US$11,600 against the mainland's $10,260. The COVID-19 pandemic and control measures is driving fast e-commerce growth in Russia.
Growing market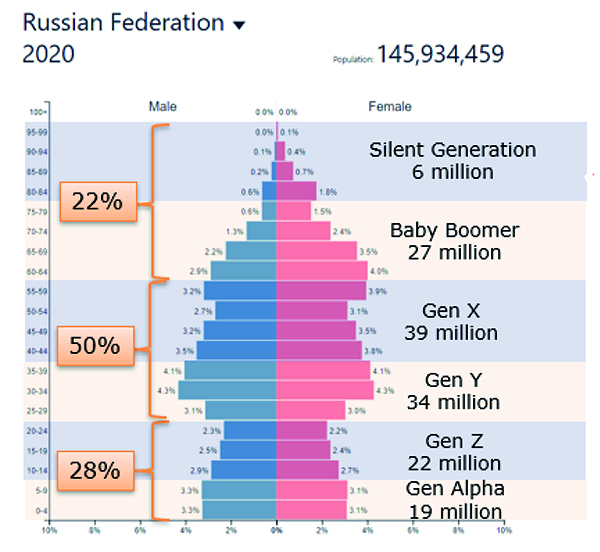 Jenny Lam, Economist with Hong Kong Trade Development Council, said Russia accounted for over 30% of Hong Kong's exports to Central and Eastern Europe and these exports grew 13% in the first 11 months of 2020.
Since Russia straddles nearly half the globe, the eastern port of Vladivostok is just four and a half hours' flight from Hong Kong, Ms Lam said. Contrary to much recent commentary, Russia does have a large young population, with 28% of its people aged under 25. As with youngsters the world over, these people are technology savvy and well-disposed to online services.
The government has offered generous child-raising subsidies since the beginning of 2020 – US$7,600 for the first child and $10,000 for the second, Ms Lam said. This could further widen the base of the demographic pyramid, increasing demand for child and baby products.
As with any market, there are several unusual and unique trends and features in Russia. Computer games are popular, with demand for low-priced or retro consoles. Broadband is being rolled out in thinly populated regions, driving demand for gaming-related appliances such as 4K televisions.
Fashion rules
Ms Lam said fashion items contributes to about half of the turnover for Wildberries – Russia's largest local online marketplace. Fashion brands are popular with the those such as Michael Kors, Aigner, Patrizia Pepe, Sonia Rykiel and BOSS joining Wildberries in 2020.
Nikita Maslov, International Co-operation Manager of Wildberries, said his firm is the largest online retailer in the Eurasian Economic Union (EAEU) – a grouping of eastern European and central Asian states. Wildberries also operates in several non-EAEU states - Germany, Slovakia, Ukraine and Israel.
Founded in 2004, Wildberries now has more than 40 million customers and 8 million visitors a day. The firm has over 91,000 suppliers and fields more than 1.5 million orders daily. Turnover in 2020 was US$5.9 billion, nearly double the level in 2019.
Ms Lam said the regulatory environment is relatively complex and information is often in Russian only. Hong Kong exporters should consider a local partner or setting up a firm in Russia, she said.
Import duties have changed several times recently. As from the beginning of 2020, duty is 15% of the cost but no less than €2 (US$2.43) per kilogram of weight. VAT on all imports is at a general rate of 20% but is just 10% for child goods, medical goods and food.
Items valued below €200 and/or with a gross weight of less than 31kg are exempt from import duties.
The e-marketplace is diverse with many platforms – third-party merchants 12.2%, Wildberries 10.8% and citilink.ru 4.9% among others. United States-based giant Amazon has just 1.5% of the market.
Domestic search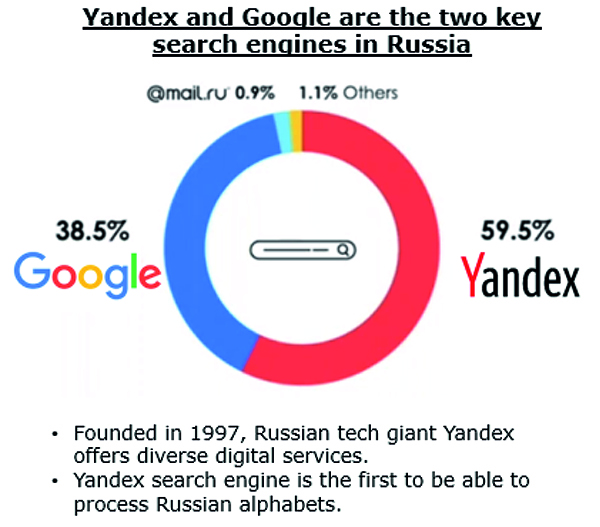 Shoppers often use search engines to find items with most preferring the Russian domestic site Yandex having nearly 60% of the market, followed by Google with 38.5% while all others have less than 1%. As with any market, those operating in Russian have an edge despite English literacy being widespread.
Domestic operators also dominate in the payments space, with 83.2% of Russians paying through Sberbank at least once in 2019. Yandex.Money had 52.8% while the most heavily used non-Russian service was PayPal, with 46.1%.
Another key feature of the Russian market, Ms Lam said, is a preference for store pick up since this offers time flexibility and a chance to check the products before accepting, especially important for fashion items. Other popular options include Russian Post, which is available throughout the massive country where many regions are thinly populated.
Mr Maslov said pickup points are central to the Wildberries' infrastructure. Distributed through the EAEU, pickup points solve the problem posed by a giant economic area. The pickup points include fitting rooms, removing concerns among online shoppers over the fit of clothes bought online.
Clothes and footwear is the anchor product category for Wildberries, accounting for 45% of sales. Women comprise 65% of the Wildberries audience. Other leading product categories are electronics, 11%, beauty products, 10%, and accessories 4%.
Wildberries also has 400,000 square metres of warehouses, Mr Maslov said.
Easy on-boarding
He said suppliers could register an account in just five minutes. Commissions range from 1% to 15% depending on category. Other fees for suppliers are delivery costs – 30 rubles (US$0.41) per delivery and marketing promotion costs associated with the media kit. For items that remain in warehouses for more than 60 days, there is a storage charge.
Suppliers have a single window – sometimes referred to as a "dashboard" to view all interactions.
Mr Maslov said Wildberries sold products already in its warehouses and did not sell first then import. The firm has a very flexible return policies, which has to be the case with clothes. Customers can refuse items at the pickup point and can return intact items within 14 days.
Wildberries made extensive use of artificial intelligence, he said, with a unique self-learning search engine and offers based on user requests. The firm was also experimenting with three-dimensional (3D) fitting of footwear.
Related links
Wildberries
HKTDC Research