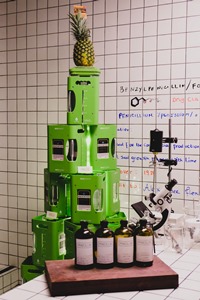 Inspired by the farm-to-bar movement currently taking the culinary world by storm, Hong Kong bar Penicillin champions a closed-loop production model – sourcing most ingredients locally, repurposing surplus cocktail ingredients in its kitchen, using lab food and sending scraps to its fermentation room. The drinking establishment aims to become a pioneer "scrap-less" bar by producing minimal waste at the end of the night. Based in the Central business district, the innovative concept was dreamed up by bar veterans Agung Prabowo (main picture) and Roman Ghale, owners of the Old Man, which was voted Asia's number one bar of 2019 in the World's 50 Best Bars list.
Cranking up eco credentials further, Penicillin sources from ecoSPIRITS, a closed-loop spirits technology distributor which supplies bars with leading brands including Plantation rum and Tried & True vodka in a 4.5 litre reusable glass vessel to eliminate packaging waste. The sustainable concept extends to the bar's minimalist decor, with table tops made from trees that fell during typhoons.
Mr Prabowo speaks to Hong Kong Means Business about the business.
You opened in November 2020 and recently launched takeaway and delivery services. How has business been so far amid the COVID-19 pandemic?
Things are tough at the moment, as the bar and kitchen have to close at 6pm every day [in compliance with the government's anti-pandemic measures]. People are not coming out for drinks, although we do have some regular customers to help us sustain business. Part of the new normal is more day drinking! A few people will have a drink with their lunch or in the afternoon before we switch to takeaway.
We are all hoping things can change in the new year but at the moment, we're battling with the fourth wave – hopefully this is the last. We're lucky that we have a food licence and we're serving up bar bites. The tapas is selling well. How does your partnership with closed-loop technology distributor ecoSPIRITS work?
You don't buy the bottle; you just buy the spirit and then keep the container to refill. The company has a warehouse in Hong Kong so we can keep refilling it [the container]. Their space is very near to us so we're also cutting down on our carbon emissions.
We love their concept as it cuts down on single-use bottles, labels, screw tops and so on. Every cocktail we make is equal to a 150-gram reduction in a customer's carbon footprint thanks to this partnership.
How does your signature cocktail "One Penicillin, One Tree" support endangered rainforests?
"One Penicillin, One Tree" is a world first, and an initiative we're really proud of.
With every order of this cocktail, one native tree is planted in the endangered Kalimantan rainforest in Borneo. This reforestation work is in partnership with ecoSPIRITS and the Green Steps Group. Over its lifespan in the rainforest, one Mallotus muticus tree will eliminate around 4,400 kilograms of CO2 (carbon dioxide), equivalent to around 8,000 single-use glass spirit bottles.
What other efforts have you taken to be more sustainable?
What the bar doesn't use, the kitchen needs to use. If we use an orange in a cocktail, for example, we will pulp it, ferment the skin or rehydrate it and put in food. We are a paperless bar – customers check their bills on the iPad and we'll email the bill on request – and we don't use any plastic, either. The toilet paper is recycled and our rubbish bags are made with corn starch.
You have to discipline yourself from the first day of operations and implement things straight away. Every night, we check the bin and talk to the chefs and bartenders about how to cut down on waste further. Eventually, we would like to be zero-waste and are optimistic about doing so. You can't change the world without changing yourself first.
You innovate with the flavours of Hong Kong. Which locally sourced ingredients do you use?
We've been working with NIP Distilling, a craft gin distillery that utilises local ingredients like kumquat and Shoumei tea. We use ingredients that are widely available in Hong Kong, like coriander, tea and gooseberries. We also buy cassava from the wet market and press it to make milk, or a cassava cheese for nibbles.
What have you learned about owning a bar in Hong Kong?
Setting up a bar in Hong Kong is easy but it's a very competitive market and you need a good idea. It's not about copying and pasting existing concepts but making them better.
Do you think the pandemic has altered attitudes to bars and going out for good?
I think most people in Hong Kong love to go out but some are still scared. We probably will say goodbye to socially distanced drinking soon and believe that Hong Kong can come back. In a few months, we will hopefully be back to normal.
What are your plans for the next 12 months?
At the moment, we are focused on just sustaining our business as we've only been open for three months. We're just thinking about the next month and doing our takeaway bottled cocktails. We hope to open other bars with different concepts, as we won't replicate the Penicillin concept elsewhere.
Related link
Penicillin Bar