The world is seeing a hydrogen rush, along the lines of the oil scramble early in the 20th century, as leaders across the globe vie to set "net zero carbon" dates and give vehicle producers no-more-fossil-fuel-internal-combustion-engine deadlines.
This rush is not for geographic territory but for talent, innovation, integration, infrastructure and intellectual property. Hydrogen can be made anywhere there is electricity and water – and sometimes without even electricity, just sunshine and water.
Hydrogen hub
Hong Kong, especially as part of the Guangdong-Hong Kong-Macao Greater Bay Area, is a major innovation and technology hub and could play a leading role in the hydrogen rush. It comes as no surprise that Hong Kong and Mainland China have made substantial progress in preparing for a hydrogen economy. Detailing many of the developments in hydrogen research in the city, industry players in Hong Kong addressed a virtual conference, the Hydrogen Energy Conference 2020 (HEC), during HKTDC Autumn Sourcing Week | Online organised by the Hong Kong Trade Development Council.
The 23 November half-day online conference examined the role of hydrogen in enhancing a sustainable living environment and circular economy, with experts on international levels presenting cutting-edge technological innovations in storage and transportation.
Organised by the Hong Kong Green Strategy Alliance, Hong Kong Environmental Industry Association, Hong Kong Association of Energy Services Companies and Business Environment Council (BEC), the conference was livestreamed from the BEC's auditorium.
CC Chan, Honorary Professor at the University of Hong Kong, comprehensively reviewed the past industrial revolutions and introduced how hydrogen energy would promote the fourth industrial revolution.
Solid transport
Albert Lau, Founder and CEO, EPRO Advance Technology Limited, introduced his firm's breakthrough which allows porous silicon to be used for efficient, low-cost hydrogen transport and storage. The innovation could help build a deep-green hydrogen economy 2.0. He pointed out that much of the renewable energy produced in the mainland came from isolated areas such as Xinjiang and Gansu, far away from demand, leading to wastage. This energy could be used to generate hydrogen, so long as the hydrogen could be easily stored and transported. Porous silicon transport and storage would open the way to hydrogen-based microgrids, he said.
Harvesting sunshine
Ng Yun Hau, Associate Professor at the School of Energy and Environment, City University of Hong Kong, described innovative new techniques to use sunlight to split water into hydrogen and oxygen, for clean hydrogen production.
Many economies have put together hydrogen programmes, Prof Ng pointed out, including Hong Kong which incorporates it into the Climate Action Plan 2030+ and Europe's Hydrogen Roadmap. The Korean Government plans to make the country a globally leading hydrogen economy, and Australia saw hydrogen as a key export commodity, Prof Ng said.
Artificial photosynthesis – where sunlight to separates water into hydrogen and oxygen – uses catalysts and membranes to produce hydrogen without having to generate electricity first. Similar reactions can apply light to generate hydrogen from organic waste, simultaneously creating green energy and cutting waste.
Green hydrogen could also be reacted with captured carbon dioxide to create renewable liquid fuel, removing carbon dioxide from the atmosphere.
Zero goal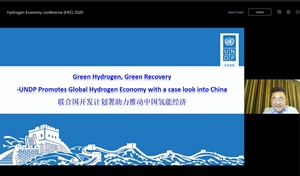 Zhang Weidong, Programme Director at the United Nations Development Program (UNDP) in the mainland, summarised the unit's global promotion of the hydrogen economy.
He pointed out that at the General Debate of the 75th Session of the United Nations General Assembly on 22 September, Chinese President Xi Jinping made a solemn commitment to the international community on the mainland's efforts to achieve a peak in carbon dioxide emissions by 2030 and carbon neutrality by 2060.
Europe and United States will take 50 to 70 years from carbon peak to carbon neutral while the mainland will do so in 30 years after 2030, suggesting a national emission reduction rate average from 8% to 10%.
Mr Zhang quoted the Hydrogen Council as saying that hydrogen could account for 20% of targeted reduction in carbon dioxide output by 2050. This would entail 6 gigatonnes (6 billion tonnes) of carbon dioxide abatement per year. In addition, sales of hydrogen and related equipment would be worth US$2.5 trillion a year, and the drive would generate 30 million jobs.
Hydrogen would link power infrastructure to gas infrastructure, he pointed out.
"The UNDP's 17 years of engagement in the hydrogen fuel-cell sector and its catalytic support has helped the mainland shift from fuel-cell bus demonstrations to the commercialisation of hydrogen fuel cell vehicles and fuel-cell technologies, leading to a decarbonised mobility future," he said.
Mr Zhang said more than 15 provinces and over 30 cities were launching hydrogen fuel-cell vehicle deployment plans, there are 33 publicly listed companies along the value chain, and more than 41 vehicle makers have set up fuel-cell vehicle assembly lines and more than five industrial clusters.
He said the UNDP is creating an inclusive hydrogen-economy pilot project integrating the primary industry (farming), secondary Industry (manufacturing and biochemistry industry, namely ethanol distillation) and tertiary Industry (the service sector) to create new fuel for zero-carbon transportation and sustainable development.
Mr Zhang said hydrogen would not necessarily eliminate internal combustion engines (ICE), which account for most of the 340 million vehicles in the mainland at present. Rather than simply scrap these, a better approach could be to transform them into hydrogen-fuelled vehicles, he added.
Related link
Business Environment Council