The large, central province of Sichuan serves as an internal pivot for China, linking the subtropical south and temperate north, the heavily industrialised east and mountainous west.
This leaves ample scope for links with Hong Kong, which itself serves as a pivot between Mainland China and the rest of the world.
Sichuan's capital Chengdu, as well as the provincial cities of Meishan and Mianyang, played host last month to the SmartHK forum showcasing Hong Kong's capability to help mainland enterprises innovate and upgrade.
The hybrid physical-online expo attracted more than 26,000 Sichuan government and business leaders and enterprise representatives to attend in person or through the simultaneous live broadcast.
SmartHK forum
SmartHK is one of the flagship events of the Hong Kong Trade Development Council (HKTDC). Launched in 2011, the annual forum has covered major cities, including Hangzhou, Guangzhou, Nanjing, Jinan, Chengdu and Fuzhou. The event held in Guangzhou last year attracted more than 1,400 representatives from the government as well as business and investment institutions to participate and promoted business opportunities for companies in the two places.
This year's SmartHK was jointly organised by the HKTDC and several government entities in Sichuan, and co-organised by the Hong Kong Economic and Trade Office in Chengdu (CDETO) of the Government of the Hong Kong Special Administrative Region (HKSAR).
Amid the COVID-19 pandemic, SmartHK – under the theme "Sichuan-Hong Kong Cooperation in Innovation and Technology " – adopted the online-offline hybrid model for the first time. Large-scale plenary sessions, thematic breakouts, online exhibitions and exchange activities gave a comprehensive display of the advantages Hong Kong's service industries offer. This year's SmartHK was held along with the Sichuan-Hong Kong Cooperation Conference, which focused on cooperation in such initiatives as the Chengdu-Chongqing dual-city economic circle, the Guangdong-Hong Kong-Macao Greater Bay Area and the Pan-Pearl River Delta region. Delegates discussed development along in the framework of China's newly launched dual-circulation economic strategy where domestic and international markets complement each other.
Innovate and upgrade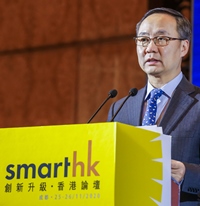 At the opening ceremony, Li Yunze, Vice Governor of Sichuan Provincial People's Government, and Margaret Fong, Executive Director of the HKTDC, delivered opening speeches.
Ms Fong said Hong Kong has proactively promoted the development of emerging industries and technological research and development (R&D), creating potential for cooperation between the city and Sichuan in technology and innovation. The city's technology and innovation platforms can help Sichuan enterprises in their transformation, upgrading and development. She said Sichuan enterprises can draw on Hong Kong's advantages in such areas as finance, technology R&D, global links, information technology infrastructure and intellectual property rights protection regime, and strengthen their exchanges and cooperation with Hong Kong companies to achieve mutual benefit and win-win results.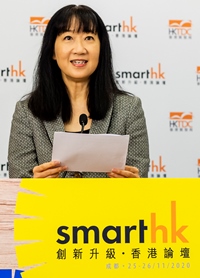 The main forum brought together a number of experts in financial technology, artificial intelligence (AI), digital marketing and big data to discuss strengthening cooperation between Sichuan and Hong Kong in these fields, as well as future development and opportunities the two regions offer. Leading speakers included Meishan Mayor Hu Yuankun, Edmond Lau, Senior Executive Director of the Hong Kong Monetary Authority (HKMA), Shang Hailong, General Manager of SenseTime Hong Kong, Yuan Wenjun, Co-founder and Co-CEO of Guansi Holdings Co, Ltd, and Sichuan Development Holdings Chief Economist Liu Keke.
Mr Hu, Meishan Mayor, outlined his city's role in Sichuan-Hong Kong cooperation. "In 2018, the Meishan City Government and Hong Kong Xinhua Group signed the Sichuan-Hong Kong Cooperation Demonstration Park Project Cooperation Agreement, marking a new step for the cooperation between the two cities," he said. "Over the past two years, Meishan and Hong Kong have continued to cooperate and have formed land and sea linkages." There are seven Hong Kong-funded projects in Meishan, with a total planned investment of Rmb156.9 billion (US$23.9 billion).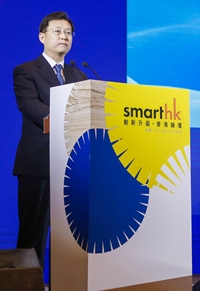 Mr Lau of the HKMA noted that Hong Kong is world-renowned for its financial technology and innovation efforts and the city has established a vibrant platform for financial and technology companies from both the mainland and overseas. The HKMA has taken a multi-channel approach, including launching a fast-payment system (FPS), exploring the "Business Data Link" financial infrastructure and issuing licences to a number of virtual banks to promote the rapid development of Hong Kong's financial technology. He believes that combining the leading advantages of the mainland's technology applications and Hong Kong's international market, the city can support mainland financial technology companies to go global.
Topical seminars
The five themed seminars discussed technology- and finance-related topics, including technology industrialisation, innovation and technology enterprise financing, smart manufacturing, 5G infrastructure and smart supply chain. The seminars were supported by City University of Hong Kong, Invest Hong Kong, Hong Kong Polytechnic University, Hong Kong Applied Science and Technology Research Institute (HKASTRI), Logistics and Supply Chain Multi-Technology Research and Development Center, and Hong Kong Logistics Development Council.
At the first thematic breakout session – "Sichuan-Hong Kong Technology Industrialisation Sharing Session" – experts analysed the development direction of technological industrialisation and outlined success stories that showed the results of cooperation between the province and Hong Kong. The seminar was co-organised with City University of Hong Kong, Sichuan Provincial Department of Science and Technology, and Sichuan Federation of Industry and Commerce.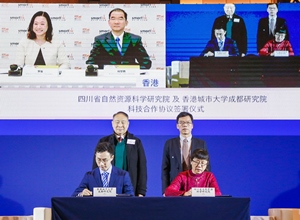 At the session, the Chengdu Research Institute of the City University of Hong Kong and the Sichuan Natural Resources Research Institute signed a cooperation agreement to conduct joint research on such issues as diagnosis and treatment of wild animal diseases, virtual reality science demonstrations, and to strengthen the academic exchange between Sichuan and Hong Kong.
5G growth driver
Meanwhile, the "5G Digital Infrastructure" thematic session discussed developments in fifth-generation telecoms networks, smart transport, smart buildings, and smart cities. Justin Chuang, Vice President, Communications Technologies, of ASTRI, believes the low latency and high reliability of 5G connections will drive the upgrading of various industries, facilitating daily life and promoting economic development.
"5G, coupled with the gradual maturity of innovative technologies such as industrial Internet, AI, blockchain, cloud computing and the integration of the rapid development of emerging industry applications such as smart medical care, smart transport and smart logistics, makes our lives smarter, more convenient and safer," said Mr Chuang.
The session was co-organised with HKASTRI and the Sichuan Provincial Development and Reform Commission.
Logistics cooperation
At the "Smart Supply Chain Seminar-cum- Exchange Session" held on the second day, attendees heard how to improve the effectiveness of business operations through different application scenarios of the smart supply chain. In the exchange session, representatives from eight Sichuan and Hong Kong companies took part in the discussion , focusing on the development and demand for Chengdu Railway Port, especially the cooperation and merger opportunities of Sichuan and Hong Kong companies in the fields of smart logistics, digital infrastructure, robotic warehouses and logistics infrastructure facilities.
Andrew Young, Co-Director of Innovation at Hong Kong's Sino Group, , said the company had established the Sino Creative Research and Development Office two years ago to focus on the development of innovative technologies for real-estate applications. "Whether in Hong Kong or Mainland China, real estate is a large sector but [new] technology is little used. From our experience abroad, we have seen that if we can make good use of AI, robotics and other technologies in the future, we can help the real estate industry to innovate and upgrade."
Related link
SmartHK portal