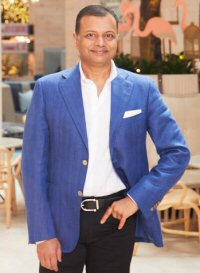 To promote plant-based eating and cut its carbon footprint, Hong Kong-based hotel group Ovolo has launched a 12-month campaign, Year of the Veg, removing meat from restaurant, bar and room-service menus at its hotels on Hong Kong Island – Ovolo Central and Ovolo Southside. The movement will extend to its Australian properties, with outlets in Canberra, Sydney and Brisbane debuting all-vegetarian menus. The decision to cut meat from all menus was partly driven by the success of its plant-based restaurants – Veda in Hong Kong and Alibi in Sydney – said CEO Girish Jhunjhnuwala, a life-long vegetarian. The reasoning behind the move is threefold – valuing the environment and being sustainable, showcasing the variety and potential of vegetarian dining and noting the recent attitude shift towards vegetarianism, he said. The shift embodies Ovolo's philosophy of connecting with customers' demands. "We want our guests and diners to be able to nourish their bodies with meat-free meals," he said.

What feedback have you received since the Year of the Veg launch – has there been any resistance?
Of course, with launching something on this scale there is always that fear. However, we believe there has been a huge consumer shift to more plant-based dining. Whether that means becoming fully vegetarian or adopting a flexitarian diet, consumers are increasingly embracing vegetarian options and there is a huge market for that. So far, we have had tremendously positive feedback.Nearly a quarter of Hong Kongers identify as flexitarian – what do they seek on a non-meat menu?
I'd say they are looking for a variety of things. We want to entice everyone from the gym goers to those who prefer something more indulgent. It's about dishes that are simple yet relatable – comfort food with a twist.Hong Kong is one of, if not the most, sophisticated markets in the world when it comes to food. With one of the highest restaurants per capita in the world and plenty of choices, we have to make sure we tick all the boxes – indulgent, innovative and unseen yet never compromising on flavour or quality of ingredients.What challenges did you face putting this together?
It's been quite tough to turn entire kitchens into fully vegetarian, from changing our equipment to training our staff and developing entirely new, different menus. It took a lot of teamwork to pull this together. It's been an undeniably tough year for hospitality as the COVID-19 pandemic slashes tourist numbers. Are you starting to see the green shoots of recovery?
It's quite difficult to see recovery in hospitality and tourism back to the way it used to be, especially given the travel bans. What we can hope for now is the development of travel bubbles, and until that happens we are focusing on looking after the locals. Year of the Veg is expected to boost revenue given locals cannot travel and will likely spend on consumables coming into year-end and the festive season. Do you have a specific recovery plan?
Our plan is to keep doing what we're doing, so that when the market recovers we are back in full force. An example is our new hotel in Bali, Mamaka by Ovolo. We are pushing ahead to open in mid-November to start capturing local food and beverage clientele and build up a reputation in Jakarta for the Indonesian market. We believe in the strength of Bali as a destination in the long run and want to ensure we are already out of the gates by the time border restrictions ease.Could the Year of the Veg extend beyond the initial 12 months and become a permanent fixture?
We are starting with a year then we will see how customers react to it, but it's something we hope we can continue.Might other hotel groups embrace a plant-based lifestyle as yours has?
I'd like to think that the trend of plant-based dining will catch on and more and more dining outlets, not just hotel groups, will embrace it. It's something that I truly believe in, having been a vegetarian my entire life.I hope that any group that decides to venture into the plant-based space will do it justice. Many people tend to think that vegetarian dining is all bland and only greens, but there is a lot that can be done with plant-based ingredients. As more restaurants discover and experiment, there is a real potential of changing the way that vegetarian dining is viewed in the world.
Related link
Ovolo Hotels