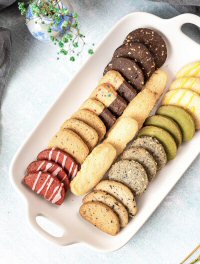 Hong Kong social enterprise Cookie Smiles began baking and selling snaps and crunches in June this year amid the COVID-19 pandemic, creating jobs for disadvantaged people and supporting local charities in the process. Founded by Jo Soo-Tang and Agnes Chin, the enterprise currently offers 12 types of cookies – from butter snaps with lemon drizzle to coconut crunches. The treats are available to purchase through its website and at stockists across Hong Kong, including independent butcher-delicatessen Feather & Bone, children's clothing store Petit Bazaar and supermarket-cafe Spicebox Organics. Vegan and gluten-free cookies are available, along with Woof Twisters for dogs.Ms Soo-Tang describes cookies as the greatest comfort food ever. "They're bite-size, relatable, simple and tasty, and there's a nostalgia about them too. Cookies are just a great conversation starter, as virtually everyone eats them," she said.How did you go about setting up Cookie Smiles?
I was volunteering for a range of charities and sat on a lot of boards but wanted to go back to grassroots level. While everything's been a bit stop-start because of the pandemic, we were able to set everything up fairly quickly. We're especially proud of the fact that we're already stocked by a fair number of retailers and have attracted many supporters. It's much easier to ask people to buy 10 packs of cookies than donate big amounts of cash.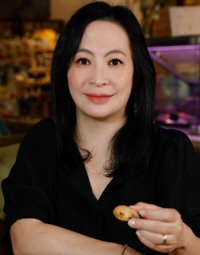 What kind of job opportunities have you created?
We've just added a marketing coordinator to the payroll this September, which was initially self-funded. She has ADD [attention deficit disorder] and is a single mum. We'd worked together previously and she had been made redundant. I didn't want to leave her behind. Our two bakers had been made redundant twice, and they did not have any idea about western-style baking until my partner Agnes trained them up. Now we are about to take on another kitchen assistant with depression and dyslexia through the Hong Kong Vocational Training School. We would like to employ more bakers and kitchen assistants in the future. HK Down Syndrome Association and Splash, which runs swimming programmes for domestic helpers, will receive 20% of your profits this year between them. How will the cash help them?
Yes, we came to an agreement and said we'd give them a minimum of HK$50,000 each. Splash has ongoing swimming programmes but they're always running out of volunteer swimming coaches and there's a lack of resources. The Down Syndrome Association has just opened a Jockey Club sponsored centre in Chai Wan and they need training programmes, so hopefully we can help with that. One of your most active partners is Feather & Bone. How did you get them on board?
I emailed them and didn't know if I was going to get a response but they responded in 24 hours – they just really liked the concept. I took some of our snaps and crunches along in a glass jar and was just winging it, as we weren't properly up and running at that stage. We've just developed a pepper berry snap for them with cranberries, peppercorns and sea salt. They have nine locations and will probably be up to 12 before Lunar New Year, so hopefully we can grow with them. In addition to cafes and retailers selling your cookies, how else do you raise funds?
We are working with a school that is going to sell our cookies this November and hope to work with more schools in the future. We let them buy cookies wholesale, or they can even buy dough from us. Our cookies can also act as goodie-bag presents for kid's birthdays, and we are exploring the idea of cookie vouchers to be inserted inside a wedding invite instead of the usual cake voucher. We would like to be featured in Lunar New Year hampers, or as a corporate gift: instead of making 100 pens for staff, firms could buy 100 packs of cookies from us. In addition, we are in talks with Bloomberg and a couple of finance companies to have our cookies as a pantry item.Will you be enhancing your product range?
Yes, we will add more flavours next year. In Hong Kong, people get bored of things, so you have to keep on adding new flavours to keep customers engaged. For Lunar New Year, we are going to make a pineapple charm cookie with pineapple jam and edible gold for good fortune. Then at Easter, we will add a cookie with a chocolate drizzle.

What are your long-term ambitions for Cookie Smiles?
We would consider making anything edible to raise funds for charity. We have Cake Smiles in mind as my partner, Agnes, was in the cake business for a long time, and people buy cakes for many different occasions. We would like to have retired chefs and bakers come and volunteer for us, so we are operating like mini training schools.

We are also keen to roll out a donations programme with food and beverage outlets where diners can donate HK$5 or $10 to us when they pay for their meal.
Related link
Cookie Smiles