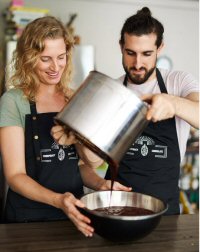 Controlling each step in chocolate-making – from sourcing the cacao beans to distributing the final product – bean-to-bar chocolate is the latest sweet-toothed trend to hit Hong Kong, brought by start-ups such as Conspiracy Chocolate. The founders – Celine Herren from Switzerland and Amit Oz from Israel – started thinking about setting up the business a couple of years ago, driven by their frustration with a lack of choice in the bean-to-bar market in the city. "Being from Switzerland, I grew up eating a lot of chocolate," said Ms Herren, who first experimented with chocolate making by melting down a bar and adding spices to it. The entrepreneur began her first serious foray into chocolate-making by taking a bean-to-bar course at the Cailler factory in Geneva, where she learned about different cacao beans and how to crack, grind and roast them before hand-tempering her own chocolate. The couple started serving their chocolate at dinner parties and friends began putting in orders for bars. Enthused by the positive reception, they ordered samples of cocoa beans from the US and invested in a machine. It took them six to eight months to refine the recipe and understand the science of chocolate, Ms Herren said. All their products are crafted from cacao sourced from a Vietnamese cocoa plantation with natural tasting notes of toffee, spices, cherry and tobacco.With flavours from coffee caramel to sourdough, Conspiracy Chocolate currently produces 15 different bars which can be found everywhere from Muji to Coffee Academics. The start-up regularly hosts workshops where chocoholics can learn about cacao and make their own chocolate, with the next event coming up at the Coffee Moment in Sai Ying Pun on 28 October. "We're keen to educate people and create that link between plant and product," she said.
Understanding cacao terroir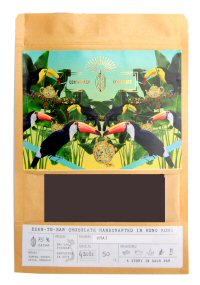 The duo's diverse palates have seen them experiment with teas, herbs and spices in their creations. Mr Oz admits that while many Hong Kong people do not have a huge sweet tooth, its caramel bar is its bestselling by far, something he puts down to it being a well-known, easily accessible flavour. "We get them in with something safe, then take them on a journey," he said. Customers who do not have a particularly sweet tooth may prefer dark chocolate but many expect it to be bitter, he said. "When they find that the bars aren't bitter, it breaks the stigma of dark chocolate not being tasty." He compares chocolate made with a variety of cacao beans to blended whisky, while single-origin chocolate, which is made from one variety of cacao harvested in one region, leads to more interesting and complex flavours. "With wine, whisky and coffee, you take for granted that if you have a good plant, you'll have a good product and it's the same with chocolate. Like wine, cacao can also have good terroir, and aficionados may develop a taste for beans from a certain region." The start-up hopes their farm, which is based in Dak Lak province in Vietnam, can scale with them as they seek to create a world where different cacao terroirs become famous.
A supportive community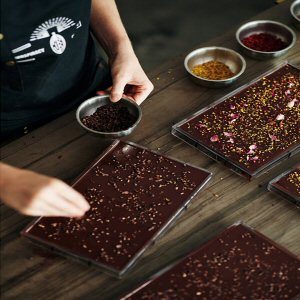 Ms Herren and Mr Oz love making chocolate in a city that has access to so many ingredients and palates from all over the world. Hong Kong is often at the forefront of new food trends, another advantage for an enterprising food and beverage start-up, they add. The pair enjoy meeting new customers at Sunday markets in such places as Tong Chong Street in Quarry Bay, on the east side of Hong Island, and Discovery Bay on Lantau Island, where they can witness people sampling and enjoying their products and obtain feedback. "At our second ever market, we had a customer who couldn't really speak English tell us our Sichuan pepper bar reminded him of his mum's cooking," Ms Herren recalls.Conspiracy Chocolate said the food and beverage community in the city had consistently supported its aim to bring bean-to-bar chocolate to the forefront, with many small local businesses stocking their bars, including Polygon café in Sai Ying Pun and café/retailer Spice Box Organics. Coffee importer and outlet Coffee Moment, meanwhile, roasts its cacao beans. They've also been privy to some useful advice to further enhance the flavour of their chocolate. "We have a friend who's a chef and he's shown us a few tweaks that would make our caramel recipe better," said Mr Oz. The two would love to see bean-to-bar chocolate become as popular as wine as a gift for dinner party hosts and are confident their hand-crafted chocolate can find more success in the city. "People are seeking out more artisan food items, and products like sourdough and kombucha growing in popularity," Mr Oz said.This small start-up has big ambitions to bring bean-to-bar into the mainstream and while there are no plans to open their own retail outlet, they are keen to be stocked in as many shops as possible across Hong Kong and Southeast Asia. But don't expect these young chocolatiers to hang up their aprons as they prepare to scale. "Making chocolate is 100% the thing we enjoy the most. The moment we let go of the kitchen, it becomes an office job."
Related link
Conspiracy Chocolate