The Association of Southeast Asian Nations (ASEAN) bloc is now Hong Kong's second-largest trading partner, behind Mainland China. Among the 10 ASEAN countries, Indonesia is the largest economy, with its population of more than 270 million accounting for more than 40% of ASEAN's total. Most people in the archipelago are young and middle-class. The country offers opportunities both as a market and production base.Helping businesses explore expansion into Indonesia, the Hong Kong Trade Development Council (HKTDC) arranged for 10 of the city's small and medium-sized enterprises (SMEs), selected across a range of industry sectors, to visit the Consulate General of the Republic of Indonesia in Hong Kong on 7 October.
Indonesia-Hong Kong collaboration
In a speech welcoming the visitors, Indonesia's Consul General Ricky Suhendar (main picture, fourth from right in front row) highlighted the growing business ties between the country and Hong Kong. He said Indonesia is actively improving incentives for overseas investors, with measures including a recently passed law that will simplify investment procedures. He also called on Hong Kong companies to leverage their technological and financial market expertise in projects in the country.Mr Suhendar said Indonesia welcomed over 1,200 new investment projects from Hong Kong In the first half of this year alone, a year-on-year increase of over 70%. They span a range of sectors including metals, metal products and equipment, electricity, gas, water and real estate. Hong Kong is Indonesia's third-largest source of foreign direct investment (FDI). Last year, the city invested nearly US$3 billion in the country, contributing 10% of total FDI in Indonesia in 2019, according to the Indonesian Investment Coordinating Board."Working together is the best way to overcome the huge challenges we face amid the COVID-19 pandemic," HKTDC Deputy Executive Director Patrick Lau (main picture, fourth from left in front row) told the gathering as he thanked the Consul General."Hong Kong and Indonesia are natural business partners for each other," he noted. "Our economic ties are strengthening further with the bilateral Free Trade Agreement and Investment Agreement that came into effect in July," added Dr Lau. "These factors definitely make Indonesia a hot spot for Hong Kong businesses seeking overseas expansion and/or to diversify their supply chains or production facilities."
Smart energy
The 10 SMEs are members of the HKTDC's T-box (Transformation Sandbox) programme launched in April to help local SMEs improve competitiveness through upgrading and transformation. The programme has seen more than 800 SMEs signed up and setting their own business transformational goals, notwithstanding the pandemic and economic slowdown. "Indonesia is an emerging market. Local developers and shopping malls need technology to improve energy efficiency. The population is huge and the market has great potential for development," observed Arthur Lam, Co-CEO & Director of Negawatt Utility Limited [https://hkmb.hktdc.com/en/1X0AKVTM/venture-hong-kong/Save-a-watt-earn-a-watt], one of the participating SMEs.Specialising in artificial intelligence- (AI) driven energy-saving systems, the Hong Kong start-up began to participate in an Indonesian smart-building pilot programme two years ago, leveraging its ability to provide lower-cost smart energy-saving solutions. "Seeing the preliminary results, I plan to do more marketing," Mr Lam said.The entrepreneur, who had also joined T-box activities in Thailand and Indonesia earlier, said T-box activities gave the firm an opportunity to contact and communicate with relevant government officials. "We got to meet Indonesian consular representatives, who I think will help us in future if necessary," said Mr Lam."T-box helps local start-ups establish G2G (ground to ground) links with potential clients in emerging markets and let them know about our technological solutions," he added.Mr Lam believes companies doing business in Indonesia need to put effort into localisation: "In the Philippines, many people speak English. In Indonesia, only the top management understands English, so communication is one of the obstacles," he observed.
E-learning

Nevertheless, English may gradually become more widely spoken in Indonesia. "Southeast Asian countries, including Indonesia, all focus on children learning English," remarked Jeff Cheng, another meeting attendee. "In Hong Kong, they tend to recruit foreign teachers but Indonesia has a large population and it is difficult to meet the demand."Mr Cheng believes his company PopSand Technologies Company Limited can help fill the gap by offering the Talkbo native-English teaching robot. Internationally popular English courses are incorporated into the robot through AI, taking 95% off teaching costs."Some local partners expressed interest once they had grasped the concept," he said. "But the most difficult thing in entering the Indonesian market is familiarity with the education department and arranging school trials." He believes that participating in the T-box project will help establish the personal connections needed.Mr Cheng said he also learnt about Indonesia's economic development and heard tips for investing locally during the meeting.
Health technology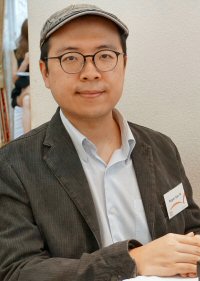 "Through the T-box event, we were arranged to meet and communicate with the Indonesian consulate, which is very important for understanding the local market opportunities," said Roger Szeto, Chief Technology Officer of Aurabeat Technology Limited [https://hkmb.hktdc.com/en/1X0AKX81/life-style/Clean-air-in-demand], which sells its disinfection and air filtration devices to Indonesia through distributors.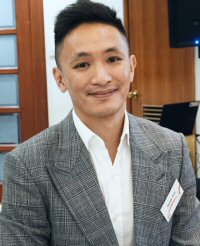 Jacky Yim, Founder and CEO of S.A.S Lighting Co Ltd, joined the gathering to explore market opportunities for its portable ultraviolet germicidal lamps, which he said many Southeast Asian countries had expressed interest in: "Indonesia has a large population and it is an up-and-coming market, he said. "I hope to master Indonesian laws and tax arrangements, especially tax concessions, which are believed to be a great help for Hong Kong companies when entering the local market," he explained.
Boosting ties
At the meeting, the 10 SMEs also learnt about the preferential policies, tax system and product-testing requirements provided by the Indonesian government for overseas investors. The event was part of the HKTDC's endeavour to foster greater business cooperation between Hong Kong and Indonesia.To help enterprises in Hong Kong and Indonesia link up, the HKTDC established a base in Jakarta 10 years ago. In 2014, the HKTDC founded the Indonesia-Hong Kong Business Association and organised business promotion activities, product exhibitions and business delegations in Indonesia. At the same time, the HKTDC also invites Indonesian business leaders and companies to participate in trade shows and conferences held in Hong Kong.Dr Lau also said that he was proud to see so many Hong Kong companies embrace transformation and innovative upgrading of their business as they still keenly enrolled into T-box even when facing unexpected business challenges arising from the COVID-19 pandemic. "Transformation will put the Hong Kong businesses in good stead to thrive in the post-pandemic environment", he said.
Related links
Consulate General of the Republic of Indonesia in Hong Kong
HKTDC T-box